PenSystem calf pens
Modules for flexible calf box layout: this simple interconnecting system offers possibilities for different sizes of pen and various options.

Using resources: individual pens can be assembled and dismantled absolutely flexibly in a barn building.

Hygiene in the calf pen: lightweight plastic wall elements are quick and easy to clean.

A good feeling of optimum calf rearing with little effort.
Individual pens for indoor housing
The PenSystem is a calf housing system with modular calf pen elements. It is based on a simple interconnecting system with individual stalls (pens). Pens can be configured in different ways depending on the layout of the barn and the working procedures. Walls are free-standing on the floor and can be easily removed for cleaning.
This innovative concept from our partner Calf-Tel offers you a wide variety of pen sizes and equipment options. Suitable for any farm.
The PenSystem is ideal if you wish to raise your calves in a protected calf pen. In such cases, we recommend that you use modern ventilation and wind protection systems that provide an acceptable climate for the calves. We will be happy to advise you. Please feel free to contact us.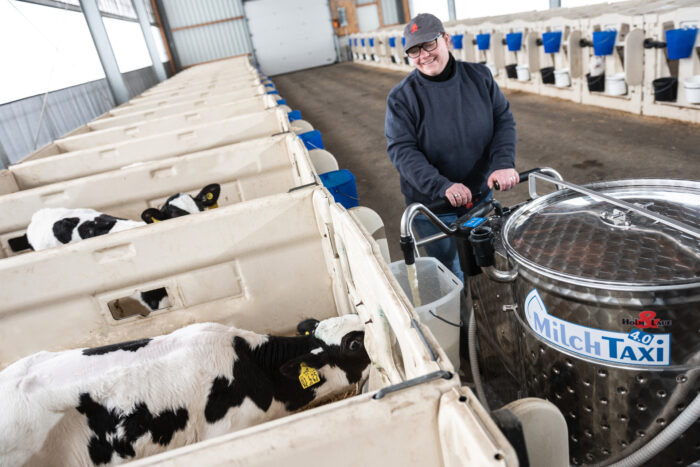 Flexible layout
The PenSystem is a modular concept that can be assembled in a wide variety of ways. More flexibility is not possible.
The side elements come in three different lengths, allowing you to create pens with areas of 1.6 m², 2.2 m² or 2.5 m² and thus adapt the pens exactly to your calves and the housing period in the PenSystem.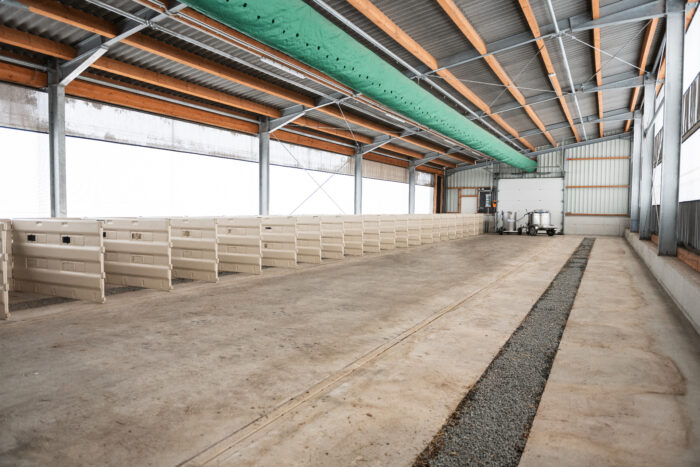 Easy cleaning
The pen elements are very light and can be dismantled in one easy step and reassembled just as easily. This means they can be easily transported to the washing area. Cleaning is also very easy thanks to their completely smooth surfaces.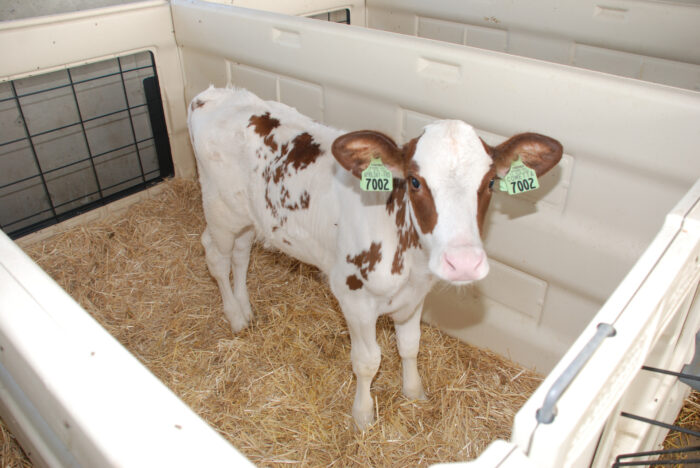 Closed or open rear wall
The rear wall can be fitted with the standard pen elements providing insulating protection for the calves that like to lie down in the area at the back. We recommend the open AirMax, which can be closed with a panel, for more fresh air in the box.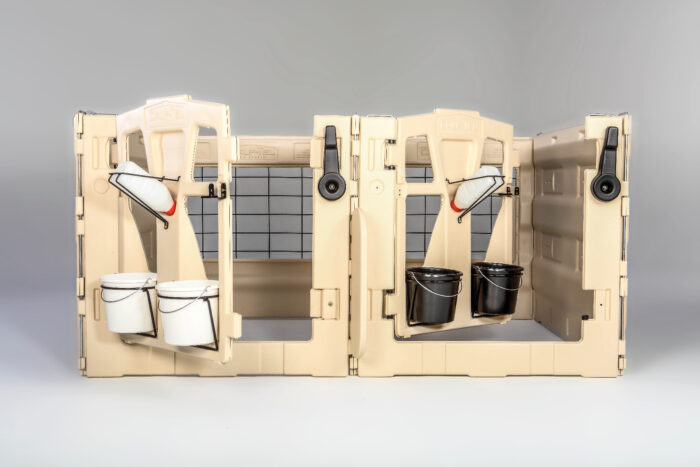 PenFront with flexible door
The new PenSystem door can be opened in four different directions. You can choose whether the door should be hinged on the left or right and whether it should open inwards or outwards. This gives you maximum flexibility, even when things get a bit crowded in the calf pen. In addition, the PenFront features a large handle that is easy to open even in winter when you're wearing thick gloves.
The calves are fed via two bucket holders for water and concentrate, and for milk feeding you have a choice between teat bottles and teat buckets. A particularly practical feature is that the bucket holding rings simply snap in and out. This saves space when transporting the PenFronts to the washing area.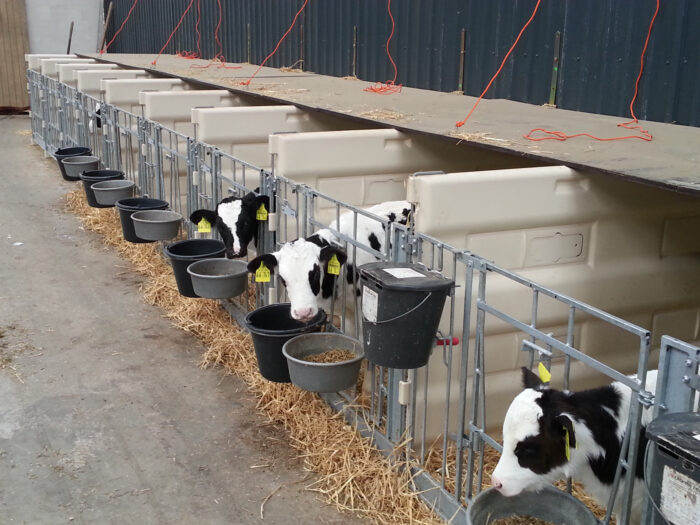 The tried and tested FlexyFront
It is possible to choose the FlexyFront, which has been proven its worth in the individual hutches, instead of the PenFront. It permits a better view into the PenBox and the teat bucket is placed next to the door, which makes it easier to train the calves. Another advantage of the FlexyFront is its open design, which significantly improves ventilation in the pen.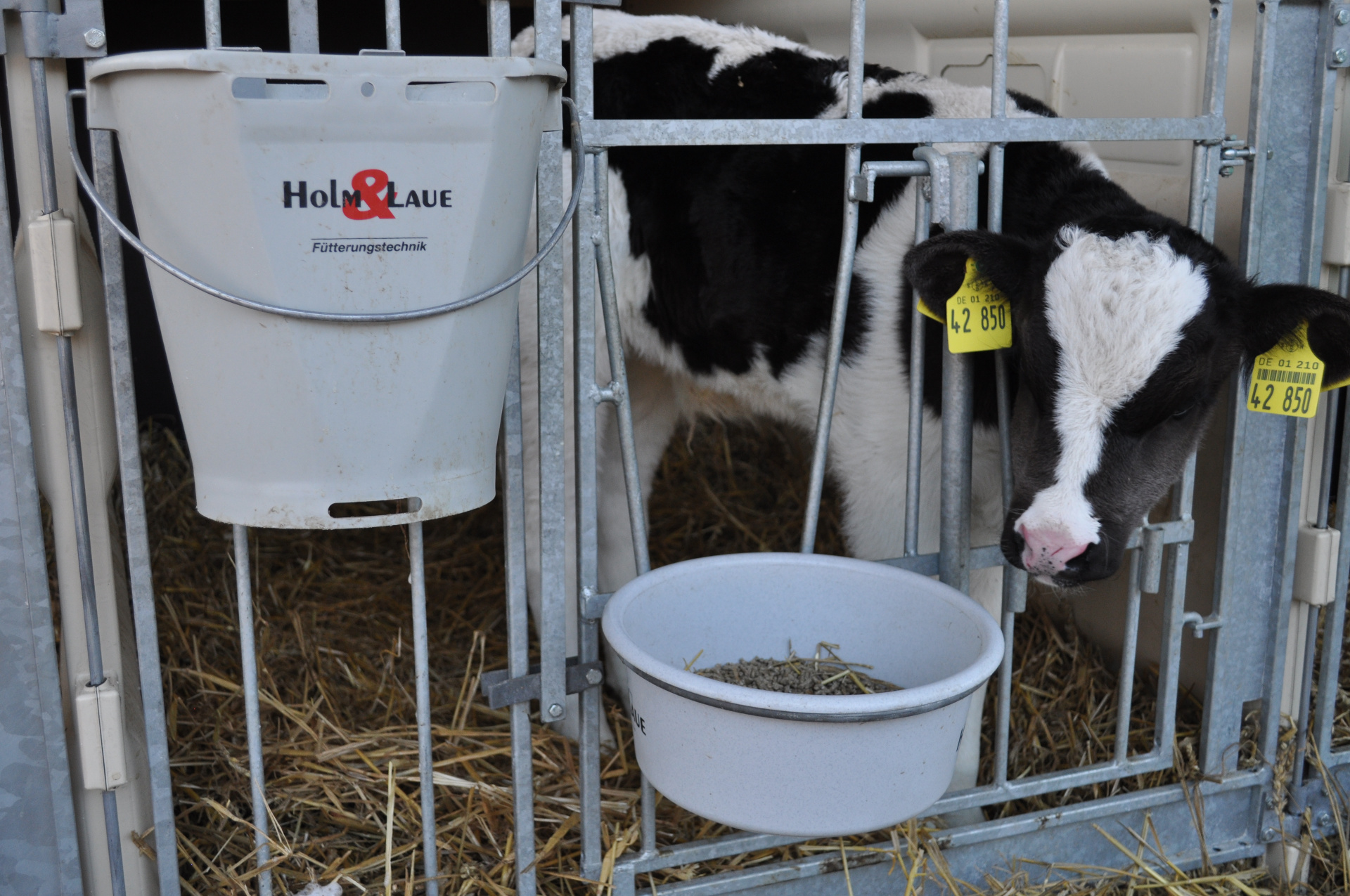 Feed bucket next to the door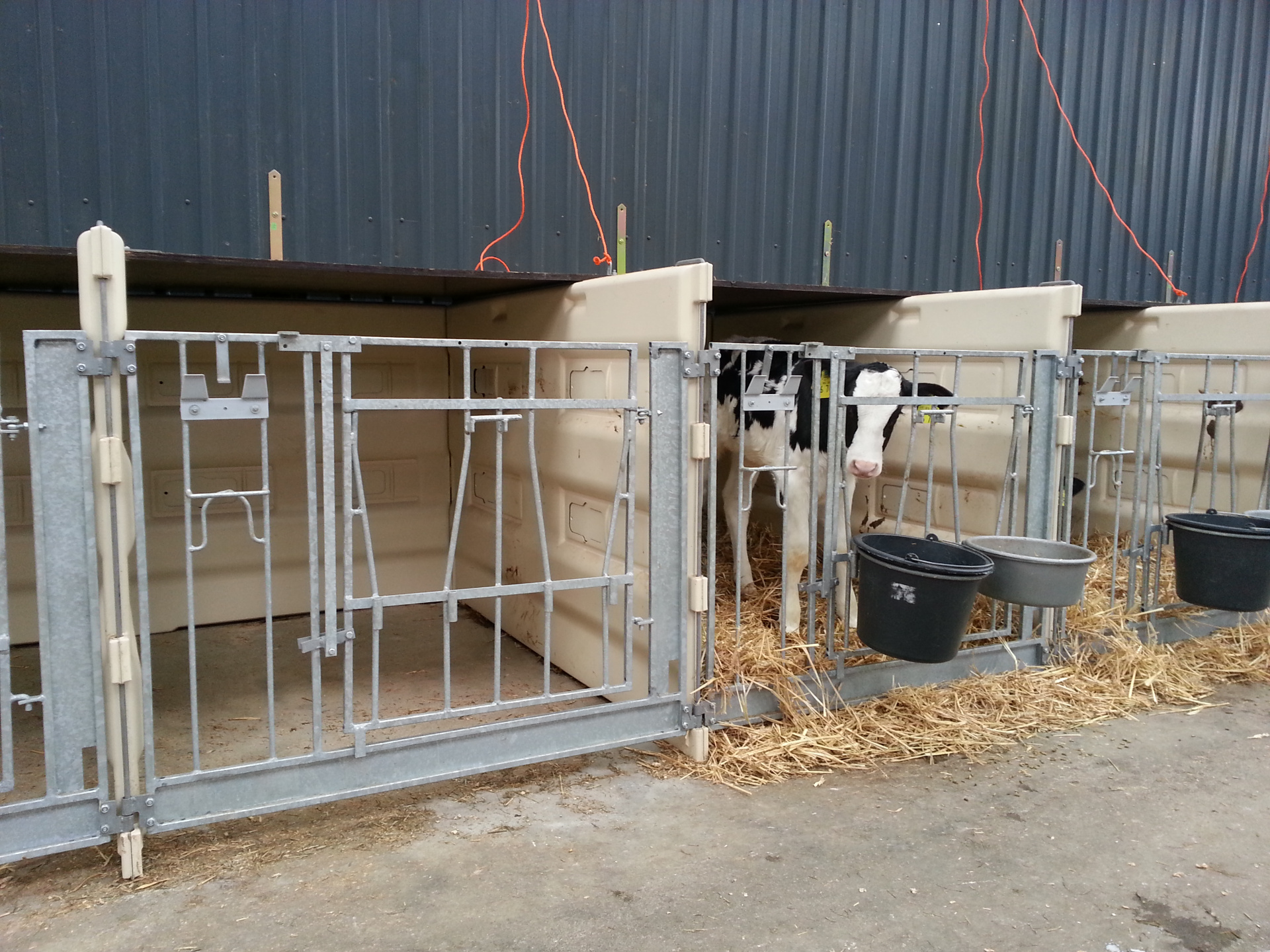 Clear separation of calves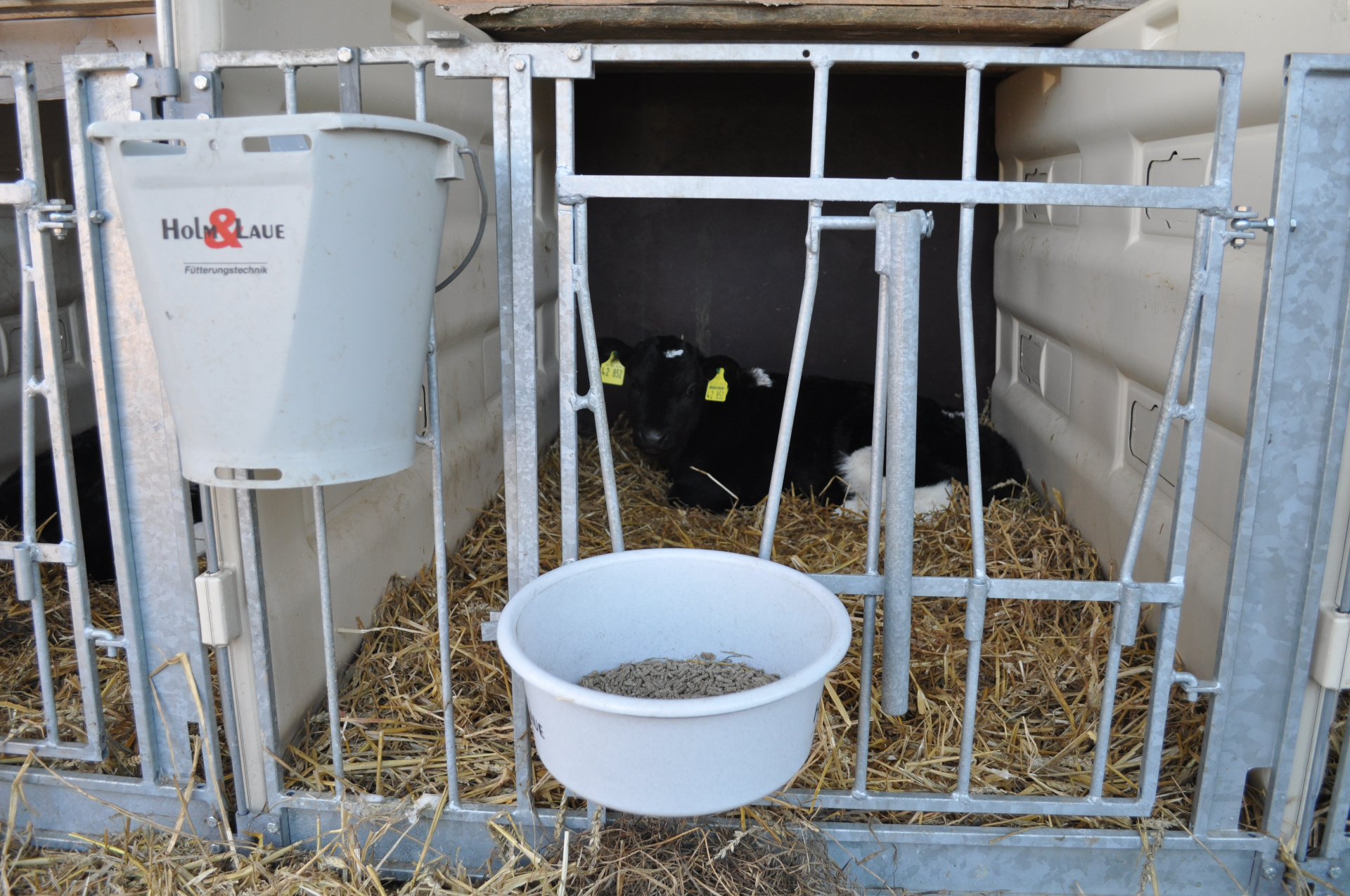 Fast overview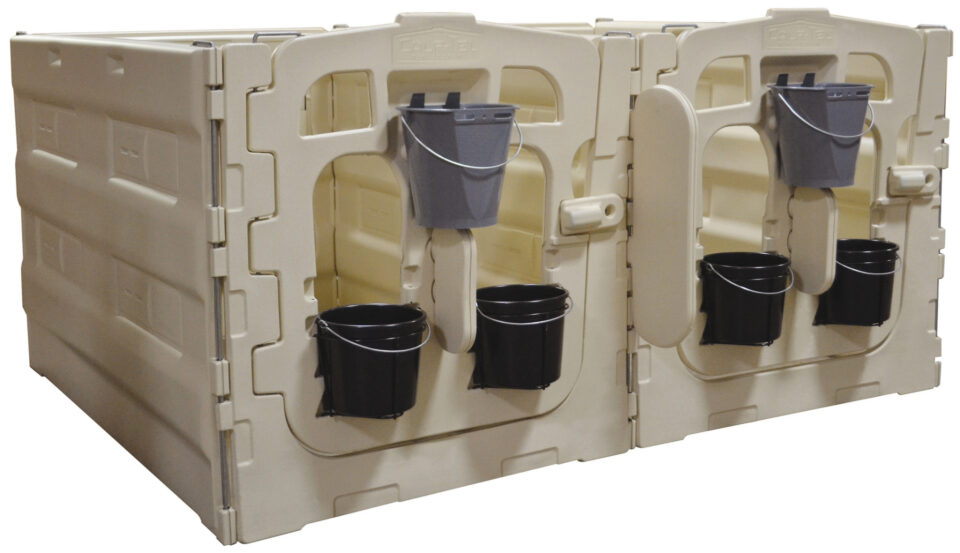 Dimensions and options
PenSystem dimensions
| | |
| --- | --- |
| Length | 183 cm (135 and 213 cm as options) |
| Width | 122 cm |
| Height | 114 cm |
Options
FlexyFront or PenFront
Side wall length: 135, 185 or 213 cm
Wall brackets, for mounting against a wall when leaving out the rear panel
AirMax rear wall