CalfBuggy Calf cart
Easy transport of the calves with the help of our easy-to-use calf cart: punishing feats of strength are a thing of the past with the CalfBuggy.

Safe transport of calves. Easy to use.

Gentle on the calf, stress-free stockmanship.

Saves a great deal of working time every day. 
Simple and safer transport for calves
The CalfBuggy is an easy-to-use calf cart that facilitates the transport of calves. After all, transporting calves around the farm is a difficult business. Hauling a calf around the farm with a halter and rope takes a long time and strains the nerves of both calf and human. Such situations can also quickly become dangerous if the strength required to lift the calf onto a wheelbarrow is not there or it is in danger of falling out.
The CalfBuggy lets you easily transport your calves over longer distances without putting safety at risk.
What's more, the CalfBuggy is ideal for transporting other things such as feed, straw or tools for example. A real all-round talent in the calf barn!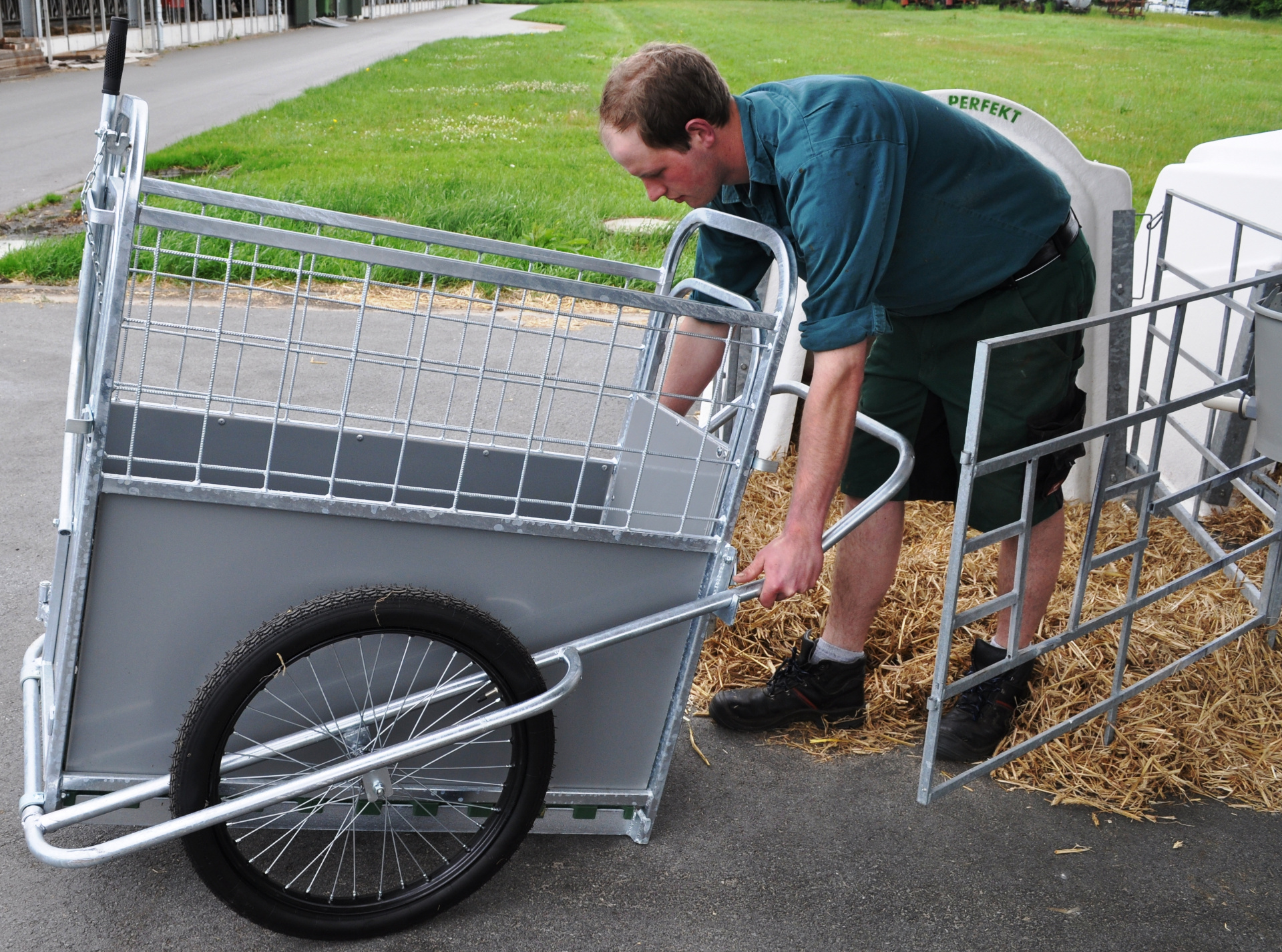 Easy operation
It is easy to lower the buggy to the ground, allowing a calf to be simply loaded by just one person.
Simply unlock the twist lock to lower the cart to the ground.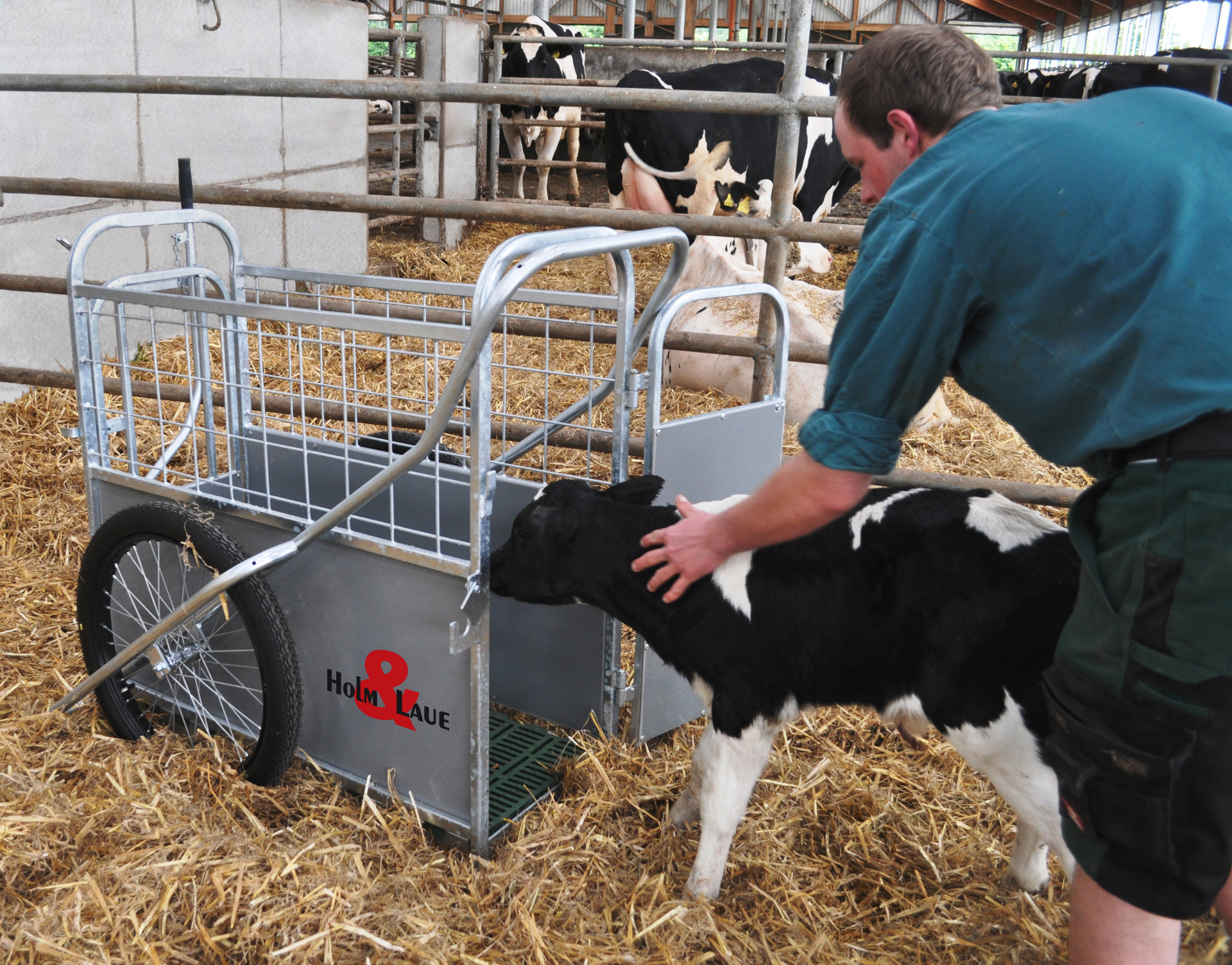 Rapid access
The calf can be ushered in comfortably through swing doors at the front and back and exit at the other end.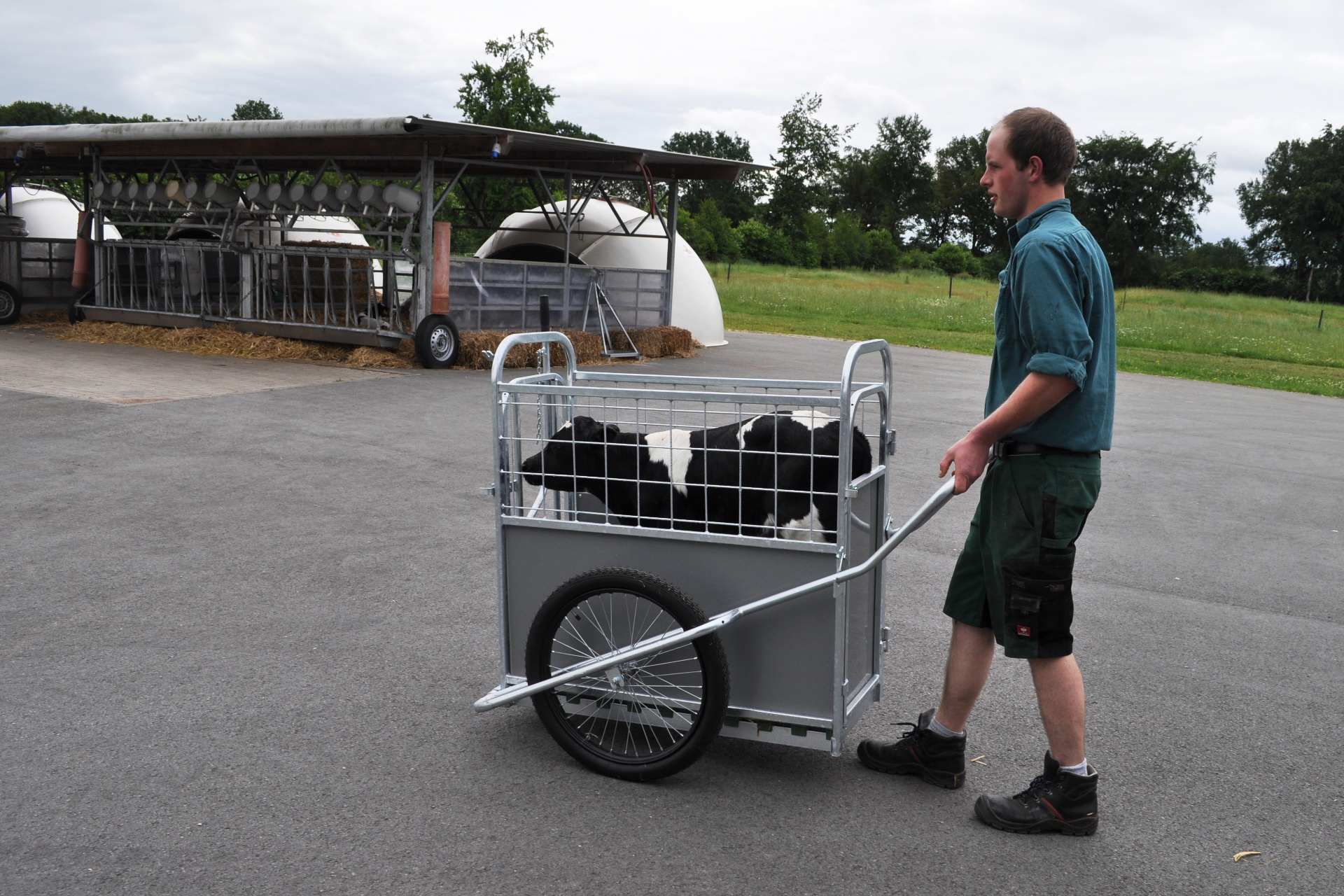 Large wheels - easy transport
Once the calf has been loaded, simply press the grip downwards until the twist lock has engaged and the wheels are positioned for transportation.
Uneven and rough terrain or mud and snow are no problem thanks to the large wheels. These balance the weight perfectly, making pushing the buggy child's play.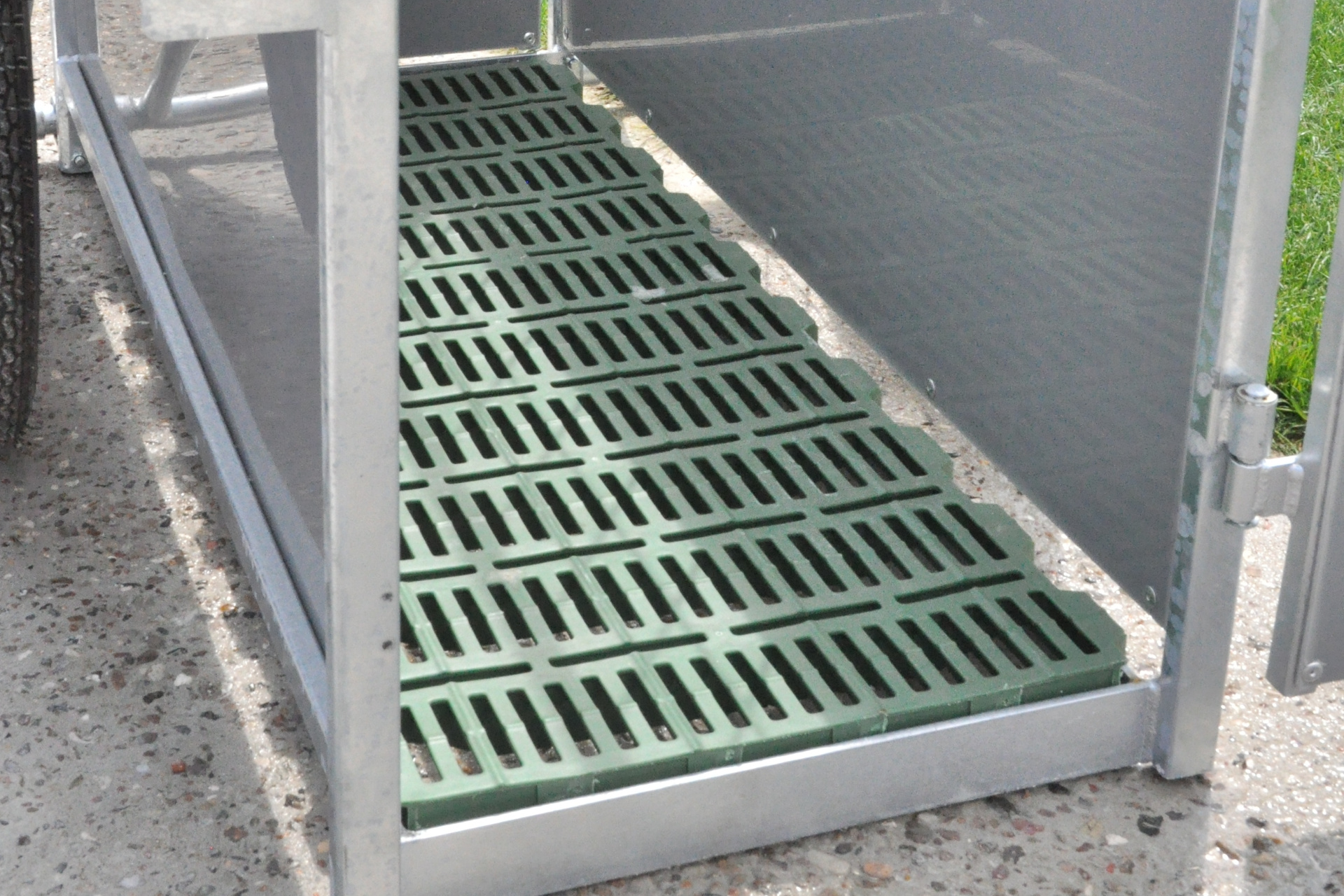 Plastic surfaces for grip and hygiene
The plastic grate on the floor of the CalfBuggy ensures that calves can stand in safety. The smooth plastic side walls reduce the risk of injury to the calves and can be quickly cleaned.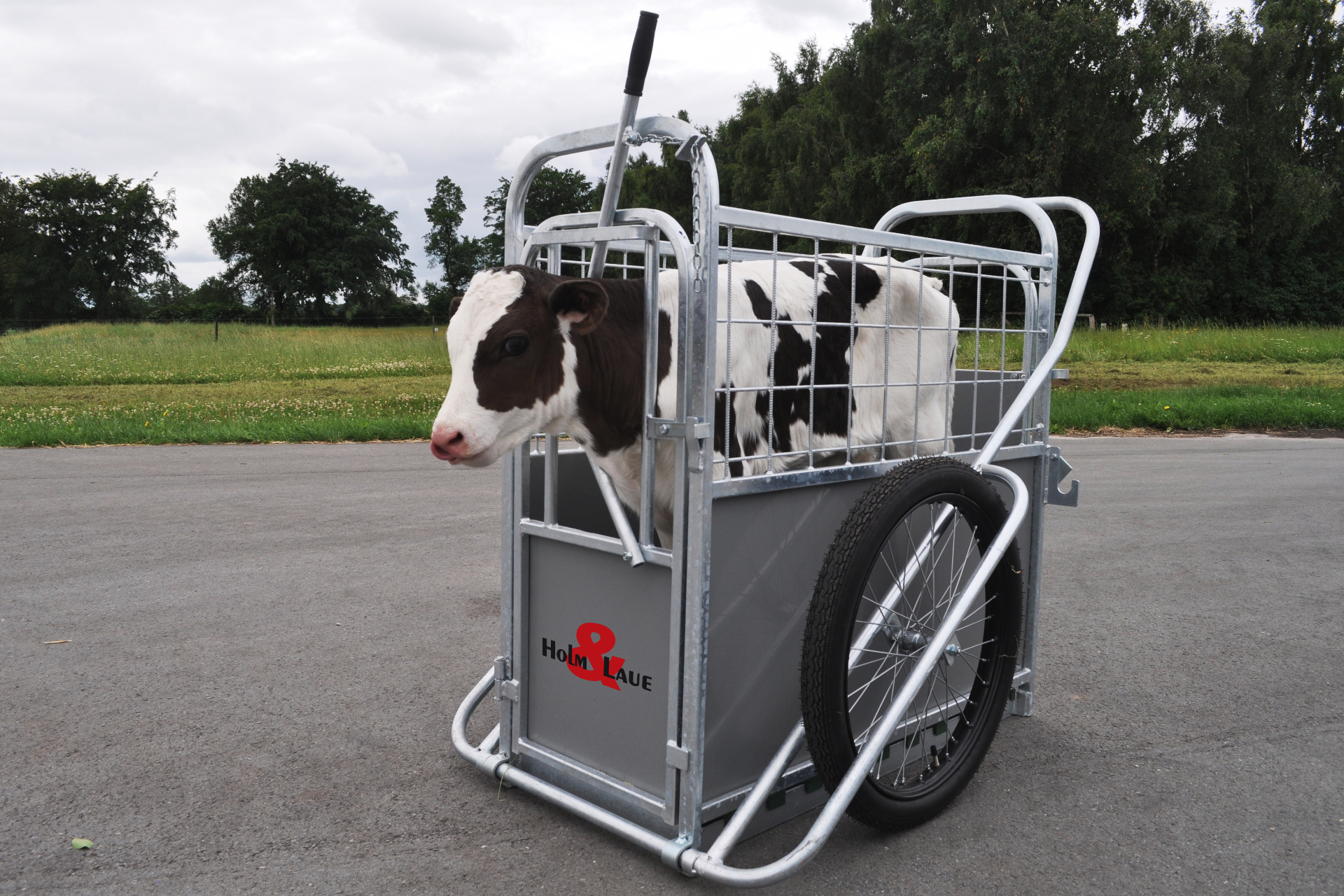 Easy calf restraint
A restraining device at the front of the CalfBuggy ensures that the animal can be held calmly and safely in place, for example for medical treatment.
Technical specifications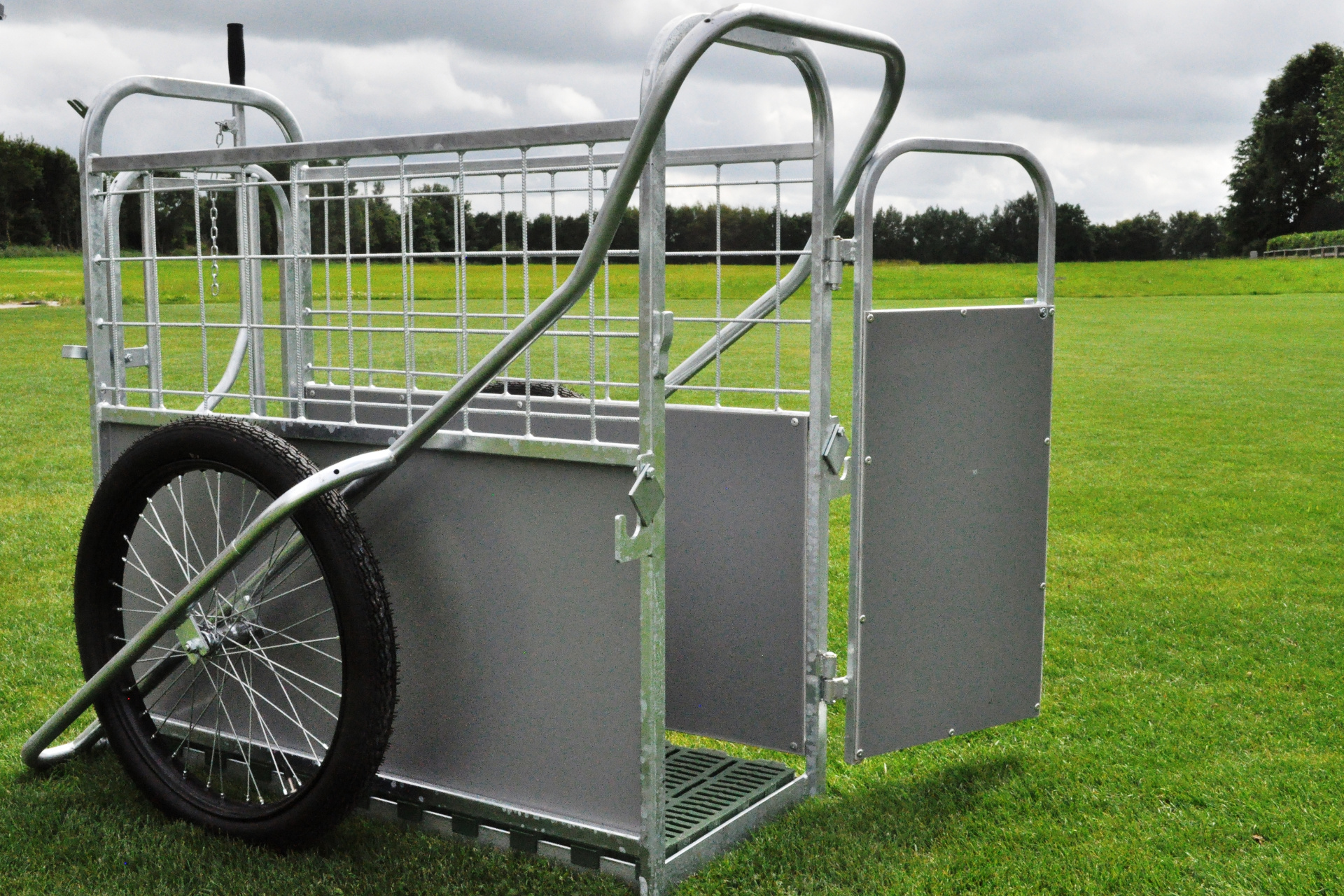 CalfBuggy dimensions*
| | |
| --- | --- |
| Exterior dimensions | 130 x 83 x 117 cm* |
| Interior dimensions | 101 x 43 x 90 cm* |
| Weight | 60 kg |
| Wheel diameter | 61 cm |
* Length x Width x Height