CalfExpert
THE modern calf feeder with individual calf feeding, whole milk system, intuitive control of the graphic display and many other features.

Gain greater freedom through increased work flexibility. Data analysis via app aids professional management.

Better rearing performance thanks to weight measurement with scales. Lower veterinary costs through automatic animal monitoring and early alerts.

Support natural drinking behaviour: many individual feeds support calves' healthy development.
A modern calf feeder
CalfExpert is a calf feeder that has been developed to meet the latest standards in calf feeding. State-of-the-art feeding technology ensures that the milk for the calves is always freshly mixed. It does not matter whether milk replacer or pasteurised whole milk is used. CalfExpert prepares the milk automatically and individually for each animal.
You, as farmer, remain completely flexible in your work schedule while calves are fed 24/7. The calf feeder takes your calf rearing management to a whole new level.
Intuitive operation via the graphic display and the link to the CalfGuide mobile app make it easier for you and your team to monitor your animals. All the information about your calves, status reports and alerts are at your fingertips in the app and directly on the calf feeder at all times.
Different feeding programmes form the basis of successful and performance-oriented calf rearing in automatic calf feeding. Labour savings and complete supervision included.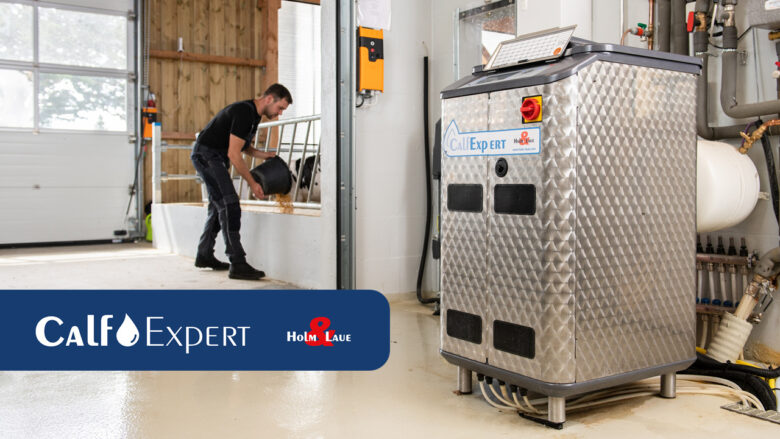 One unit – many advantages
What can the CalfExpert do? How does it improve calf welfare and working conditions? What are its key functions? You can learn about all this here in a nutshell:
Individual animal feeding
Feeding a large number of calves with a fresh mix adapted to each individual calf is a major challenge. CalfExpert makes it child's play.
Always freshly mixed
The CalfExpert calf feeder mixes the milk fresh for each calf. Any residual milk is kept warm and flushed out of the system following longer drinking breaks. Other calf feeders work with a central milk supply. In milk stored this way at 40 °C, the bacterial count doubles every 20 minutes. In contrast, the CalfExpert guarantees maximum hygiene and feeding suitable for every individual animal.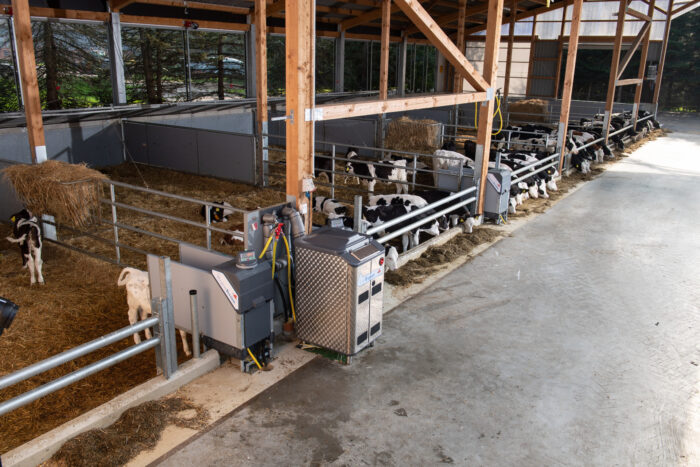 Individual adaptation
A central milk supply has another major disadvantage: modern feeding programmes (e.g. metabolic programming) require a higher CMR concentration (e.g. 160 g/l) at the beginning of rearing to stimulate performance. However, a lower milk replacer powder concentration (130 g/l) is necessary in the weaning phase. This individual animal feeding can only be achieved if the mix is prepared individually for each calf, as is the case with CalfExpert.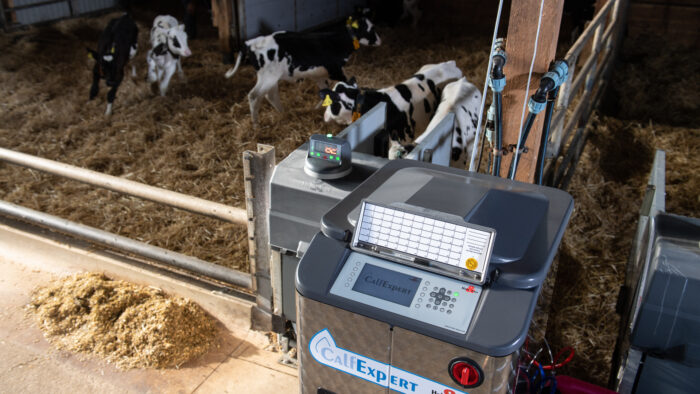 QuickChange logic for greater performance
We have accelerated the mixing process and the change of calves in the CalfExpert, thereby optimising utilisation of the HygieneStations.
Milk is mixed quickly and can be called up at the feeding station after just 3 seconds. Once the milk meal is finished, a switch is immediately made to the second feeding station. Here, a second calf can be fed immediately while the first is still satisfying its need to suckle.
In addition, priorities can be specified in the CalfExpert menu so that young or sick calves are given preferential treatment. The tried and tested flexitime programme ensures that meals are distributed very evenly throughout the day without clusters of visits to the stations. The result is reduced waiting times with high animal occupancy and a positive "visiting experience" for the calves.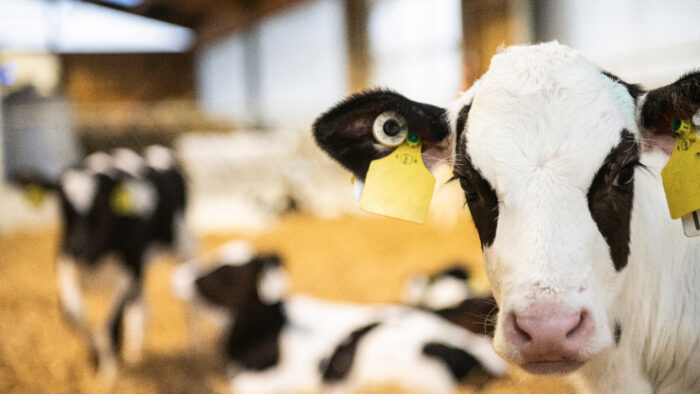 Enjoy calm and compliant calves
Since CalfExpert does not restrict feeding to certain times of day, calves can come and feed at any time. Your calves will no longer see you as a nurse and will therefore remain calm when people enter the barn. Younger and weaker calves have all the time they need to consume their full ration.
As the CalfExpert also works with an intelligent credit logic, all calves have a feeding credit at a different time. As a result, fewer animals crowd around the station. The anti-pirate milk valve ensures that stronger calves do not steal milk. The result: extremely uniform, relaxed groups of calves.
QuadroFlex: simultaneous and yet flexible feeding
With the new QuadroFlex system, four calves can feed at the same time at two PowerMixers. The CalfExpert mixes the milk freshly when calves wish to drink. This means no tank supply system is required. The feeding quantity is determined precisely for each calf by maintenance-free sensors. If a calf requires a special mix e.g. including medicine or electrolytes, only the sister stall at the same PowerMixer is switched off. Feeding continues at the second Power Mixer at both stations. This allows 120 calves to be fed at 4 HygieneStations. Thus the capacity of the CalfExpert has been increased by approx. 20 – 30 % compared to its predecessor H&L 100.
Flexible feeding programmes
Modern feeding programmes should always adapt to the age and breed, personally set rearing goals and state of health of the calves. CalfExpert allows you to do all this in the optimum way.
Weaning process
CalfExpert prepares your calves in a particularly gentle way for the intake of concentrate and roughage. It reduces the amount of feed at the end of rearing in small steps of 0.1 l per day and thus stimulates the development of the forestomach system.
8 feeding curves
CalfExpert can be used to turn any feeding programme into reality. Feeding curves can be adjusted very flexibly in each of the 8 groups. Up to 16 "turning points" allow you to fine-tune your personal feeding concept down to the last detail. Or you decide in favour of one of the proven and pre-set CalfExpert feeding programmes.
Metabolic programming
Intensive feeding in the first few weeks of a calf's life will usually lead to significantly higher milk production later. However, the correct weaning of calves, for example after an ad libitum phase, poses particular challenges for every calf breeder. With CalfExpert, each calf is slowly weaned off high milk intake, in terms of volume as well as concentration.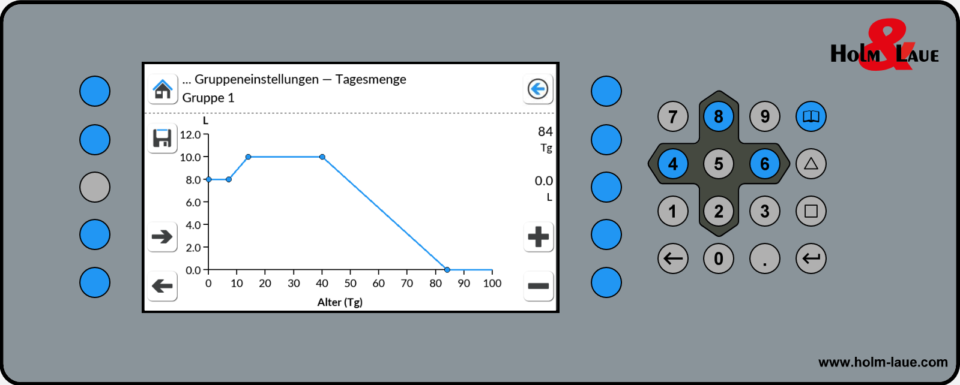 Feeding curve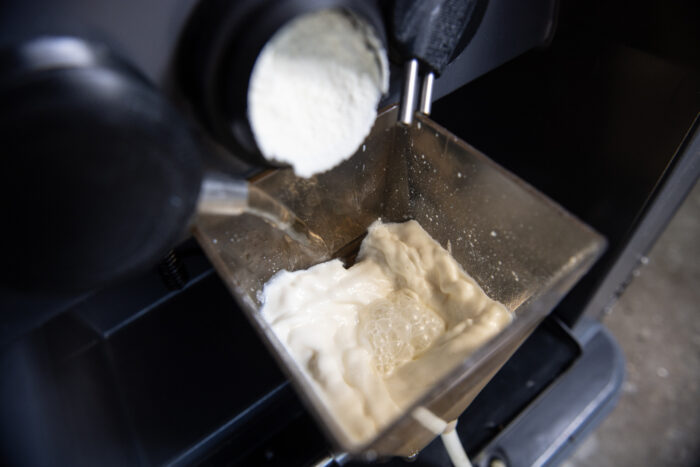 Effective mixing of milk replacer powder
Flexible feeding also means that a wide range of CMRs and additives have to be prepared in an optimum and lump-free way. The continuously variable PowerMixer ensures a soft start to avoid splashing and then stirs the milk replacer powder thoroughly. This means the calf receives its freshly mixed milk directly at the teat in just 3 seconds.
The feeding process can sometimes take longer where young or weak calves are involved. We prevent the separation of the milk replacer powder by slow permanent stirring. And if it gets colder, the heater in the mixer always ensures the mix is kept at a constant temperature, for no matter how long the calf needs.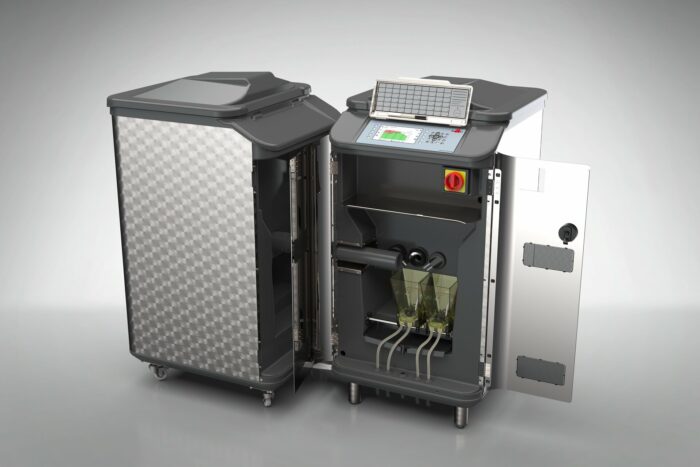 Second milk powder chamber
The new option allows the CalfExpert to feed two different types of milk replacer (CMR).
The milk powder compartment is at a 90° angle to the CalfExpert and feeds milk powder into the PowerMixer of the machine via a dosing augur on the side. The volume of 50 kg of CMR can be supplemented by a further 25 kg via the additional powder chamber. This gives the CalfExpert the largest milk powder storage capacity of any automatic feeder on the market, with a maximum powder storage capacity of 150 kg (2 x (50 + 25 kg)). Ideally, this is done in such a way that one type of milk replacer slowly takes the place of the other. This can make sense, for example, if a high-quality skimmed milk replacer is to be used in the first few weeks of life in order to promote the early development of the calves with highly digestible CMR.
Later, cheaper milk replacers can be used, whose ingredients (e.g. certain proportions of high-quality vegetable proteins) are intended to support the transition to ruminant.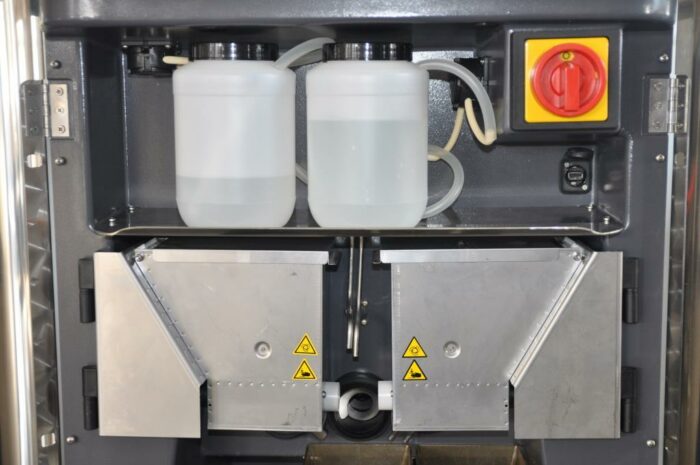 Specific additive feeding
Minimal doses of feed additives can be added to the milk diet in order to stabilise the gastrointestinal system. Sick calves can be treated with medicines in the milk. You can use two powder dosing units and two liquid dosing units. As with the milk programme, you can set different feeding curves for these additives as well. This means maximum flexibility for top calf health.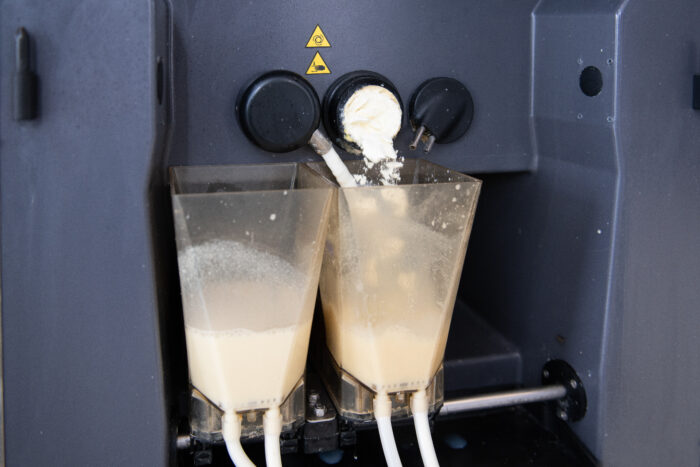 EvenMilk: intelligent whole milk feeding
Whole milk is digested perfectly by the calf and results in the best performance. With the CalfExpert whole milk programme you can set whole milk proportions or supplement the whole milk in the feeing programme flexibly. What happens with your feeder when the whole milk supply has been used up? Does it then feed powdered milk? This causes changeover stress with your calves and is likely to cause digestion problems. "EvenMilk", our intelligent whole milk control, knows how much whole milk is available and how much is to be fed. It makes sure that whole milk and CMR are mixed in balanced proportions even when whole milk quantities fluctuate daily.
Clean and reliable
A calf feeder is designed to make your work easier and perform continually for 24 hours. To achieve this it has to work reliably under the rough conditions of a calf stall, like the CalfExpert does.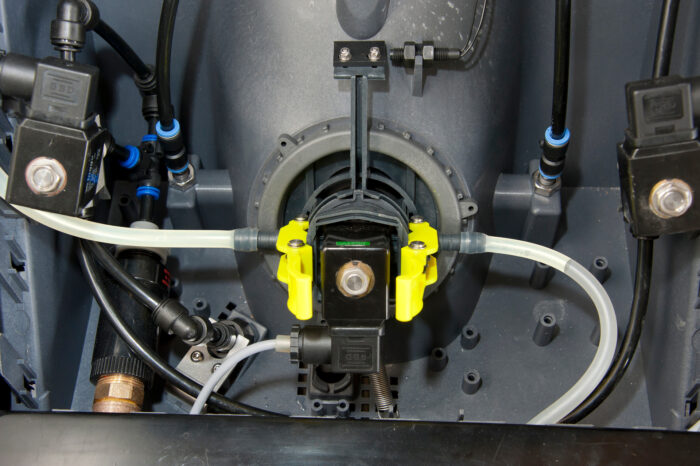 Hose cleaning including the teat
All hose systems used to have deposits of contaminated milk because they had not been cleaned often enough or thoroughly enough. The HygieneStation rinses the entire milk hose through to the teat during longer drinking breaks. In addition, the complete milk system is cleaned several times every day. If the DoubleJug milk tank is used, the supply line to the CalfExpert is also cleaned automatically. This will reduce a calf's exposure to bacteria, improve the health of the calves and save on manual cleaning.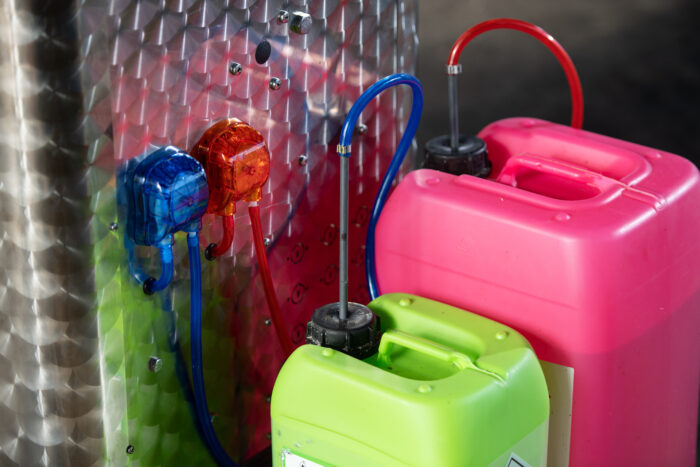 Two cleaning agents
To optimise cleaning even further, the CalfExpert can use two different cleaning agents: either alternate with each cleaning cycle or combine in one cleaning cycle (alkaline, rinse, acid, rinse). The cleaning agent pumps are fitted on the outside. They can thus draw directly from the tanks. This is safe and convenient. In addition, the CalfExpert generates automatic messages as soon as a canister is empty.
Fly shield as standard
Two large doors protect the critical area where the mixer bowls are located. This keeps flies away from the milk and avoids problems in the milk system. The doors can be locked so children cannot be harmed or injured.
Integrated operating instructions
The 7″ graphic display not only allows all calf data to be conveniently viewed. Pressing the key with the book icon opens help texts and information from the operating instructions at every level of the application.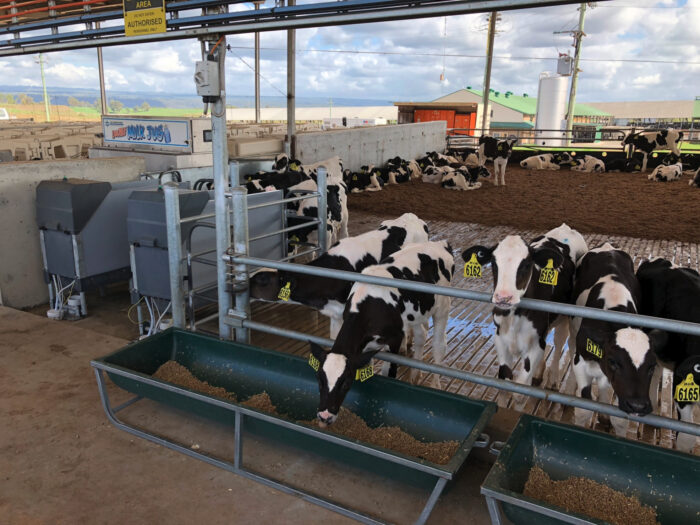 Ready to work whatever the weather
Calves love the outdoor climate, your CalfExpert does too. It comes with a frost protection programme that is activated automatically as soon as there is a risk of frost. Sensors in every HygieneStation and in the CalfExpert mixing chamber measure the ambient temperature and then adapt the mixing temperature and intensity of the frost protection programme accordingly. You can clean the outer surfaces of the automatic feeder with water, since all the sensitive components are water spray-proof.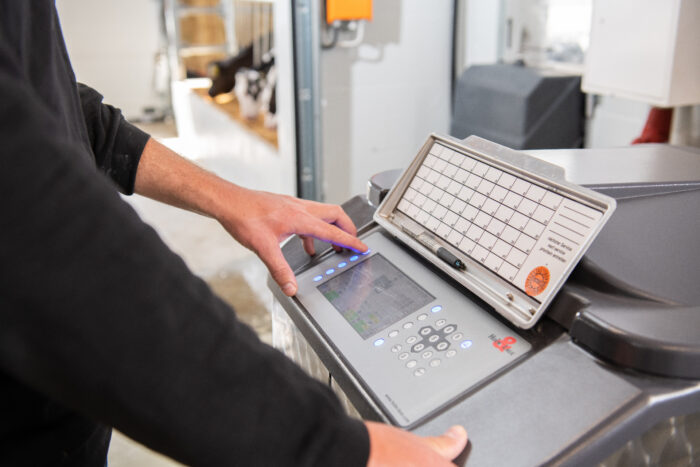 Simple maintenance
Regular inspection of the technology is easy: you can test all the important CalfExpert components quickly and easily in the maintenance menu. You can also carry out calibration quickly yourself, because the software always tells you exactly what to do. We recommend that you have your CalfExpert serviced by a qualified technician at least once a year. This provides you with the peace of mind that the automatic feeder will be ready for the next rearing cycle.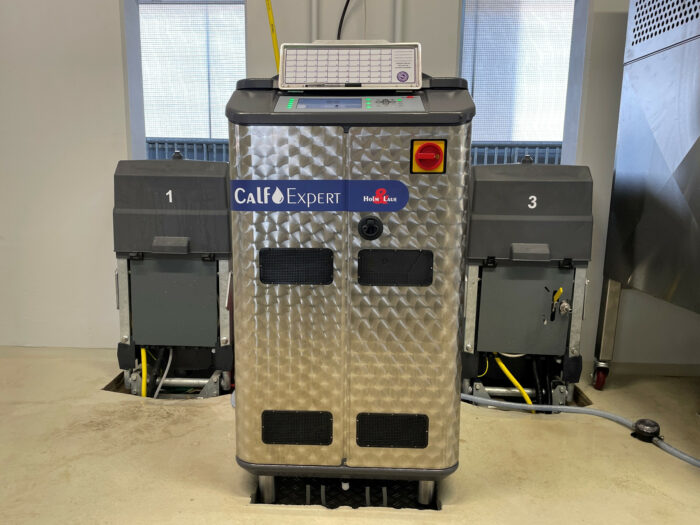 Automatic calibration
The CalfExpert checks the flow rate of milk and water at regular intervals. ensuring a consistent amount of water for the calves without your needing to actively worry about it. Although this unfortunately does not apply to the amount of powder, the machine will remind you as soon as calibration needs to be performed. However, with its Brix-TS option, CalfExpert compensates for deviations in the mix concentration, so that you are always sure that the calves have been fed correctly.
Smarter work – better performance
Kill two birds with one stone: CalfExpert not only frees you up from tedious and strenuous work. Intelligent software and smart operation also increase feeding quality.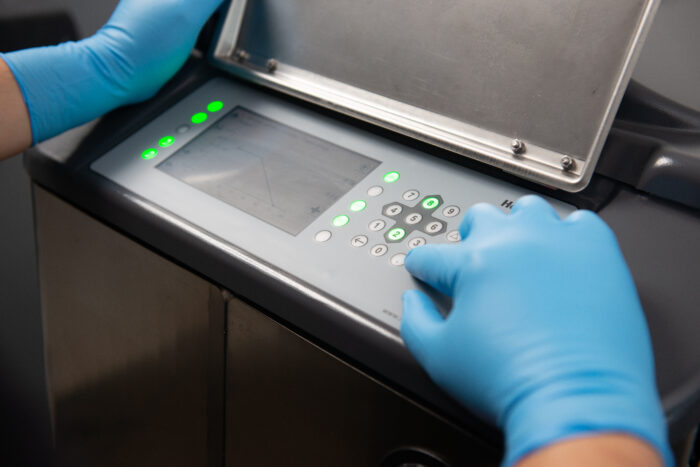 SmartKeys
We deliberately avoid the use of touch technology and rely instead on the use of SmartKeys, meaning that a CalfExpert can be operated reliably even in frost, rain, with gloves or even dirty fingers. The illuminated SmartKeys guide you through the programme.
The completely new control software offers maximum clarity and simple CalfExpert operation. All calf data with individual feeding curve, alarm lists, technical parameters etc. can be viewed on the 7" display. The Wi-Fi connection also allows you to retrieve individual items of data on mobile devices and to receive push notifications in the event of error messages.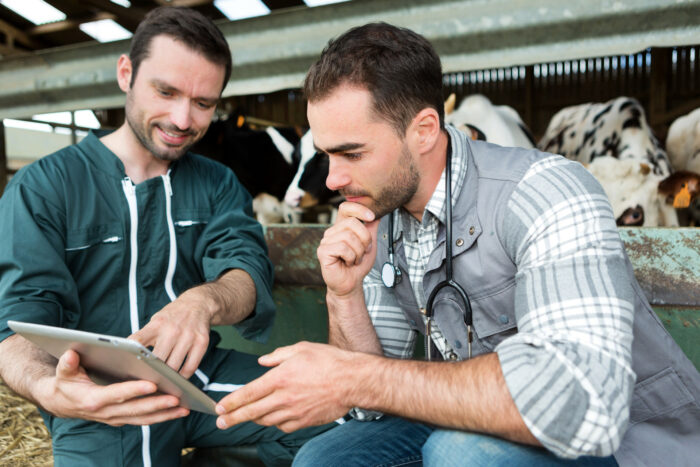 Higher income thanks to improved performance
Calves supplied with a lot of energy start lactation at an earlier age and produce more milk later on. CalfExpert also provides you with the best prerequisites for optimum animal health. This means a lower death rate and more animals in the herd reared from your herd offspring. This in turn gives you the opportunity to select the offspring in a targeted manner and to sell surplus heifers at a profit. And last but not least: by saving working time, you are freeing up capacities on your farm that can be used profitably.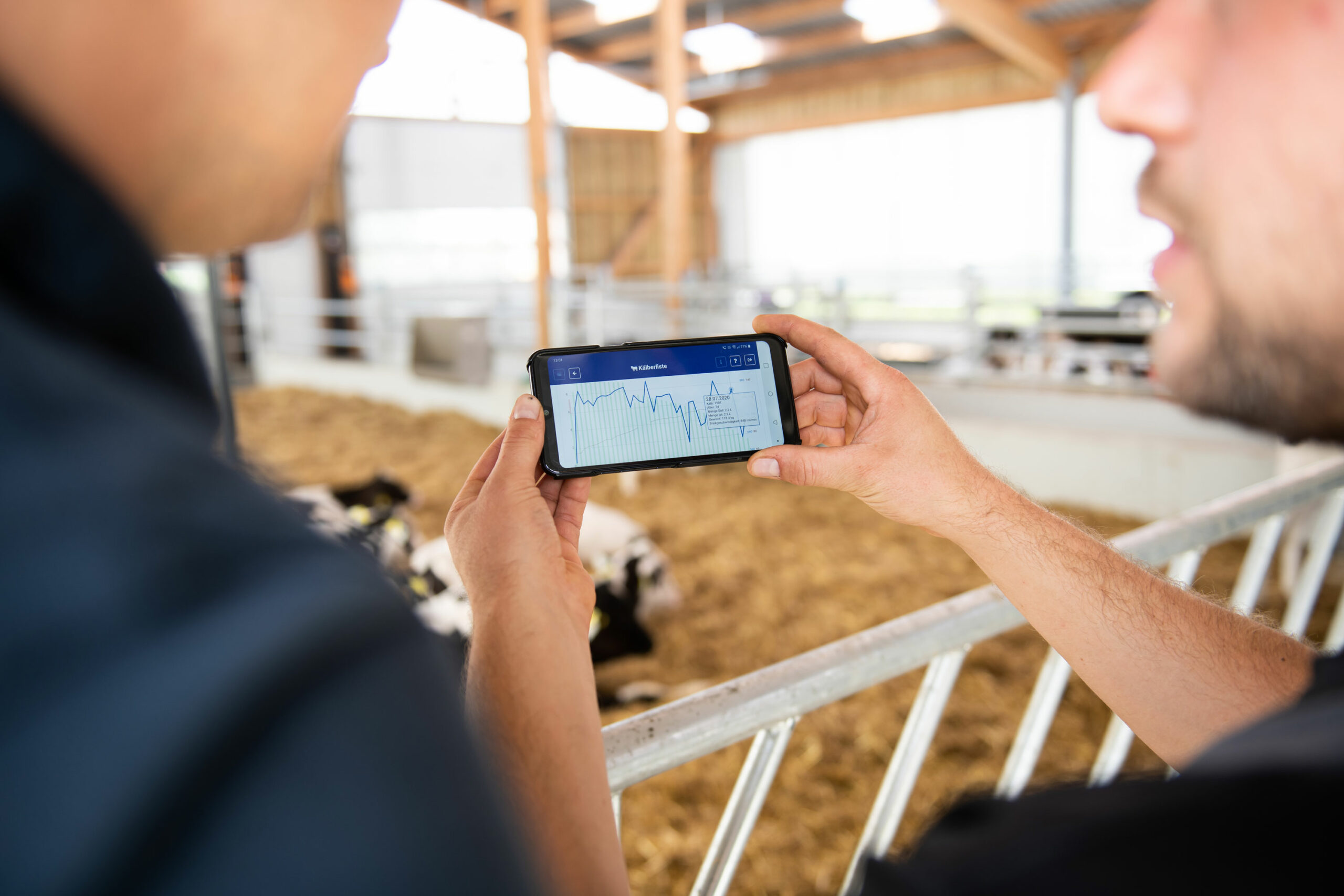 CalfGuide app
CalfExpert comes with a Wi-Fi interface as standard. The CalfGuide app allows you to access important information directly on your mobile phone. This includes the general calf feeder data and details of the calf lists with the entire calf history. You can easily modify calf information and feeding curves in the app. In addition, CalfExpert sends messages about CMR fill levels or empty cleaning containers. A particularly practical feature is a health check, which allows you to objectively assess the health of your calves.
AmmoniaDetect
Ammonia irritates the mucous membranes of calves, even in small doses. This can lead to bronchitis in the long run, which can soon turn into pneumonia. Ammonia is only perceived as an odour when it is already in the harmful range. AmmoniaDetect is an electrochemical sensor that permanently measures ammonia levels in the barn air. It is installed directly in the lying area, protected from the calves by a pipe. CalfExpert analyses the measured values continuously and documents them in a chart. This enables you to optimise the ventilation of the calf barn and determine the best time for mucking out.
Gain time and flexibility
Take care of your calves when YOU want and don't let them dictate your day. There are often other jobs and responsibilities to be taken care of in the mornings and evenings in particular: milking and feeding the cows, making breakfast for the family or taking your children to school... CalfExpert feeds your calves. You only have to monitor the machinery and the animals. And training is reduced to a minimum with the new HygieneStation.
Automated work routines
With the CalfExpert, all employees know what they have to do and when. They carry out monitoring, teat changes, etc. at regular times. The CalfExpert generates messages about empty milk replacer powder, whole milk and cleaning agents in good time. And to avoid any stress, CalfExpert does not report "milk replacer powder empty" but already reminds you several hours beforehand.
A feeder that has growing potential
With CalfExpert you can feed up to 100 calves at 4 stations, with QuadroFlex as many as 120 calves. Even if you feed fewer animals today, our modular system allows you to expand the calf feeder machine at any subsequent time with all the options available. So you save money now but can still make use of all the possibilities later.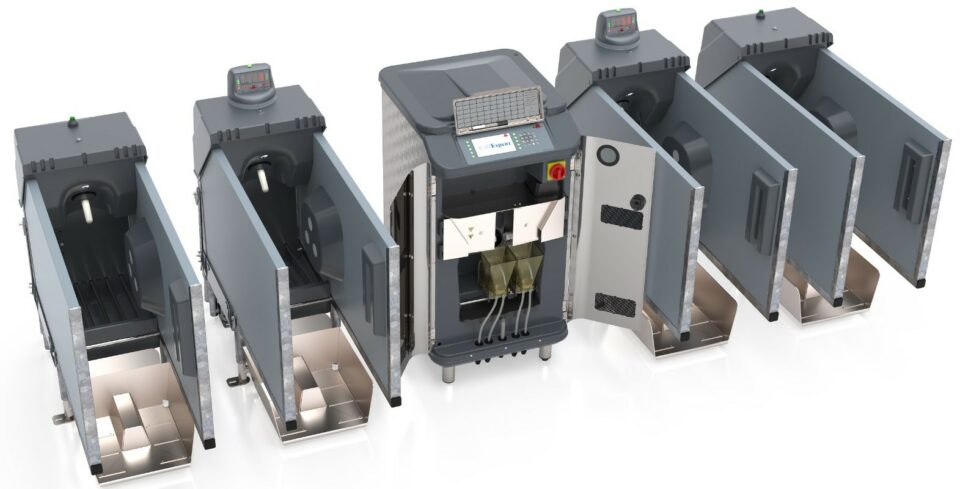 CalfExpert with 4 stations
CalfExpert basic configuration
1 PowerMixer with SoftStart logic and heater
Fresh, animal-specific milk preparation
CalfExpert feeding software with integrated operating instructions and help functions
7″ graphic display with SmartKeys
8 feeding curves (including metabolic feeding curve)
Rinsing of mixing tank and suction line
Two detergent pumps for the automatic cleaning of all milk-carrying components with automatic empty message
Cleaning temperature up to 65 °C
Easy-to-clean stainless steel and plastic surfaces
Powder storage for 50 kg CMR with only 112 cm filling height
Powerful powder auger suitable for different CMRs
Automatic registration of new calves
Individual flexitime programme eliminates stressful feeding times
QuickChange logic for faster credit switching between the calves
Data storage capacity for 250 calves
Self-activating frost protection programme
Fly protection as standard
Wi-Fi in the calf feeder as standard
Free CalfGuide app: all important information on your smartphone
CalfExpert additional options
Second PowerMixer
QuadroFlex (feed 4 calves in parallel)
Up to 4 dosing units for solid and liquid additives
Powder chamber extension + 25 kg CMR
Whole milk system
MilkBoy storage tank
DoubleJug milk cooling tank
CalfGuide management system
Hygiene station (optional including teat cleaning, display, animal weighing scales) (see HygieneStation options)
Alert lights
AmmoniaDetect
Second milk powder chamber
CalfExpert technical specifications
| | |
| --- | --- |
| Power supply and heating performance | 400 V 16 A (6 kW) or 230 V 16 A (3 kW) |
| Capacity with 4 feeder stations | Up to 100 calves (up to 150 in certain cases) |
| Identification system | Multireader HDX and FDX |
| Storage tank for milk replacer powder | 90 l / 50 kg |
| Powder filling height | 112 cm |
| Boiler capacity | 12 l |
| Dimensions | 60 cm x 70 cm x 121 cm |
| Space requirement | 100 cm x 100 cm |
* Technical specifications subject to change without notice.