FeedFence
The perfect feeding system for your farm: various feed fences ensure a safe and practical feeding place layout.

Safety and calm for your calves thanks to quick securing in V-shaped feeding place openings.

Easy handling and flexible feeding place layout for different requirements.

Cost-effective calf housing, as installation is also possible in old buildings.
The right feeding place for any barn
Any calf barn, whether it is an outdoor climate barn such as the IglooVeranda, the solid structure of a conventional barn or even just a quick barn conversion, requires a well-thought-out feeding system. This saves unnecessary walking and makes calf feeding faster and more reliable. The options available to you are as varied as your personal desires and your calves' needs. Whether you feed your calves with the CalfExpert calf feeder or with the MilkTaxi essentially determines which feed fence you use. What matters is making the right choice without restricting your future options too much. With so much to choose from, you're spoilt for choice. Contact your Holm & Laue dealer. They know exactly what is important and you will avoid the mistakes that others have long regretted.
Safety for your calves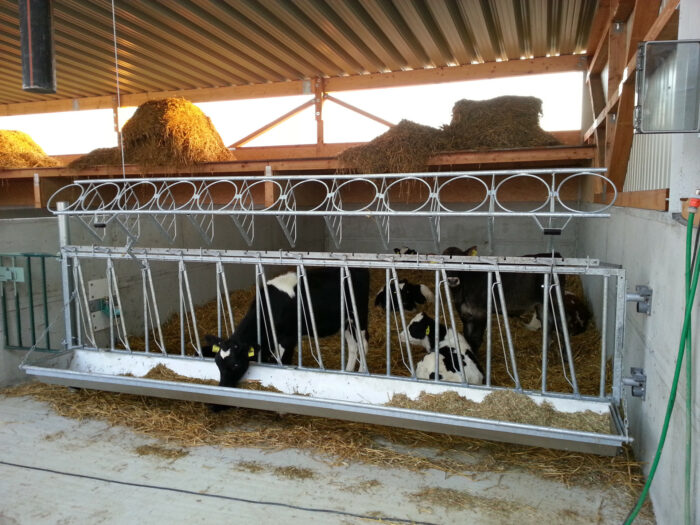 The H&L Feed Fence Headlocks are designed with V-shaped openings at every feeding place that allow the calves to insert their head and pull out safely. It is not possible for the calves to become caught unintentionally.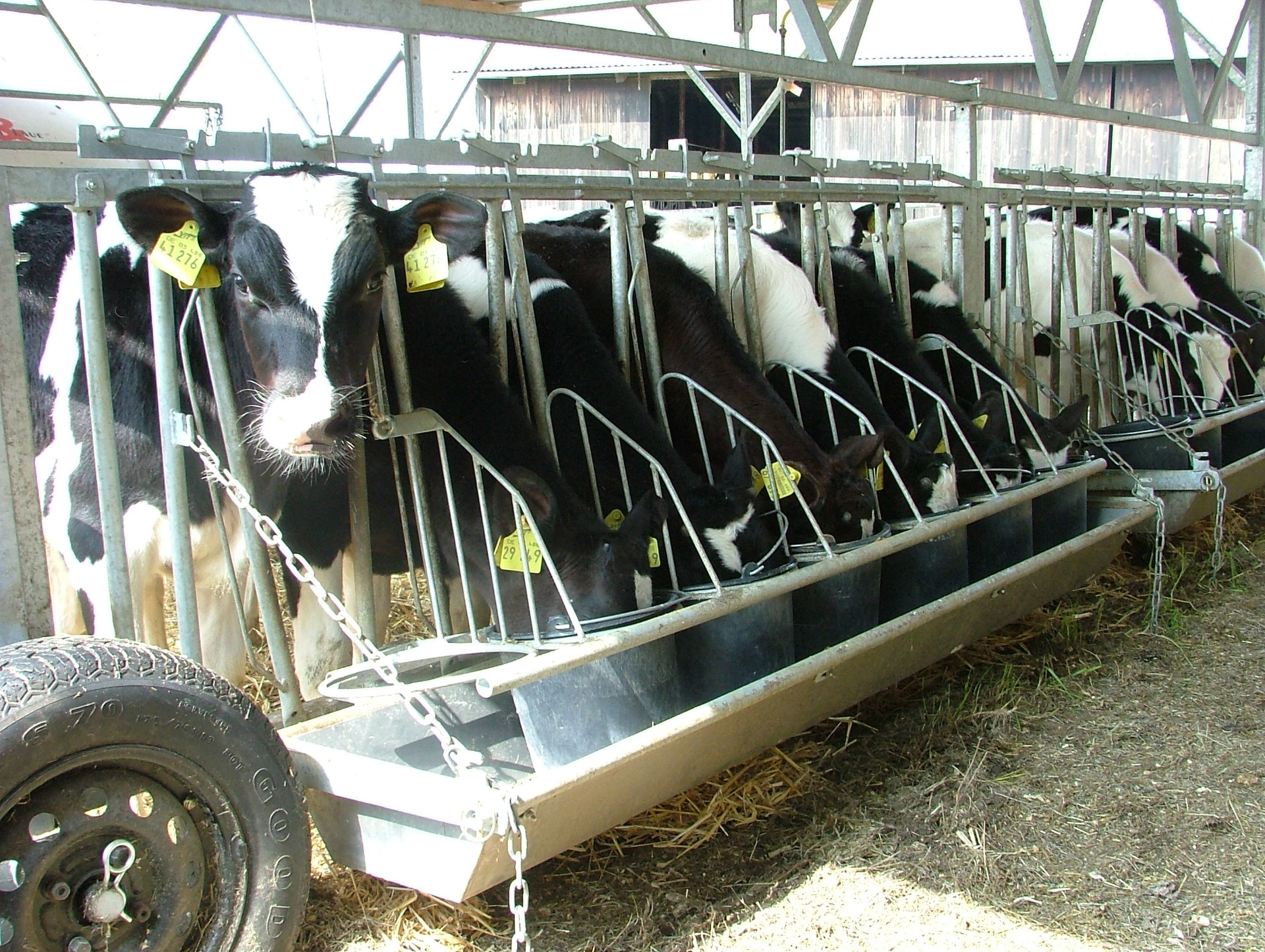 A side grate on the bucket ring and the teat protection basket on the teat bucket holder prevent milk from being stolen. This means you can also feed larger groups of different ages individually without any problems.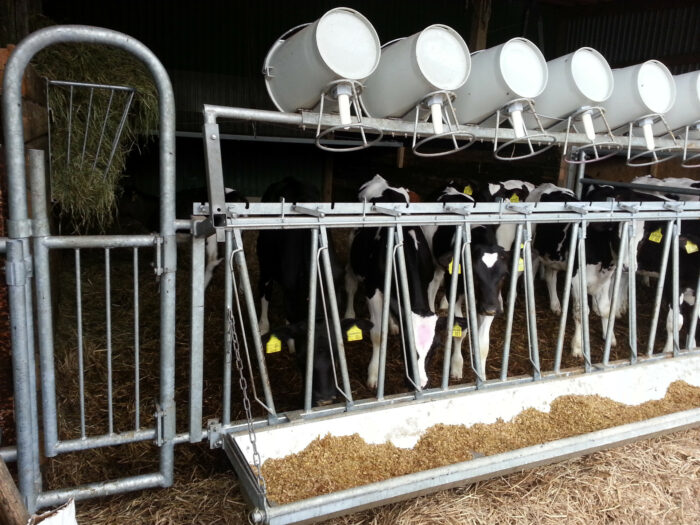 Rapid access
The H&L feed fence can be equipped with a rotating mechanism so that you can open it along the full front. This provides easy access to the pen for cleaning it completely. The manway with a lockable gate allows you to enter the pen and reach the calves quickly and safely.
The right feed fence for every requirement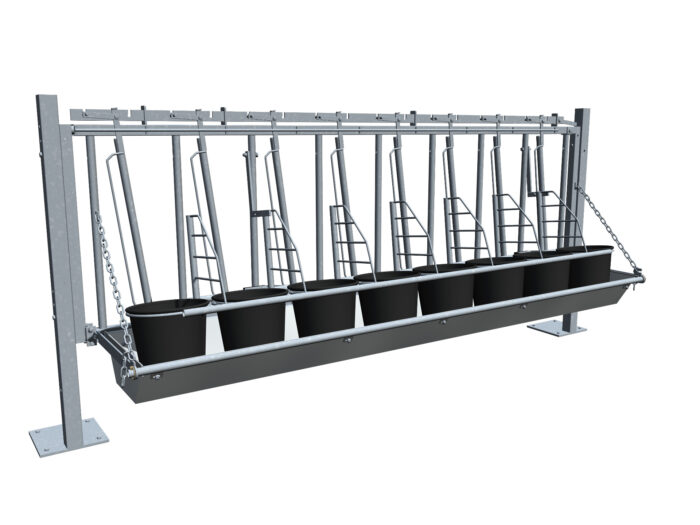 Feed fence with bucket ring holder, side barriers and trough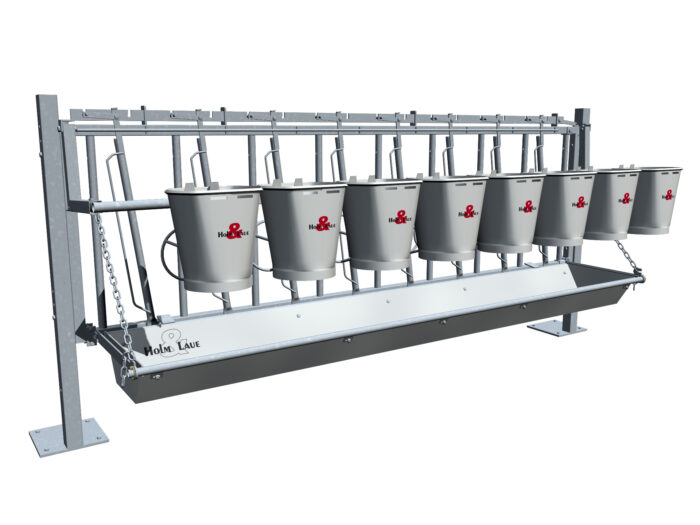 Feed fence with trough and teat bucket holder
Calves are quickly secured
Do you have a problem with reciprocal suckling? Then secure the calves in the fence for 30 minutes after feeding to prevent navel infections. The whole group of calves can be quickly secured thanks to a practical handle. Stragglers can also be secured individually.
Varied feeding place layout
The locking feed fence is designed for 6 – 12 feeding places. The telescopic system allows it to be adapted to any distance between the posts of between 2.20 and 4.40 m. An ideal solution for old buildings. Just determine the distance you need; we will gladly advise on which telescoping feed fence is best for you. Each feed fence comes with a matching stainless steel trough. It is easy to access and feed remains can be tipped out effortlessly.
Basic configuration
V-shaped feed opening
Neck size adjustment
Central locking with handle
Individual lock
6 cm square tube for easy assembly
Additional options
Varying lengths (see table)
Teat bucket holder with teat protection basket
Bucket ring holder with side barriers
Manway
Turntable with quick release
Posts with and without base plate
Dimensions
| | |
| --- | --- |
| Standard locking feed fence | Length 244 cm, 7 feeding places, each 30 cm in width, not adjustable |
| Telescope locking feed fence (6 – 8) | Length 220 – 315 cm: (8 feeding places with a variable length of 276 - 315 cm; reduction to 220 cm minimum possible for 6 or 7 feeding places by separating one or two feeding places); feeding place width: 33 cm |
| Telescope feed fence (9 – 10) | Length 316 – 380 cm: (10 feeding places with a variable length of 340 - 380 cm; reduction to 316 cm minimum possible for 9 feeding places by separating one feeding place); feeding place width: 33 cm |
| Telescope feed fence (11 – 12) | Length 381 – 440 cm: (12 feeding places with a variable length of 404 - 440 cm; reduction to 381 cm minimum possible for 11 feeding places by separating one feeding place); feeding place width: 33 cm |
* Technical specifications subject to change without notice