Calf health and aids
Calf-rearing also has many procedures which have to be carried out in addition to the everyday tasks such as feeding, providing bedding or monitoring the animals. Thus calves have to be frequently moved during the first weeks of their life. Or sick calves require special attention. For many of these areas there are practical aids which simplify day to day work.
In addition to the familiar products such as MilkTaxi, the H&L calf feeder and H&L IglooVeranda, Holm & Laue also offers several of these innovative aids in its range. They make the task of transporting the calves easier, provide support when calves are born weak or shelter the young animals from extreme weather conditions in winter for example.
At Holm & Laue the same standards apply for these small aids as for all other products: smart handling, longevity, innovative functions and maximum hygiene. Here we present some of these products.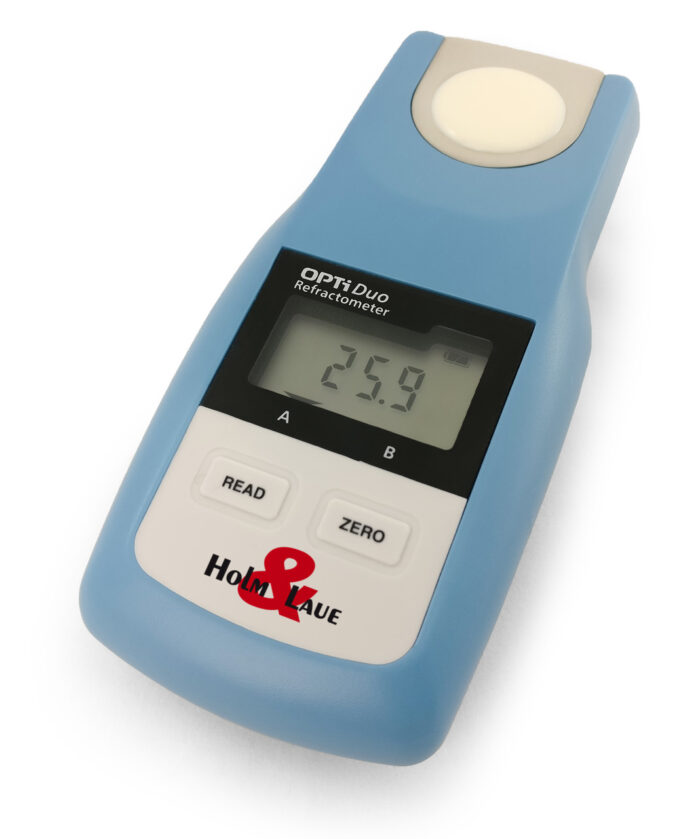 Refractometer
Newborn calves have an insufficient level of antibodies and absorb these important protective proteins solely through their colostrum. This means that the young calves must be fed high-quality colostrum as soon as possible in order to develop a strong immune system. The H&L refractometer determines the quality of the colostrum and in this way helps to ensure sufficient basic immunity. The digital refractometer measures the light refraction in the colostrum to calculate the so-called "Brix value" in %. This value correlates closely with the protein content of the milk and thus allows conclusions to be drawn about the quality of the milk.
The H&L refractometer is used in three important areas:
| Testing colostrum | Testing blood serum | Determination of dry matter in whole milk |
| --- | --- | --- |
| Good colostrum should have an IgG concentration of 50 mg/ml. This value corresponds to a Brix result of 22% and more. Samples returning a Brix value of less than 20% should not be fed to newborn calves. However, this milk still constitutes high-quality food for older calves. | Testing the protein content in the blood serum determines whether a calf has received a sufficient supply of antibodies. An immunoglobulin content of 10 mg/ml (7.8% Brix), measured after 24-48 hours, can be assumed to provide good basic immunity. | In addition to the actual Brix value, the H&L refractometer also determines the dry matter of the milk. This makes it possible to determine whether the milk contains enough ingredients or whether it needs to be enhanced with milk replacer powder. |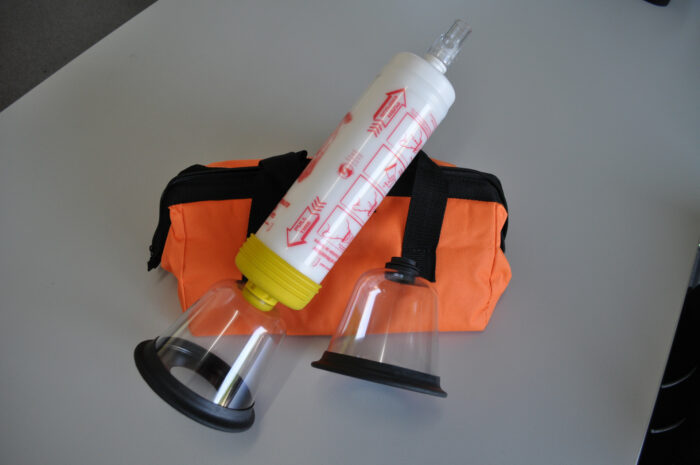 CalfVital calf resuscitator
It is essential to act quickly when calves are born weak. It often happens that the newborn calf is not breathing or the presence of fluid can be heard in the respiratory tract. The CalfVital calf resuscitator is a dual purpose pump which provides help quickly.
Cleaning and disinfecting are extremely simple since all components are made of plastic and furthermore can be quickly dismantled.
The storage bag is extremely practical and keeps the resuscitator clean and protects it. The CalfVital can therefore be kept directly accessible in the calving area.
Dual use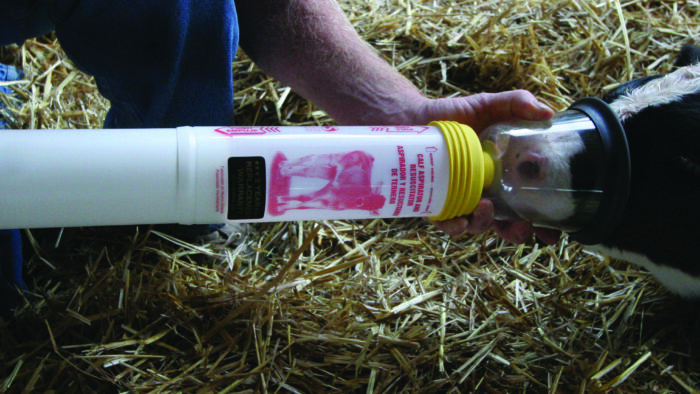 Aspiration
Amniotic fluid can be quickly removed from the respiratory tract with the pump's suction attachment (yellow). Two to three fast piston strokes are often quite sufficient.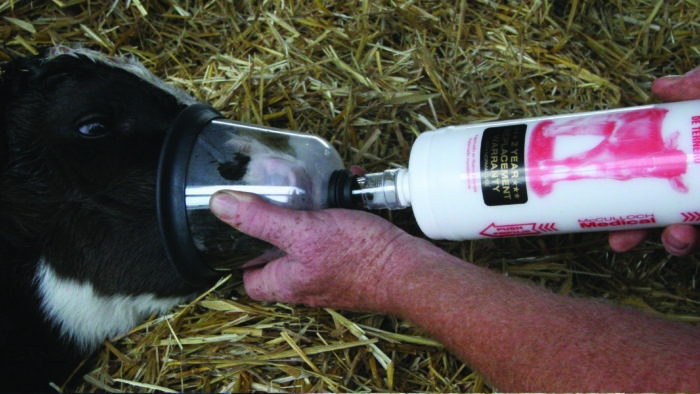 Respiration
If the calf subsequently fails to breathe, the CalfVital calf resuscitator helps to effectively ventilate the calf by means of a second attachment. An integrated valve prevents excessive pressure from building up. This protects the delicate pulmonary alveoli.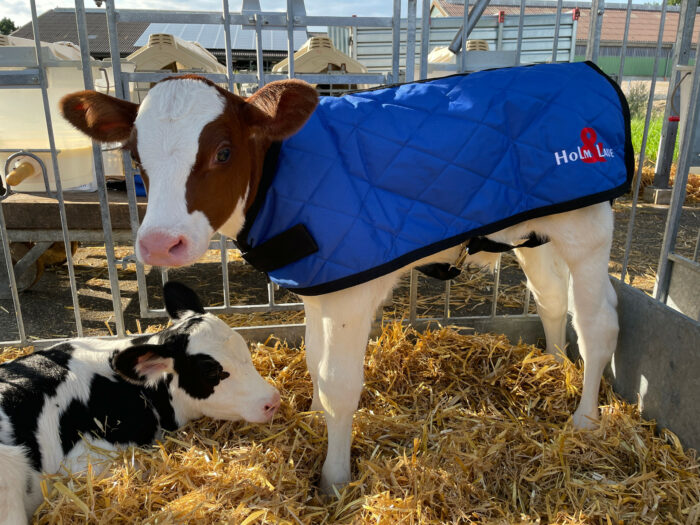 CalfCoat
The H&L calf jacket provides ideal protection for your calves at low temperatures. It reduces the energy required to maintain body heat by up to 30 %. The ideal addition for intensive energy rearing with metabolic programming. If in spite of a healthy outdoor climate calves are sick in the Igloo, it is advisable to leave them in their familiar surroundings and provide additional protection with a calf jacket. Because moving to a poorly-ventilated warm barn causes additional exposure to bacteria and ammonia. The calf jacket is easy to adapt to different body sizes with adjustable leg straps and a practical fastening with Velcro at the chest.
Excellent quality of workmanship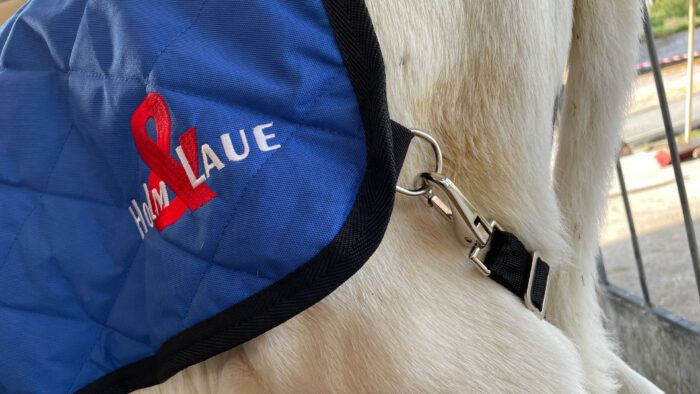 Breathable 3M Thinsulate material
Washable at 30 °C and disinfection with mild disinfectants
Water-repellent outer material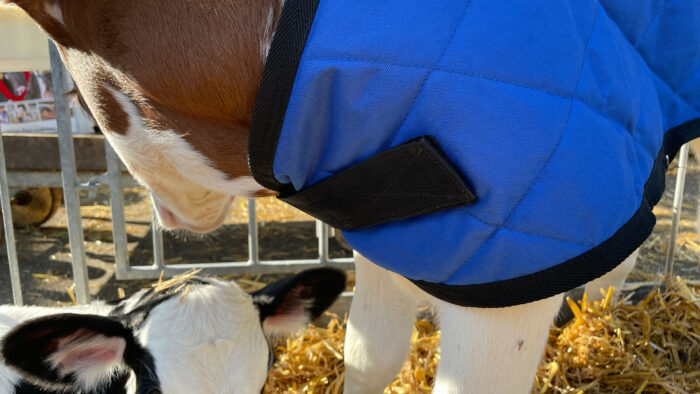 Durable metal fasteners on the leg belts
Low-wear edge reinforcement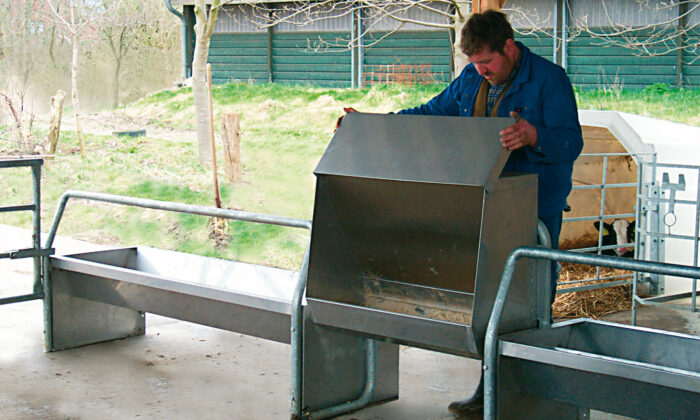 Concentrate feed dispenser
Concentrate feed should be given fresh and in small quantities at all times, so valuable feed does not get moist. This is difficult to achieve when distributed throughout the day. With an ad libitum dispenser only the exact quantity previously consumed by the calf is replenished. When feeding the calves concentrate, we recommend using our stainless steel concentrate dispenser with a capacity of approx. 50 l. This is easy to affix to concrete by using its base. It is also available for wall mounting as an option.
Concentrate dispenser technical specifications*
* Technical specifications subject to change without notice.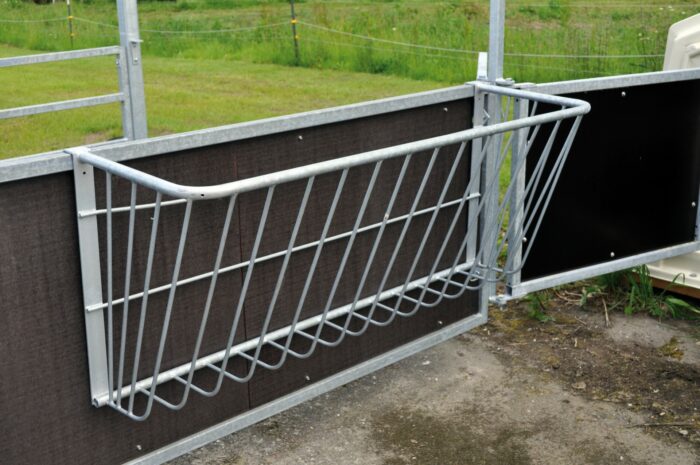 Hay rack
Calves like hay. It is important, however, that the hay is clean and can be accessed at any time. The large H&L hay rack is 1.5 m in width and can be safely placed on a pen separator. This is why refilling it is particularly easy, directly from the hay and straw reserve next to the pen.
Hay rack technical specifications*
| | |
| --- | --- |
| Width | 150 cm |
| Options | With hooks for hanging over pen separators |
* Technical specifications subject to change without notice.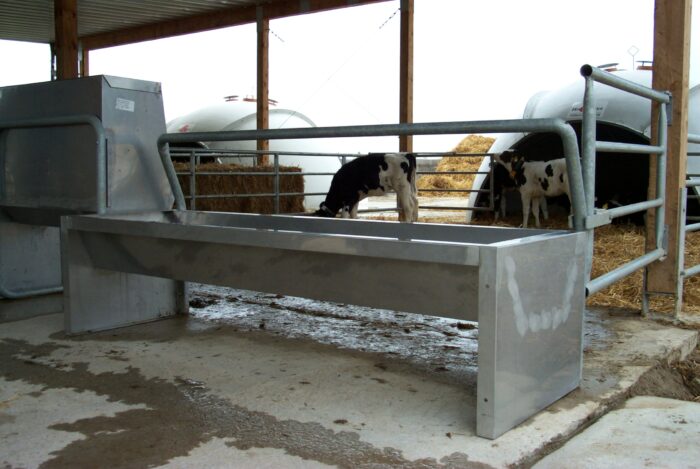 Roughage trough
A trough ensures that the calves cannot push the feed away. This ensures a high feed intake.  The stainless steel trough is two metres in length. The supplied neck rail features an angled fixation that encourages a good body position during feeding, even with larger calves.
Forage trough technical specifications*
| | |
| --- | --- |
| Width | 200 cm |
| Depth | 50 cm |
| Height | 60 cm |
| – with bracket | 120 cm |
| Options | With galvanised neck latch |
* Technical specifications subject to change without notice.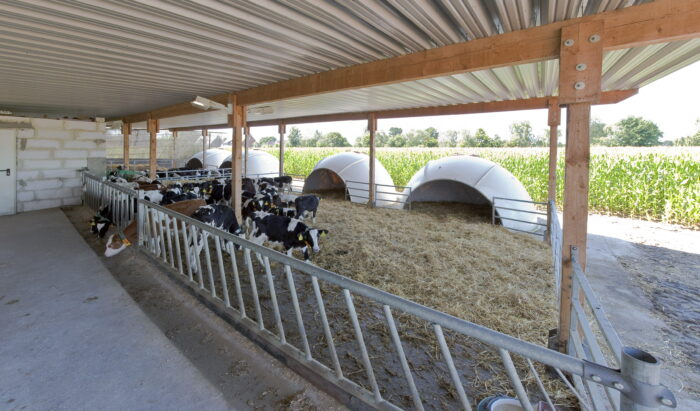 Diagonal feed fence
Diagonal feed fences can be used in the calf pens as an alternative to troughs. This design is recommended, in particular, when calves are fed from a feed table. With a length of five metres, the H&L diagonal feed fence is equivalent to 17 calf feeding places. Bear in mind that the feed table should be raised by 15 cm. This is the optimum height difference for a calf feeding place.
Diagonal feed fence technical specifications*
| | |
| --- | --- |
| Width | 485 cm |
| Options | 17 feeding places, diameter of upper and lower tubes: 2 inches |
* Technical specifications subject to change without notice.