Sustainability at Holm & Laue
Reducing our carbon footprint and taking social responsibility? Also an important topic at Holm & Laue.
Efficient storage capacities and a green heating system
Sustainability and environmentally friendly action play a fundamental role for companies these days. How can we improve our actions in this regard? Which processes can be adapted and where can we cut emissions?
At Holm & Laue, we are also facing up to these challenges and a number of planned changes are already being implemented.
A new storage hall for components and, above all, for a wood chip heating system was built on the company premises in Westerrönfeld in autumn 2021. It is a building with a sliding rack system. This means there is only one aisle in the hall that can be "shifted" individually, saving space for additional wide aisles. "A normal hall of this size would have around 324 pallet spaces, but thanks to the mobile racking system, our warehouse has 594 spaces. So you have almost double the storage capacity with the same size building," explains Managing Director Achim Holm. Above all, our production team is pleased because the hall was built directly in front of them, significantly shortening the routes to the components they need.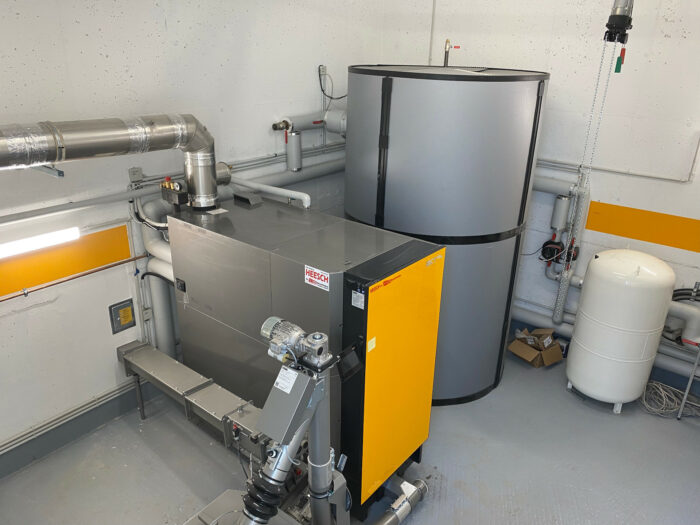 In addition to the rack system, the new wood chip heating system with an output of 160 kW is a special feature for us. "In the past, all company buildings were heated using oil-fired heating systems. The wood chip heating system will in future enable us to replace four old heating systems and hence save around 25,000 litres of heating oil a year," says Achim Holm. A 75 m³ wood chip silo is located in the new hall directly next to the heating system, allowing the heating system to be constantly supplied with wood chips through an opening. No additional work steps or machine operations are necessary. The entire company premises have been connected to this heating system.
The heating system is ideal for our region because the fuel is produced each year when the hedges in the surrounding area are trimmed. This also means that transport is limited to short distances. Our fuel comes from a contractor here in Westerrönfeld.
We would like to thank our partners who built the new hall and put it into operation:
We have also invested in reducing the company's environmental footprint in the past. For example, the first PV system was installed on a company roof in 2011. We now produce 135 kW of green electricity on Holm & Laue roofs.
Another project planned for the near future is the conversion of some of our company cars to e-mobility. The field service vehicles in particular are scheduled for replacement in the near future.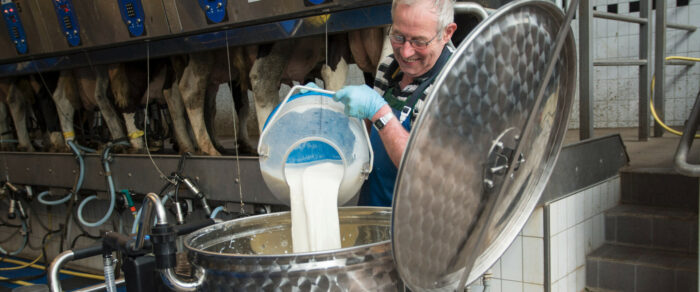 We are also focusing on mobile and flexible models for our products. This enhances the multifunctional use of our feeding systems. We advocate the feeding of whole milk. Compared to milk replacer, it is a very sustainable source of feed for calves and is produced directly on the farm. This completely eliminates long transport routes, drying costs and imported raw materials.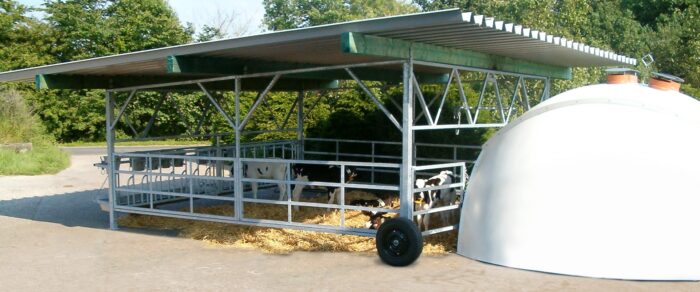 We also place emphasis on keeping calves outdoors in long-lasting calf hutches. As a result, our outdoor climate barns require little building material and less land is sealed. In addition, the outdoor climate promotes animal health.
Of course, this is not the end of the story. We are continuously working on making our trading channels, production and products more efficient, sustainable and thus more environmentally friendly. "These issues will grow increasingly important in the future and it is vital for us to make our contribution as a company," concludes Achim Holm.
How important are the topics of sustainability and climate-friendly operations on your farm? How does calf rearing need to position itself in the future with regard to the subject of "the environment "? What measures will you be taking, or have you already taken, to operate more sustainably? Please feel free to send us an e-mail.