TwinHutch
Modern calf rearing in housing for small groups and pairs. This makes sense not only from an animal welfare point of view, but also in terms of investment.

Calves need social contact with other calves for healthy development.

Sufficient space for 2 – 3 calves, at the same time less space required than in individual housing.

Rearing calves is even more satisfying when they are happy.
The calf hutch for mini-groups of two to three calves
Housing for small groups and pairs in calf husbandry are popular not just on organic farms. The TwinHutch also meets the requirements of the German Calf Husbandry Ordinance (TierSchNutztV) for group housing on conventional dairy farms. Durable Calf-Tel quality combined with the advantages of the Holm & Laue FlexyFence ensure the highest standards of animal welfare.
Keeping calves in the TwinHutch requires less space and saves you investment costs compared to individual hutches. A good image in animal welfare does not have to be expensive. In addition, calves that have been raised socially perform better later on.
At the same time, diseases are not simply passed on between the small groups. This keeps your animals healthy and makes raising the calves even more fun for you and your team.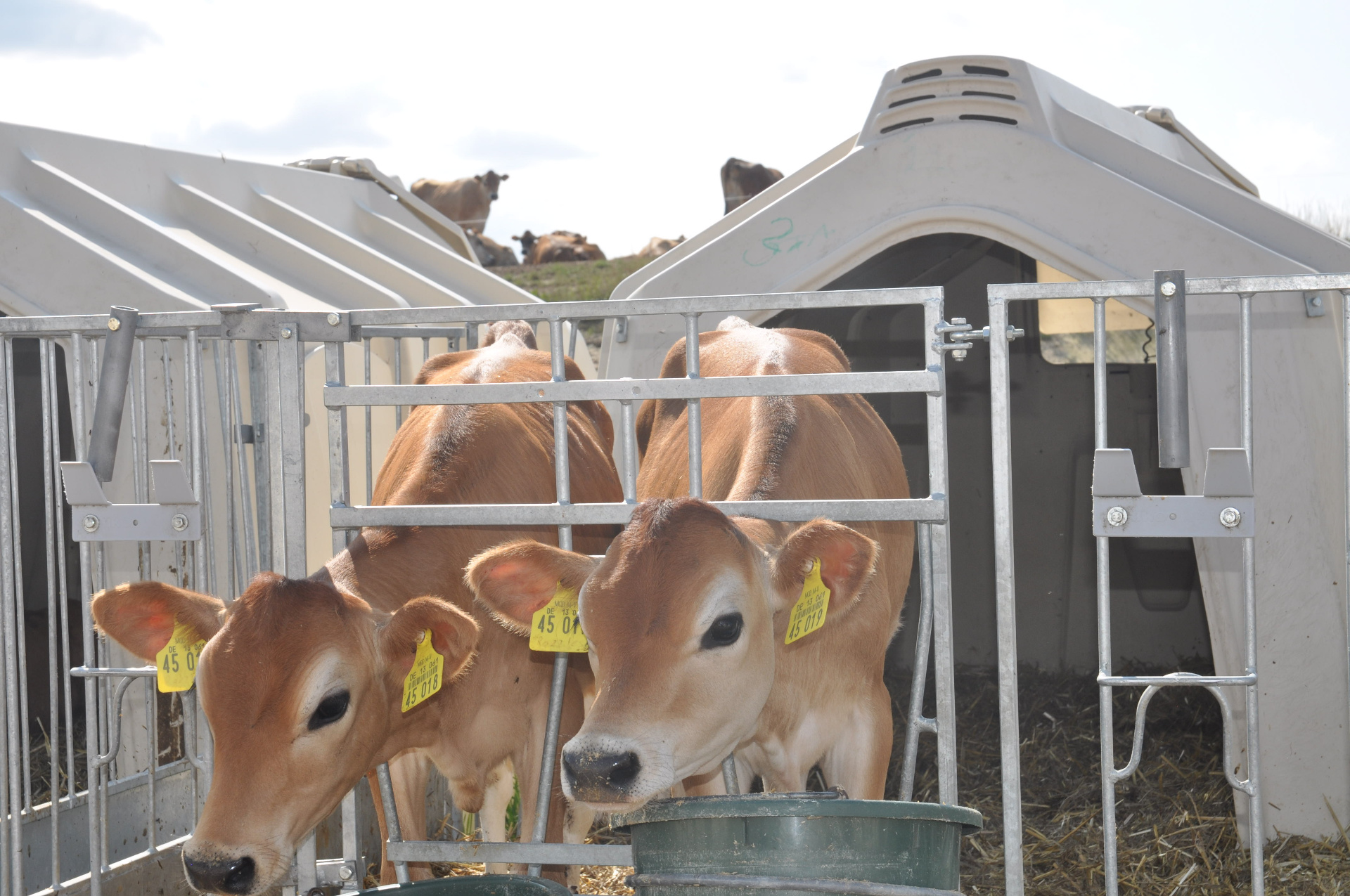 Better performance
Studies show that calves from mini-groups exhibit better social behaviour, higher feed intake and increased growth even after weaning. This leads to an earlier first calving age and higher milk yields.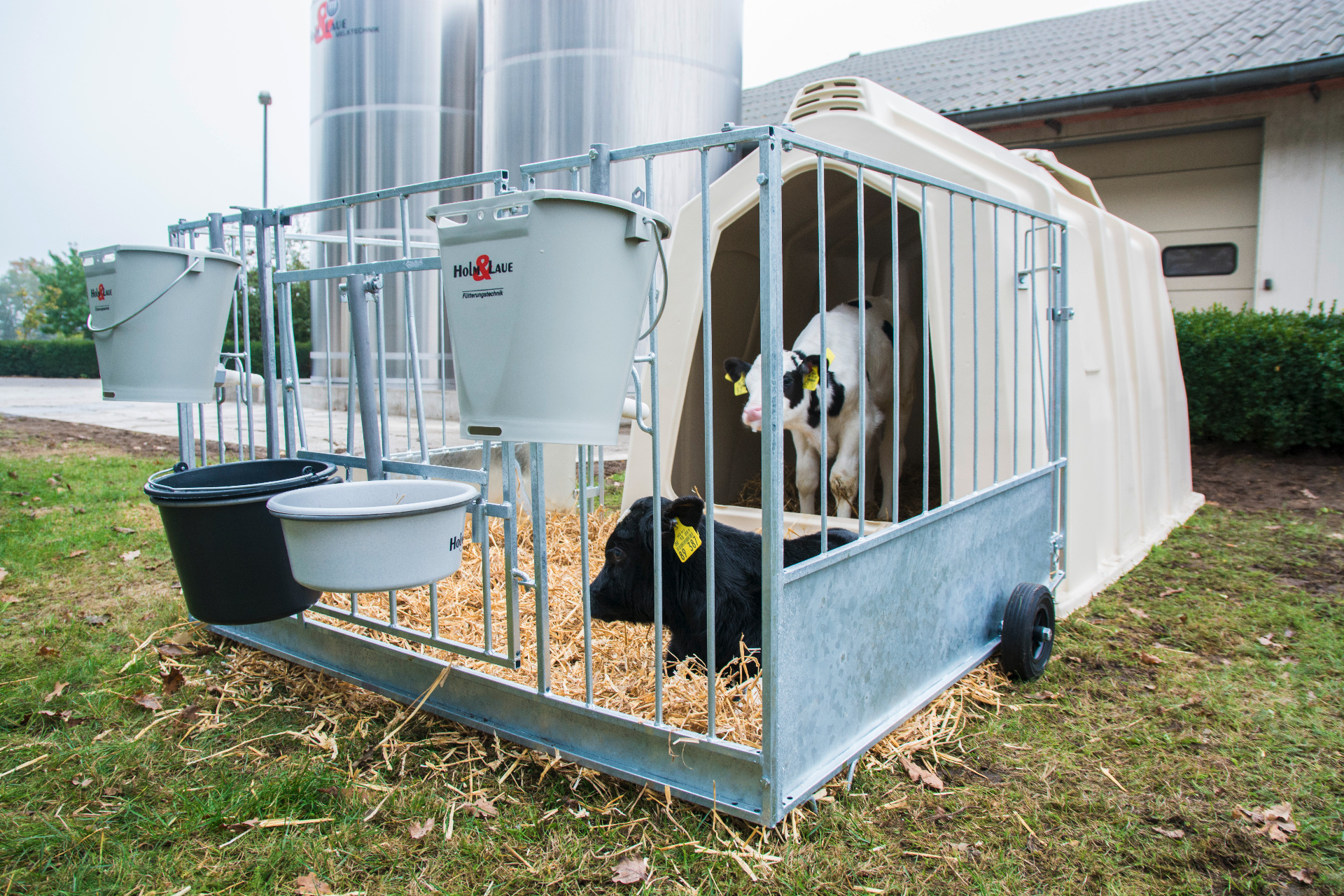 Feeding and drinking in pairs
The FlexyFence features two full-sized teat bucket holders, as well as an additional space for a third drinking bucket. Two additional bucket holders for concentrate and water complete the feeding area. A protected hay rack can be added to the back of the TwinHutch as an option. This gives you maximum flexibility when feeding your calves.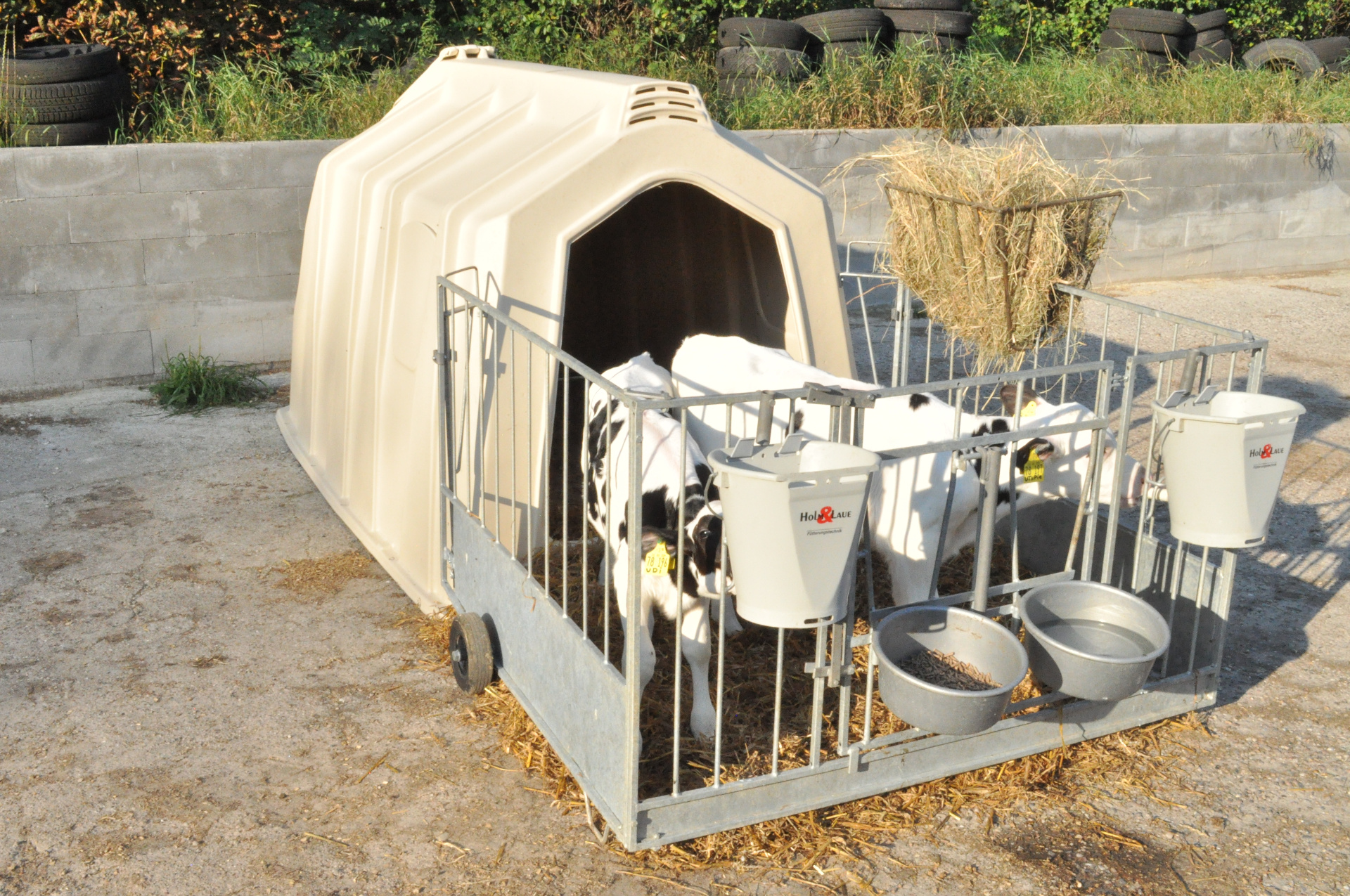 Compatible with organic guidelines
The group housing of calves is mandatory on organic farms. However, it is often difficult to form stable groups in periods with few calvings. With its generous space of 3.5 m² in the hutch and 2.3 m² in the run, the TwinHutch meets the guidelines of organic associations for housing two calves.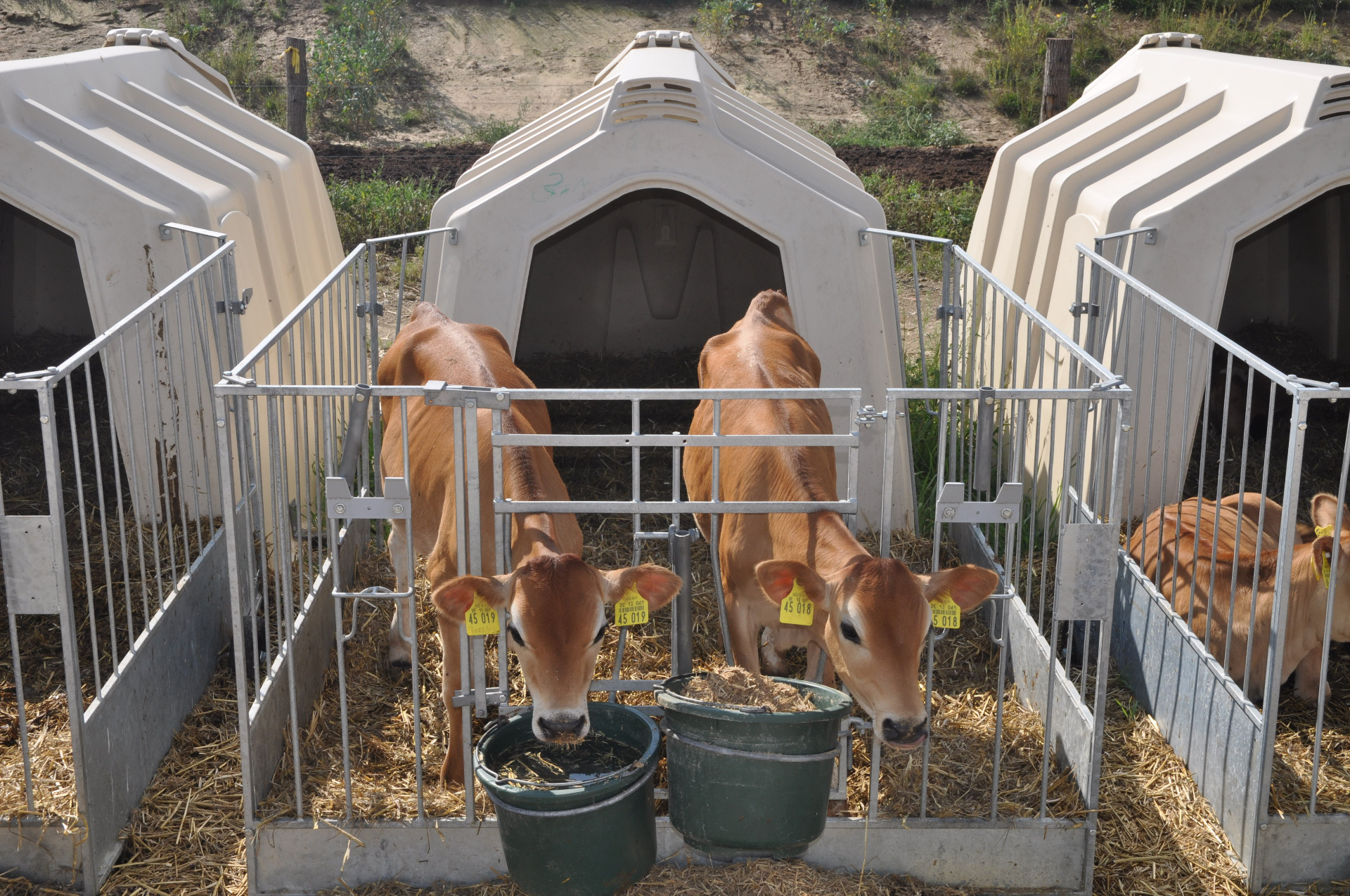 The first rule-compliant mini-group hutch
Conventional hutches offer a maximum area of 3 – 4 m². A group pen for calves in Germany must provide at least 4.5 m² of space and offer each calf an area of at least 1.5 m². In combination with a modified FlexyFence, the TwinHutch offers a total area of 5.8 m². This is ample space for mini groups of two to three calves.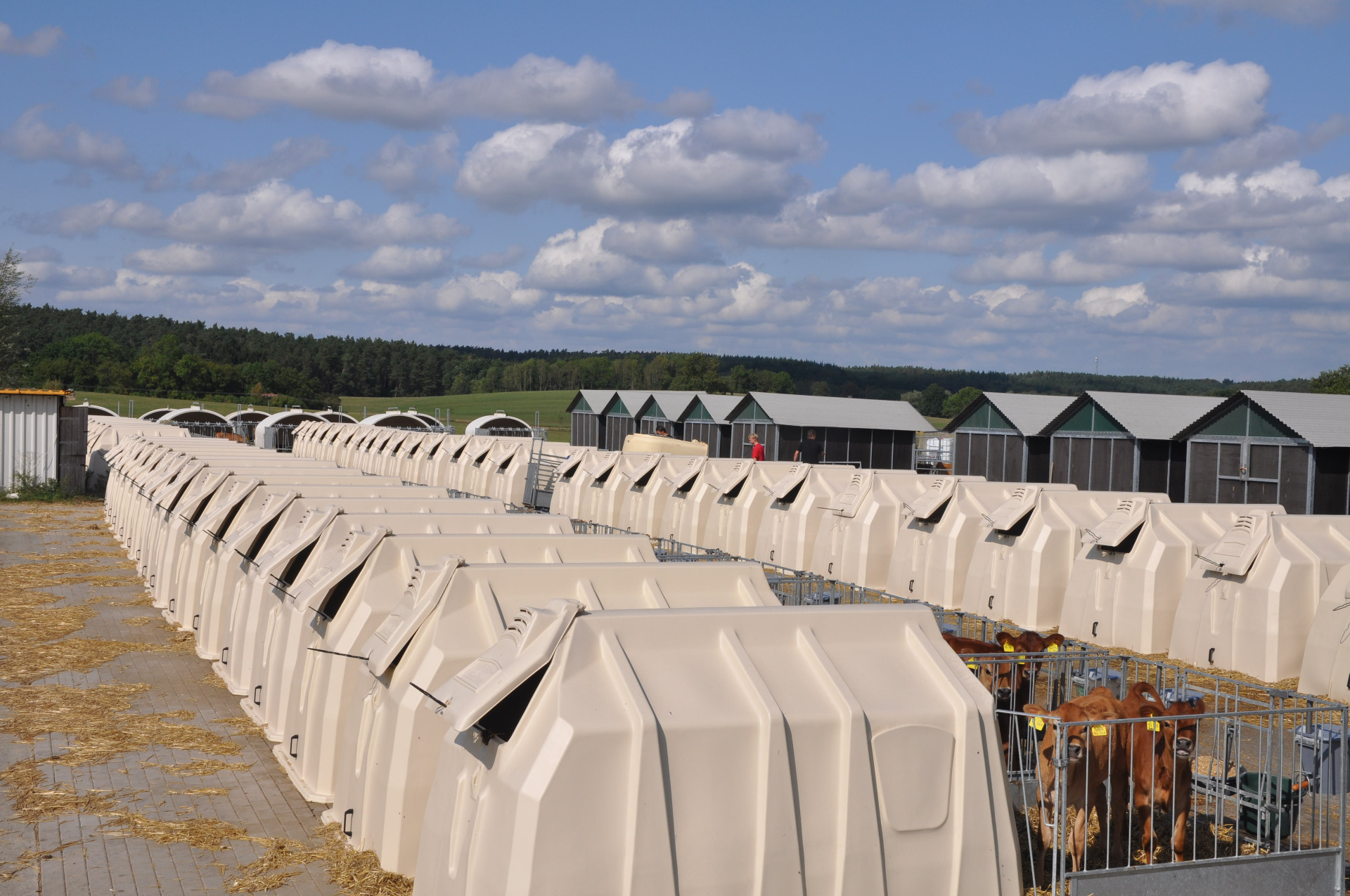 Less space required
In addition, the space and cost savings are arguments that appeal not just to organic farms. After all, with the same number of calves, the space requirement is halved and you need fewer hutches. Then you also have fewer calf hutches to clean.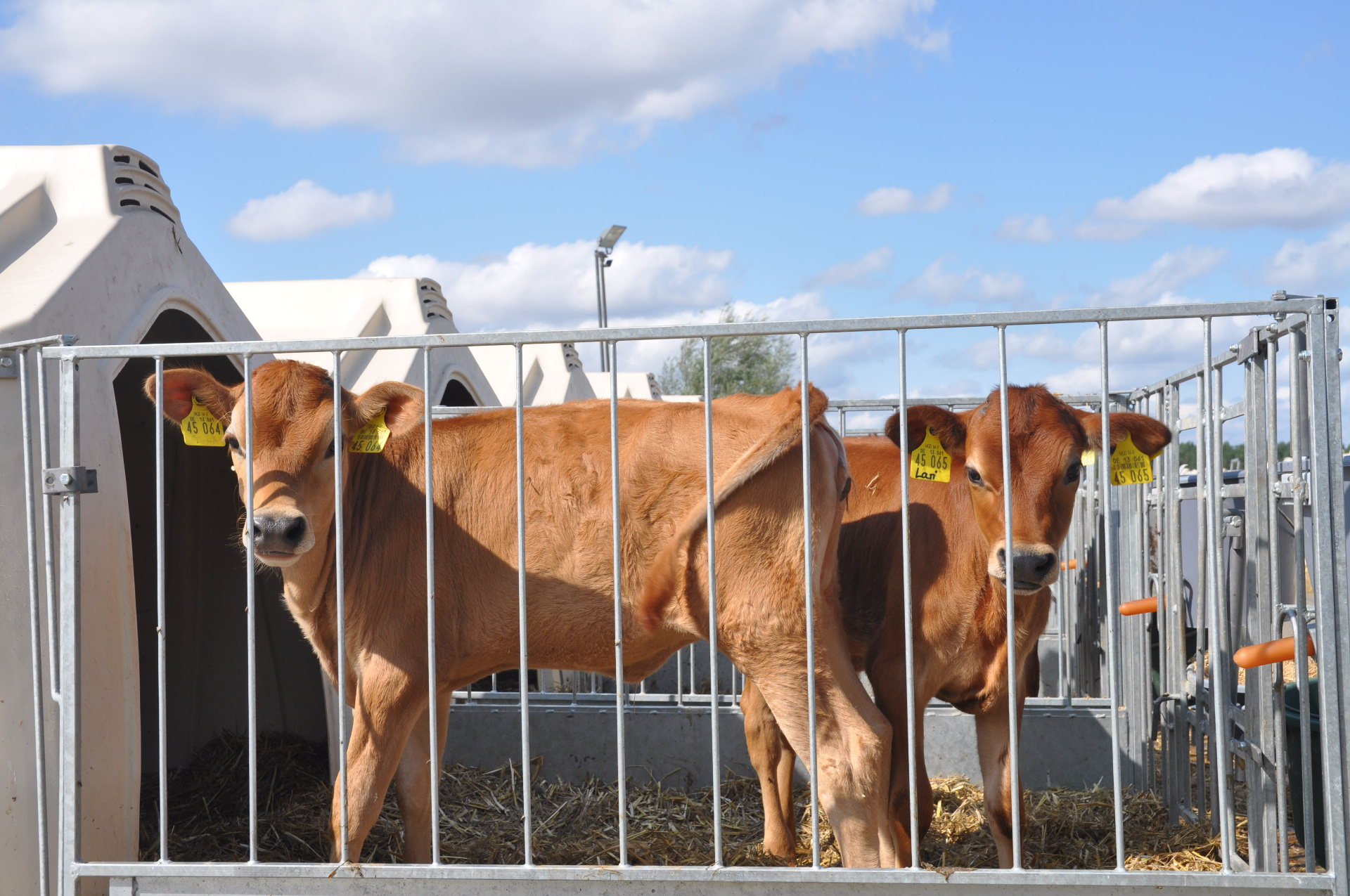 Longer service life
Housing in individual pens is limited to a maximum of 8 weeks throughout the EU. Calves can be kept longer in a TwinHutch mini-group, as the limit for individual pens no longer applies. You can wean the calves in peace and do not need to transfer them to the next group pen until they are 10 to 12 weeks old.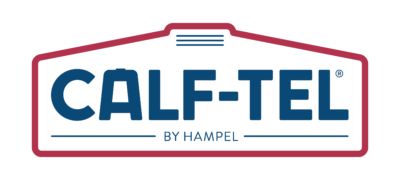 Calf-Tel
Click here for more information on Calf-Tel products.
Transport assistance
Thanks to its lever mechanism, our transport aid makes it much easier to move the TwinHutch for cleaning or to a new location.
Technical specifications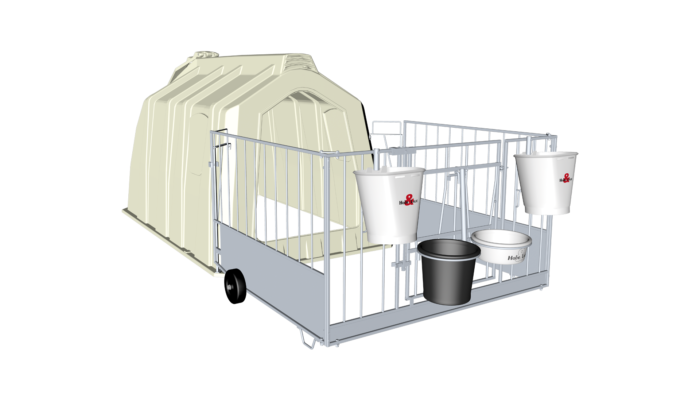 Dimensions
| | |
| --- | --- |
| Outdoor * | 250 x 154 x 151 cm |
| Indoor * | 243 x 146 x 136 cm |
| With FlexyFence and buckets * | 432 x 156 x 105 cm |
| Space requirement | approx. 5.8 m² |
| Weight of the TwinHutch | 43 kg |
* Length x Width x Height