CalfGarden
This flexible, sheltered canopy for individual pens provides a pleasant workplace and dry bedding with a healthy outdoor climate.

Low-cost canopy for individual hutches. Mobile barn concept with few restrictions.

Healthy outdoor housing for calves, where bedding, feed and calves remain dry.

A pleasant, dry workplace. Easy mucking out and simple relocation.
Mobile individual housing with generous roofing
The CalfGarden is the ideal extension to Calf-Tel calf hutches with the FlexyFence. The roof keeps feed and bedding dry and operators have a pleasant working environment. The mobile roofing is flexible and can be moved for mucking out.
Changing the location allows you to move your calves to a new low bacterial surface whenever you need to. They grow up to be healthy in low bacterial concentrations.
The CalfGarden can be set up in a few hours and does not usually require any special building permits, allowing you to act quickly, especially in times of fast growth.
All this makes the CalfGarden the perfect solution for the first few weeks of your calves' lives.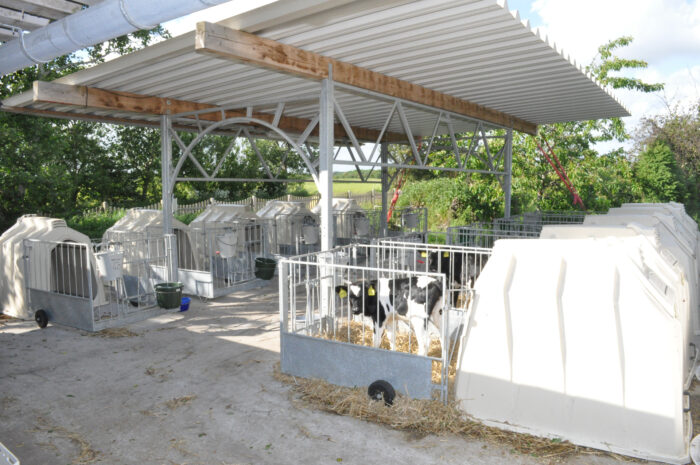 Weather protection and dry bedding
A covered pen provides the optimum climate and is good for your calves. Calves can spend more time outdoors in the open air, protected from the rain or hot sun by a large canopy. In addition, bedding stays dry longer, which delays the formation of ammonia. All this strengthens your calves' immune system and reduces respiratory diseases.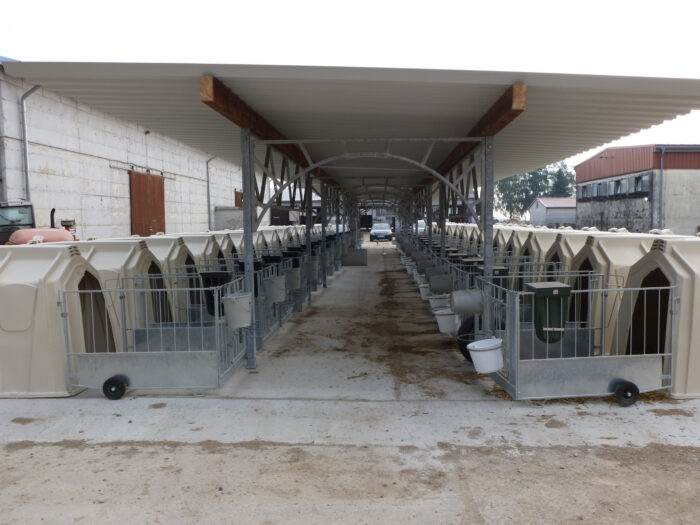 Dry feed
Concentrate, calf muesli or dry milk replacer are valuable feedstuffs. They should always be provided fresh and dry. The canopy keeps all feed dry, thereby encouraging feed intake.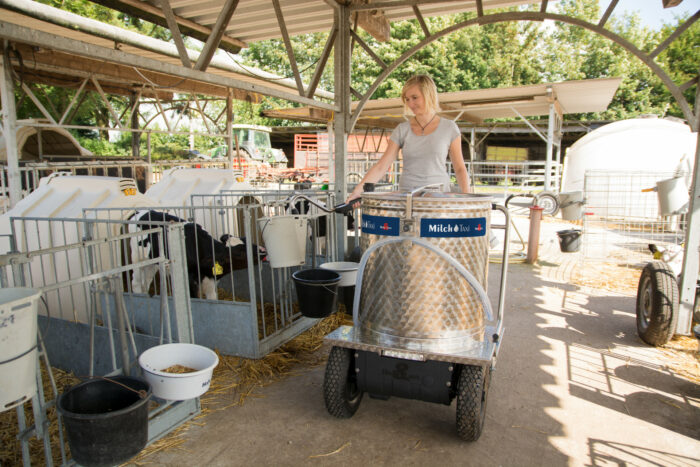 Protected working environment
The roof also provides the person working with the calves with a sheltered workplace and gives them more time with the calves. This increases the quality of work and allows signs of illness to be detected earlier.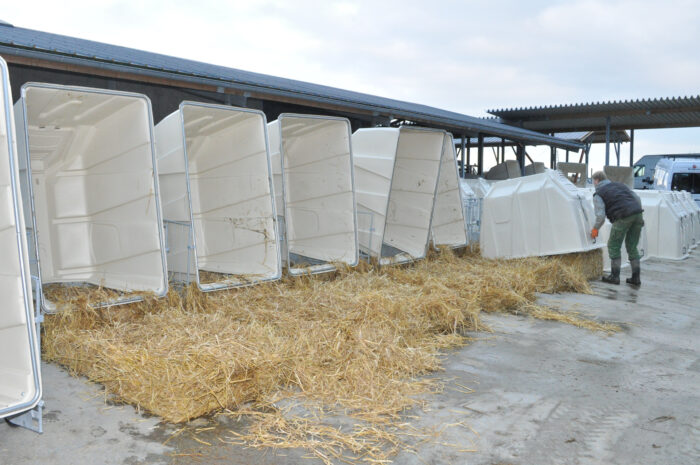 Easy relocation
You can change location very easily with the CalfGarden every time you muck out. Both the canopy and the hutches are easy to move. Your calves will then always grow up on a clean surface that is not pre-contaminated with bacteria. UV rays, fresh air and rain provide natural disinfection on the old surface until the next relocation.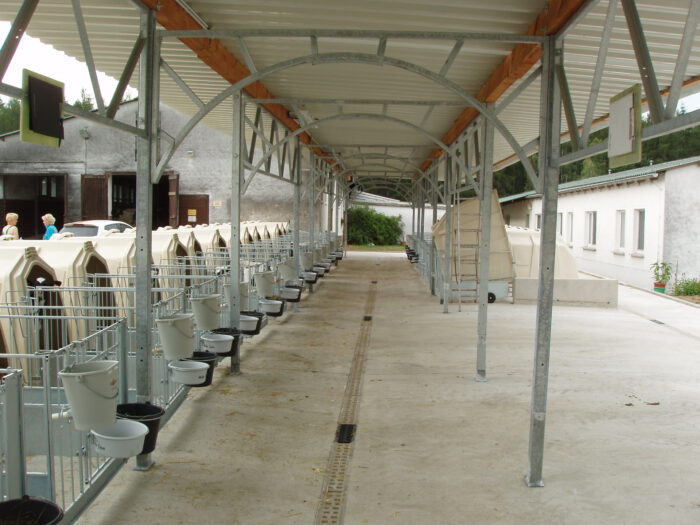 Modular
Who knows what the future may bring? The CalfGarden enables you to respond quickly and flexibly to changing requirements. We recommend the CalfGarden as an alternative to an expensive conventional calf barn with a fixed number of calf places. You save a lot of money and can simply add 10 calf places at a time in the future whenever necessary.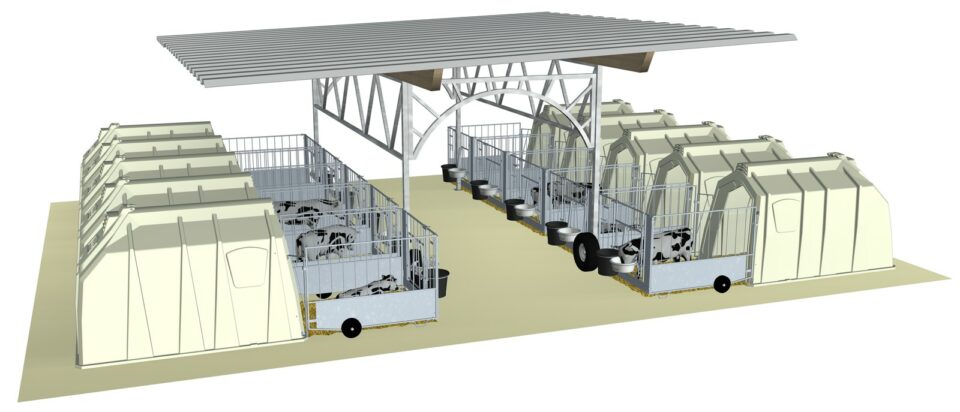 Calf Garden dimensions
| | |
| --- | --- |
| Basic frame | 2.5 x 5 x 2.5 m* |
| Roof area | 6 x 7.85 m* |
* Length x Width x Height
Calf garden basic configuration
Base frame with 5 x 2.5 m distance between posts
Two push-on wheels with pneumatic tyres
Front loader mounting
Optional extras
6 x 7.85 m roof area
Mobile with push-on wheels or stationary variant with ground anchors
Storm protection kit for the mobile CalfGarden
Rain pipe