Who we are
Holm & Laue has been developing products for the modern rearing and housing of calves since 1991 that focus on calf health. Our innovative products aim to facilitate the care of calves, enhancing the animals' health and performance as well as reducing the costs and working time involved in rearing calves. The most efficient way of achieving this is with healthy calves that feel at ease. It is then that the calf and the keeper both benefit from the use of our products.
The challenge is to accomplish this task by technical means and in a way that makes economic sense for users. We are recognised as technology experts and market leaders in this field.
We are represented by specialist trade partners in almost all regions where it makes economic sense to keep and care for calves with modern technology and innovative concepts. Of course, we are constantly seeking competent partners who share our philosophy and wish to distribute our products in their region with great passion and conviction.
On a regional level, Holm & Laue is not only a manufacturer of smart solutions for calf feeding. We erect, maintain and repair milking parlours in Schleswig-Holstein and Mecklenburg-Western Pomerania through H&L Melktechnik. In addition, H&L Milchhygiene supplies dairy farms in the region with hygiene products. Two thirds of the dairy farms in Schleswig-Holstein are now customers of at least one of our business units. You can only achieve this in such a short time with convincing work results and a cooperative and respectful approach to your customers.
This is how we work
For us, innovation is the key to success. We develop our products and are constantly working on improvements, and these are often put into series production within a short space of time. What is special: unlike other companies that also conduct their own research and development, our development team is larger than average in relation to the total number of employees. This translates into a high pace of innovation and an increasing number of international patents being granted.
We do not have our own in-house production, i.e. there is no one bending, milling or welding sheet metal, moulding plastic or assembling circuit boards. The individual parts we use are manufactured by specialist companies in accordance with our plans and requirements. We purchase standard components and standard parts. Assembly then takes place in Westerrönfeld.
We supply the specialist trade partners around the world. We supply our customers in Schleswig-Holstein directly. As a result, many of our service and sales staff are in daily contact with the users of our products and know their requirements first-hand. The prototypes of our products are also field-tested in Schleswig-Holstein. This also means that our development team is always engaged in dialogue with users and present on their farms. In this way, we continue to learn directly from real life.
Employees from seven different countries support dealers in more than 50 countries locally and from Westerrönfeld. The focus of our activities is on the countries of the EU, America and, increasingly, Asia.
It is important for us to foster a cooperative relationship with our customers and suppliers. Where "foster" implies that we participate in it. Actively. We have been able to build our success on this basis, and we are committed accordingly to nurturing the relationships with our partners.
Appreciation for our employees is a given in this respect. The fact that Holm & Laue is an owner-managed family business is reflected in the relationship among employees. In the best possible sense. Our managers have open ears and doors and take the time to listen, so that our "family" can retain its character despite the ever-increasing number of employees.
Working for and at Holm & Laue
Many people long for fulfilment in their everyday working life, for an activity they enjoy, for tasks that are fun because they match their own inclinations, and work that is recognised. Ideally, we are lucky enough to feel a calling to our "business activity".
If you wish to pursue a career or learn a trade with us that meets our requirement profiles, or, as a student, are looking for a company that will support you with a great deal of commitment during your studies, then we want to hear from you.
We are inspired by employees who approach their tasks with enthusiasm and exceptional interest in their particular field of work.
If you don't just see Holm & Laue as a step on your career ladder, but would like to feel "at home" with us over the long term, then you are particularly welcome here.
A healthy environment
Attractive working surroundings thanks to close to nature and well-maintained workplaces and rest areas
Breaks with free, supervised opportunities for sports and mental fitness
Security and social welfare
Occupational pension provision above and beyond the statutory requirement
Contributory capital formation scheme
Free clothing from the Holm & Laue Dairy-Fashion™ collection
Our employees can save up to 40% on the purchase of a bicycle or e-bike with JobRad
Occasional invitations to breakfast, a lunch from the food truck or free choice from the ice cream van and
Regular Christmas parties, of course
Family and career
Flexitime and flexible working time models
Full compensation for overtime through time accounts or payment
Internal training and support for advanced training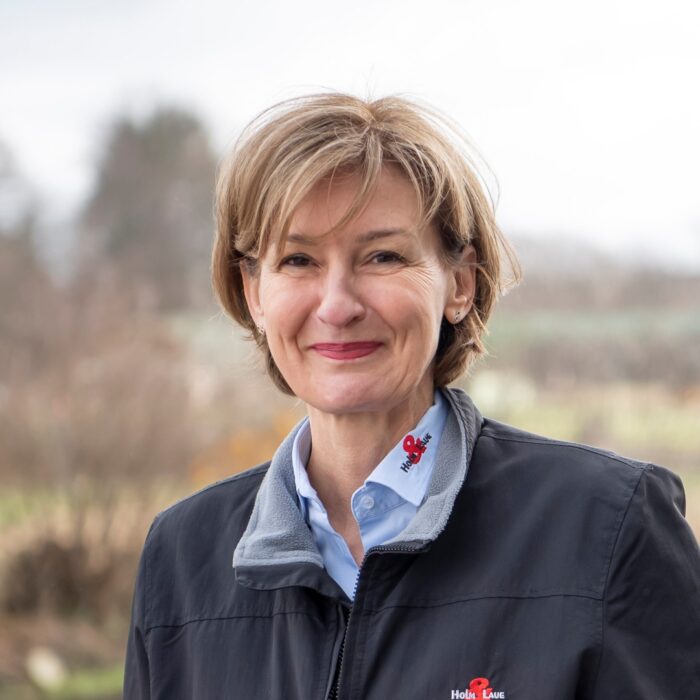 Your application
My name is Gesa Holm. I am an authorised signatory for the company and the HR manager. Please send your application to me. Please do not hesitate to contact me if you cannot find a vacancy on our website that suits you. We welcome unsolicited applications. Your application including a CV should preferably be sent to me by e-mail. I would be pleased to receive details of when you can or would like to start with us, what weekly working hours you would like and what else is important to you.
We assure applicants who are already in employment particular discretion. You are very welcome to get to know us on a "trial working day".