Improved performance in calf feeding thanks to modern feeding technology
CalfExpert ensures healthy calves and happy farmers in the Pays de la Loire, France
The farm "GAEC des 4 Chênes" opted for an HL 100 calf feeder 13 years ago. A CalfExpert now takes care of feeding the calves. Farm manager Fabrice Thouzot and his staff have always been as enthusiastic as they are today.
This article is about
Holm & Laue calf feeders are impressive
Achieve your goals with the HL100 calf feeder
CalfExpert provides even better control and greater efficiency
Holm & Laue calf feeders are impressive
The dairy farm "GAEC des 4 Chênes" is located in the West of France, more precisely in the French municipality of Les-Lucs-sur-Boulogne. The farm has about 100 dairy cows, a heifer rearing unit and a suckler herd with about 85 calvings. Another business activity is pig fattening.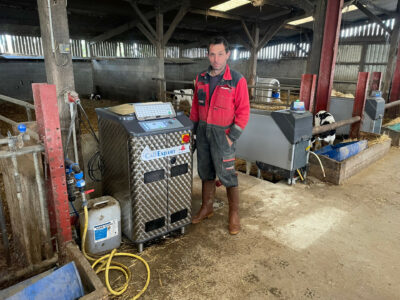 Farm manager Fabrice Thouzot decided to buy an HL100 calf feeder 13 years ago. A growing livestock population, a lack of manpower, the goal of increasing performance and improving the health of the animals all prompted the decision to purchase back then. The old feeder was recently replaced by a new CalfExpert with four HygieneStations.
With an individual view of each calf now possible, the increased feeding capacity and improved handling are winning and compelling features. "I'd also like to highlight the excellent service provided by our local dealer. We have always dealt with people at Holm & Laue who really understand their subject area, and that's how the products are designed too," explains Fabrice.
Achieve your goals with the HL100 calf feeder
The farm manager and one employee take care of the calves on the farm. They used to look after an average of 50 calves, but there are about 70 these days. The farm has grown steadily in the past and new goals have been set. Fabrice tells us: "As a Holstein breeding farm, our goal was for our animals to calve at 24 months. They had to improve their performance in order to do this. To achieve this, we started with the rearing. This is where the HL 100 calf feeder came into play. Automatically controlled feeding with optimum temperature and powder concentration at all times quickly showed results in the calves: healthier and stronger calves after a very short time."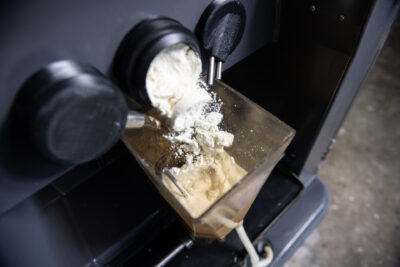 We still sometimes have problems with respiratory diseases in our old barn, but our calves cope with that much better now than before. Our investment in the new calf feeder has already paid off."
He particularly likes the increased work efficiency: "We save valuable working time with the HL100 back then and CalfExpert today. Everything is fully automated and our calves grow consistently with very few health problems. Our animals have been calving between 24 and 25 months for several years. We have achieved the goal we set ourselves at the time."
– It is not only in France that our automatic feeders perform at their best, they are also in use in Ukraine. Feel free to read our blog post "successful calf feeding in Ukraine". –
CalfExpert provides even better control and greater efficiency
A CalfExpert with four HygieneStations recently replaced the HL100 after 13 years. "The HL100 was simply getting a little old and was in increasing need of maintenance. Repair times were having a direct impact on the growth of our calves, as we had responsibility for feeding again during these periods. This is a real problem from an economic point of view, especially with regard to raising our heifers. So the CalfExpert with four HygieneStations from Holm & Laue came to our farm."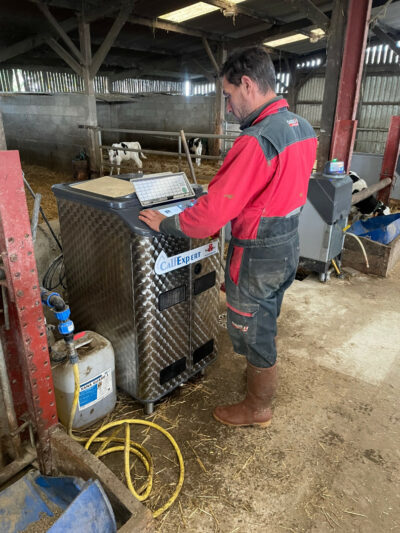 The new CalfExpert is cause for excitement: "We now have detailed individual information on each calf, operation is very easy, the teat flush ensures greater hygiene and we can feed four calves simultaneously. What' s more, the calves are automatically weighed on a regular basis and weaned accordingly, so we can save expensive milk powder and hence hard cash. I was already very happy with my HL100 feeder, but the CalfExpert is a whole new ball game.
And I haven't even exhausted all the possibilities of the feeder yet," says the farm manager.
Lastly, Fabrice concludes: "We are very happy with the decisions we have made regarding Holm & Laue in the past. You quickly realise that someone here has given a lot of real thought as to how to improve our work. This is also evident in the cooperation with our local service partners, who always give us great support."
"We would like to thank Fabrice Thouzot for the lengthy interview and wish him every success with his CalfExpert feeder.