Managing the family with MilkTaxi
Feeding calves and looking after children: child's play with the MilkTaxi
The MilkTaxi is a real help in the calf barn and a very important working tool on many farms today. It has a wide field of application due to its many features, and it can also play a significant role in family life on the farm.
This article is about
MilkTaxi as a help during pregnancy
It is no longer possible to imagine a calf barn without the MilkTaxi
MilkTaxi as a help during pregnancy
The MilkTaxi is not just a practical help in taking care of the calves in Weddingstedt in Dithmarschen (Schleswig-Holstein), it is also used there as a babysitter. Until recently, farm manager Freya had to pull a heavy milk tanker, but now she can drive a MilkTaxi with a pram without a care in the world.
Freya Pferdmenges-Dethlefs and her husband Hauke have been third-generation managers on their farm since 2013. Freya's primary responsibility is looking after the calves. This was very arduous work until 18 months ago. "We used to feed our calves quite laboriously with a milk churn cart. While it might be better than lugging buckets, it's still quite exhausting – especially climbing the small incline into the barn each time was really hard," says the farm manager.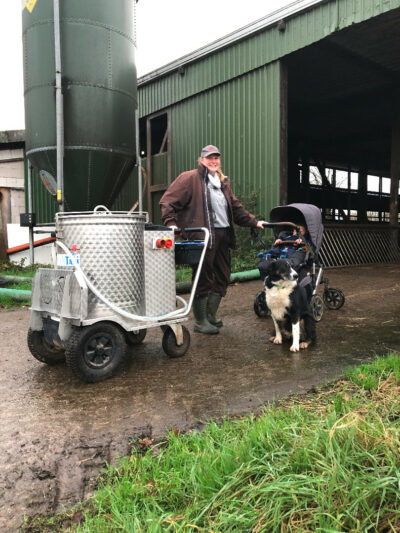 Then Freya became pregnant and heavy work had to be avoided. "Pregnancy made us realise it was time for something new," she says. "And that's how the Holm & Laue MilkTaxi found its way to us. It really was my salvation during pregnancy. I was able to continue working without any problems - that did me a lot of good and helped the farm." The arduous work of feeding calves came to an end with the purchase of the MilkTaxi, and today Freya even pushes little Tim in the pram and the MilkTaxi around the barn at the same time.
– By the way, our MilkTaxi not only looks after children, but can also help trainees by means of QR codes. You can read about what this is all about in our blog post "QR codes on a dairy farm". –
It is no longer possible to imagine a calf barn without the MilkTaxi
"I wouldn't have been able to manage the calf feeding during pregnancy without the Taxi. And even now with Tim, it wouldn't be anywhere near as effortless. We are very happy with our MilkTaxi. I especially like the traction drive and the pre-set dispensing levels. I can position the MilkTaxi in front of a calf hutch without much effort, press the dispense button, engage with Tim and the Taxi does its job – it's just great and the little one has fun too!"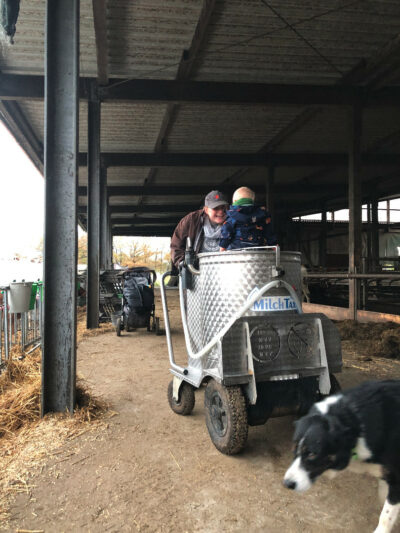 Freya concludes our conversation by saying: "I can only recommend it to anyone who wants to make their work in the calf barn easier. Whether with child and pram, during pregnancy or as an employee – I wouldn't want to do without it!"
There's nothing more to add. We'd like to take this opportunity to thank you for the friendly conversation. Especially little Tim, who made this occasion a very special one – it's nice to see that even today there are real farm kids who feel at home in the barn and with the animals. We wish the young family and the farm all the best and long may they continue to have fun with the Holm & Laue MilkTaxi.