A travel report from our mascot Holli from the green island in the Pacific.
"Kia Ora" means "Welcome" in Maori. You can see that our calf "Holli" has been on a long journey to visit different calf breeders in New Zealand. There she encountered a new " breed of cattle", the "New Zealand Crossbreed" (a cross between Holstein-Friesian and Jersey) and learned a lot about the distinct style of New Zealand calf rearing. The Kiwi farmers are particularly impressed by the calf feeders.
And these are the farms that Holli visited:
BEL Group, Waipukurau, Hawke's Bay
BEL Group has a total of 10 farms with around 10,000 cows. At each location, the calves needed for rearing are raised by the farmers themselves. A total of about 1,200 every year.
Lynette Sayers is responsible for raising calves on four of these farms.
A CalfExpert has been feeding calves on one of the farms since last spring. 198 calves have so far been reared on the feeder. The CalfExpert has 4 HygieneStations, one of which is used as a learning unit in a small bay. This is where the calves are trained for a few days before being released into the larger pens when they can reliably call up their milk. There, the calves are allowed to move around the neighbouring pasture at a very early stage. Only whole milk is fed and each HygieneStation is equipped with animal scales.
Lynette, with the BEL Group management, opted for the CalfExpert to address the shortage of labour. And the new technology does indeed save her a great deal of time. She oversees calf rearing on the four farms with the help of one other person. It is a great benefit for her that she usually only has to teach the calves and check their technique once a day at the CalfExpert. Calves on all the other farms continue to be fed manually.
The CalfExpert means that BEL Group can now offer an attractive workplace for employees. "But it's better if we leave the calves to their own devices, as they learn quickly and we just get in their way," says Lynette.
When asked what she likes best now, Lynette replies spontaneously: "The better quality of the calves. Not only are they healthier, but they also develop a better body frame and don't have such a bulging belly. Calves that are fed manually quickly develop this if they drink too much milk. The calves reared on CalfExpert also eat grass and other feed more quickly."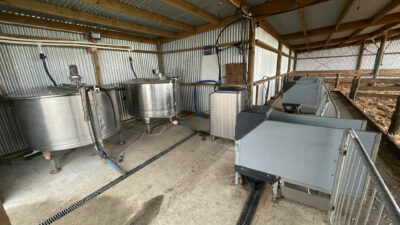 Two full milk tanks and the CalfExpert with 4 HygieneStations
The target weight of Holstein- and NZ-crossbreed calves at BEL Group is 90 kg. They then need to be weaned*. The calves on the CalfExpert reach this point at between 74 and 80 days of age. The weaning age on the other farms is around 115 days, i.e. the CalfExpert calves reach their target weight 4 weeks earlier.
This is also reflected in rearing costs – NZ$ 380 for weaning on the CalfExpert, compared to NZ$ 540 weaning manually. As a result, CalfExpert has already saved NZ$ 31,680 in costs in its first season.
* Holm & Laue recommends 2.5 times the birth weight as weaning weight for Holstein-Friesian calves.
Kylie MacDonald, New Plymouth
Kylie raises calves for a fattening farm. She is always sent 80 calves in single delivery, which are A Wagu cross with the Holstein crossbreeds predominant in New Zealand.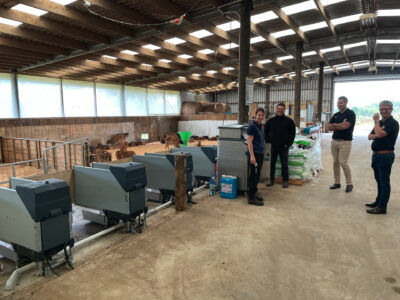 Kylie Mac Donald with Mike Jenkins, Nick Crosswell and Daniel Magil (all from Bell-Booth Ltd.)
The calves are fed at two CalfExperts, each with 4 stations. At peak times, there are up to 160 calves at each feeder**. So far, this has also worked perfectly with the QuadroFlex option. Last season, the calves were given 6 l of feed with a CMR concentration of 150 g/l. This meant that the target weight of 85 kg was reached very quickly. The weight is measured using the animal scales in the HygieneStations.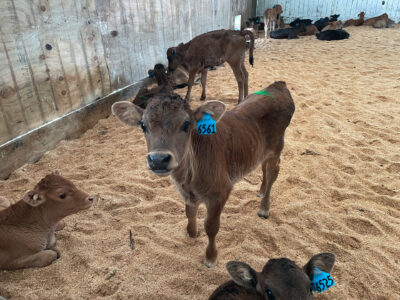 In the current round, the calves have already gained 3-4 kg after just 5 days on the feeder. Training is very easy thanks to QuadroFlex and the learning function. After four days, not a single calf has to be taken to the HygieneStation.
Kylie learned to use the CalfExpert very quickly. "The first thing I did was compile the calf lists myself so they suited me," Kylie says.
Every day for Kylie begins in a relaxed way, as she checks her herd in the CalfGuide app at breakfast and prepares for her visit to the barn in peace. Kylie's rearing advisor is also very enthusiastic. As she regularly receives exported data about the calves, her calf buyer always knows exactly how rearing is going.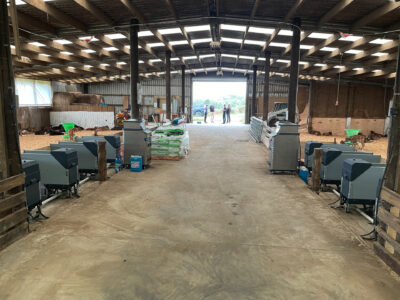 "And to be quite honest, without the two CalfExperts I would never be able to manage the 400 calves that I rear every season. I'll be installing a third calf feeder soon, because I've already signed a contract to rear 600 calves a season. There's one thing I still have to change: I need a second milk powder chamber for all feeders because I have to keep refilling milk powder too often. But then the CalfExperts will be perfect for me and my business!" is Kylie's final statement.
**Note: Holm & Laue recommends a maximum number of between 80 and 120 calves at 4 stations, depending on the feeding program.
Jayson and Kay Grigg, Inglewood
The H&L 100 with 3 HygieneStations has been feeding calves for Jayson and Kay for 3 years. 90 female calves are reared for breeding each season.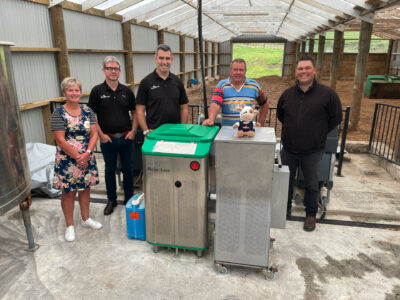 Kay Grigg with Daniel Margill, Nick Crosswell, Jayson Grigg and Mike Jenkins
They start by feeding whole milk using the locally produced "Queen-of-Calves Starter" and then switch to using milk replacer and the "Queen-of-Calves Finisher" for feeding. Queen-of-Calves is a 100% natural feed supplement that helps calves make better use of the nutrients in their milk for better growth. Animal scales are used to record weight gain and the weaning target is a body weight of 110 kg.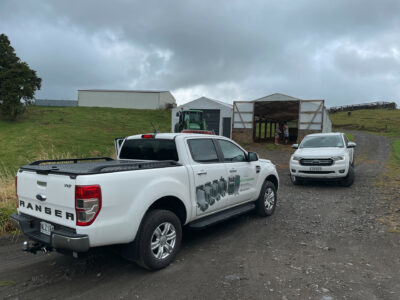 Bell-Booth company vehicles
We asked Kay and Jason about the changes they have seen in their calves. "For a start, we saved over 2 hours of work a day from the outset. Moreover, the ambitious Queen-of-Calves program can only be accomplished with the Holm & Laue calf feeder. And last but not least, we trained the first heifers in the milking carousel during the last calving season. Animals weaned on the HygieneStation enter the carousel much more readily and are easier to milk there," Kay reports very enthusiastically.
Frecklington Farm, Palmerston North
Frecklington Farm made the same observation as the Griggs a few years ago. They also saw that the later cows were better at entering the milking carousel from the beginning, because as calves they were already used to entering a "narrow" dead-end alley and then having to back out again.
Frecklington Farm keeps Jersey cows, which calve in two seasonal cycles (spring and autumn), each over a period of 4 to 6 weeks.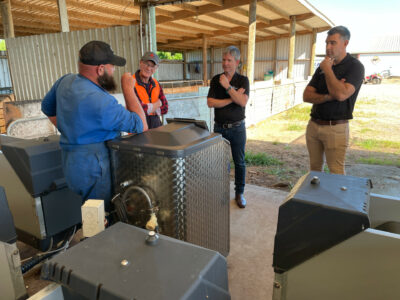 Steve, Paul Whiting, Daniel Magill and Nick Crosswell
Steve Fissenden is responsible for calf rearing and introduced the first H&L 100 feeder to New Zealand 17 years ago. He was impressed by the new technology from the very beginning. He was able to manage the workload peaks very well during the twice-yearly calving season, because he and his team were able to save an enormous amount of time in the calf barn.
A year ago, Steve didn't really intend replacing his calf feeder, as it was still in excellent condition. But after 16 spring and 16 autumn calvings, he wanted to play it safe and replaced the old H&L 100 with a CalfExpert feeder.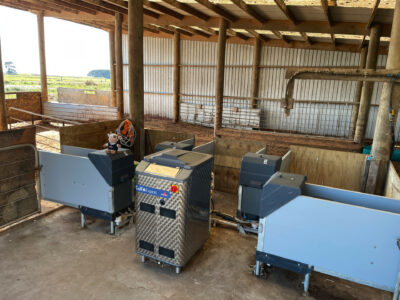 Steve didn't think it would be possible for the CalfExpert to feed his calves even more effectively. The learning time for young calves has been halved again. Most calves enter the HygieneStation entirely on their own after the very first training session. The calves are also much calmer and more balanced than on the old feeder. Steve puts this down to the shorter mixing time and the intelligent management of the animals in the feeder.
Now he can hardly wait to start the new season. This is because, together with his technician "Calf-Feeder-Paul" from service partner Bell-Booth, he has installed the new software version on the CalfExpert and this includes automatic calibration. "It's fantastic that this update even comes for free from Holm & Laue!", says Steve.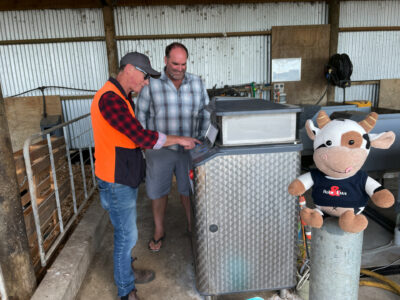 Paul Whiting and Jared Whittfield
Jared is the first CalfExpert customer in New Zealand. He deliberately waited until the new machine became available in New Zealand 2 years ago. Jared is passionate about technology and manages his farm using a great deal of data. That's why the decision for the CalfExpert was a no-brainer for him. He can check all calf data on his mobile phone in the CalfGuide app, which also allows him to change feed curves and other settings.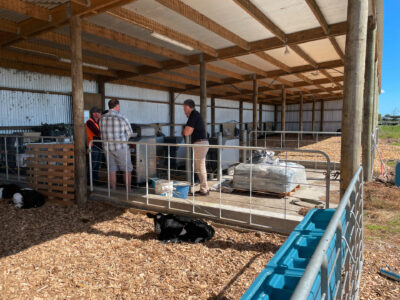 The integrated animal scales were also a must for Jared, as they are an excellent way of checking the performance of his calves.
Jared swears by his MilkTaxi to feed newborn calves. The MilkTaxi allows him to mix the milk replacer precisely and to supply it at the right temperature.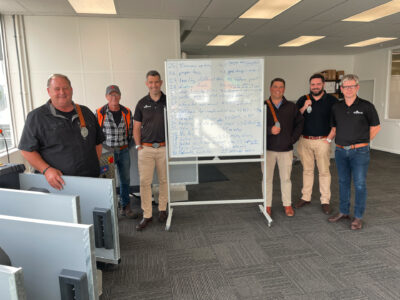 Holm & Laue feeder team: Lindsay Giles, Paul Whiting, Nick Crosswell, Mike Jenkins, Shaun Tyson and Daniel Magill
Our partner, Bell-Booth Ltd.
Many thanks go to our partner Bell-Booth Ltd., which has represented us competently in New Zealand since 2005 and stands for modern calf rearing on the islands like no other.
A big thank you also goes to the "Holm & Laue feeders" team for the productive week and for the fascinating farm tour you organised for "Holli".
Love farming? We do!