Keeping pairs in TwinHutches gives calves a good start to a social life. The Magens family is perfecting this with their own ideas.
The Magens' dairy farm in Kollmar has been in the family for five generations. In addition to farm manager Thies and his family, 14 full-time employees work on the farm, which has around 540 cows. A correspondingly large number of calves need to be tended and housed. Thies Magens has been using the TwinHutch from Holm & Laue to house his female calves for about three years.
Together as a pair for four weeks
The female calves are housed in pairs in a TwinHutch for the first three to four weeks of their lives. "We used to work with these 1,000-litre barrels, but they are very unwieldy, smaller and simply no longer up to date. We still use them for our bull calves, but that will also be changing soon," Thies tells us. The calves are fed with the help of a 260-litre MilkTaxi. "This is now our third MilkTaxi. The others just always grew too small over time. We now manage very well with the present size. My mother feeds the calves in the morning. Without the MilkTaxi, she wouldn't be able to do that for very long." In the TwinHutch, the calves are supplied with milk ad libitum and also have access to water and homemade TMR.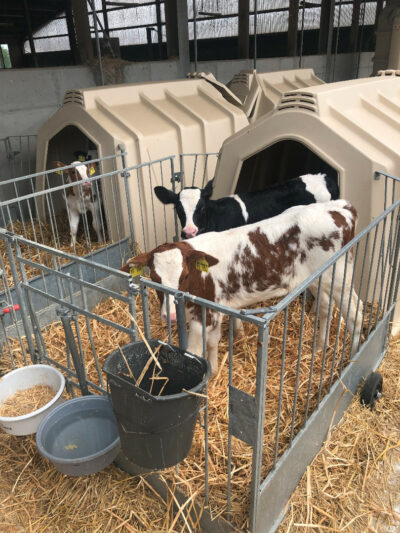 Keeping pairs in the TwinHutch
But what was the reason for the TwinHutch?
"For one thing, the system is simply more cost-effective on a per-calf basis. When we muck out and clean a hut, we do it for two calves instead of just one. It is the same with daily bedding, TMR and water, and generally speaking we can house more calves in the same space. What's more, it moves us closer to what consumers want and gives us greater confidence about our future. Who knows what else the future holds – but we'll be ready when others are just starting to switch." With the TwinHutch, people often ask us about the problems with mutual sucking and calves "stealing milk". "We haven't noticed anything serious in this regard so far," says Thies in reply to our question.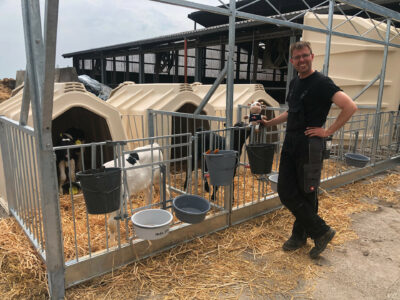 A clever idea for their own calf garden
The Magens family work innovatively and creatively. Their latest addition: a specially created "calf garden" with TwinHutches. Eight TwinHutches are grouped together and can be transported together. "We thought about how to make transporting hutches and mucking them out even more efficient. We also saw a similar system at a fellow farmer's and were immediately excited," explains Thies. There is room for 16 calves, and the first four have already moved in.
"We built everything ourselves, except for the TwinHutches and the fronts of the run-outs, where we made use of FlexyFence fronts from Holm & Laue. They are simply so well designed with the door in the middle and the drinking buckets next to the door instead of on it." Thies's present plans entail building a total of three "TwinHutch calf gardens".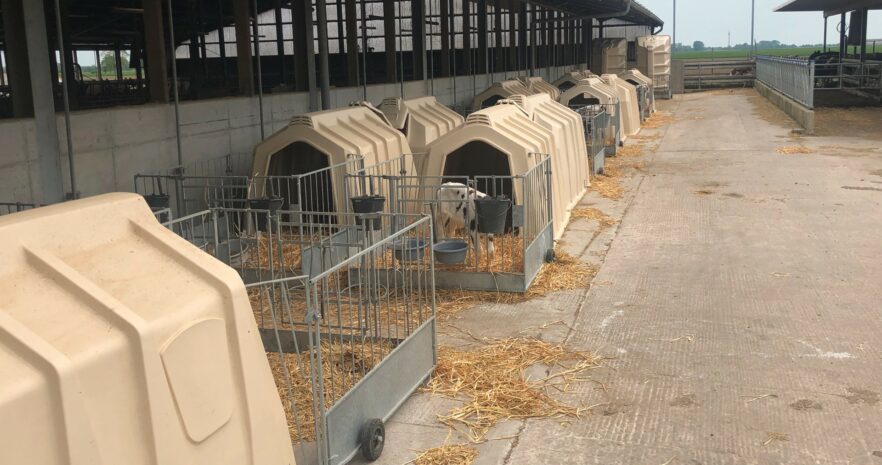 Thies and his staff had already demonstrated their ingenuity and skill long before the TwinHutches. After the three weeks in the TwinHutch, the calves are placed in group hutches, also of their own making. Each hutch holds six to seven calves. "We built the first hutch of this kind about 13 years ago and have been very satisfied with our own design ever since," says Thies. Today there are five hutches and more are to follow. "They stand on runners and can simply be pulled back for mucking out, while the calves stay inside and slowly walk back with them." A milk bar provides the animals with five litres per feed and they are weaned in their ninth week. They are also given additional water and TMR there. The calves are then transferred to a Holstein calf pen at the age of 12 weeks.
"We are extremely satisfied with our calf rearing system. The calves are doing very well in the TwinHutches and we are so glad we decided to make this change," Thies states.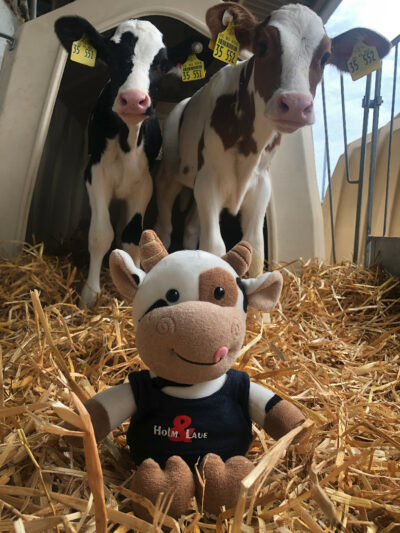 Thank you very much for the interesting conversation and the tour through your calf unit. We are impressed by so much effort and creativity and are looking forward to seeing what you come up with next. We are delighted to accompany your farm as a partner and wish you continued success.