State-of-the-art fully automatic whole milk management in the calf barn
The Brunmeier Dairy Farm in Newton, Wisconsin, has 480 dairy cows. All young animals are raised on the farm in the calf pen. Kim Pahl explains to us in the interview how they went about organising the whole-milk feeding of calves without a single shake of the hand.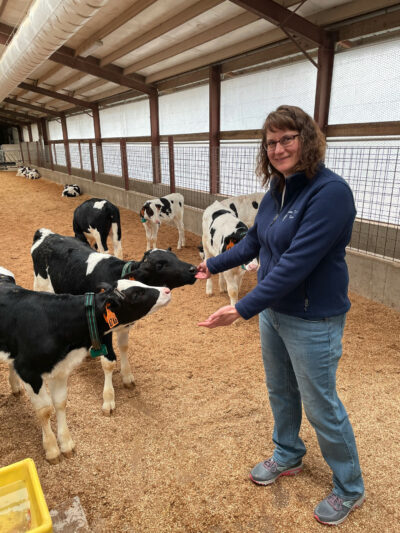 Kim with her happy calves
It gets even better
"My name's Kim Pahl, and I'm co-owner of Brunmeier Dairy Farm. Our farm offers around 10 full-time jobs. Our calf team consists of my nieces Lindsey and Carolina and myself.
I like calves that grow strongly from the very beginning. This then goes hand in hand with general animal health, which makes our work easier. When we encounter problems, I always look for the cause and don't stop until the problem's fixed.
We've been feeding calves with a calf feeder since 2014. It was especially important for us to serve lots of portions spread out over the day, rather than two large feeds, particularly during the cold winter months.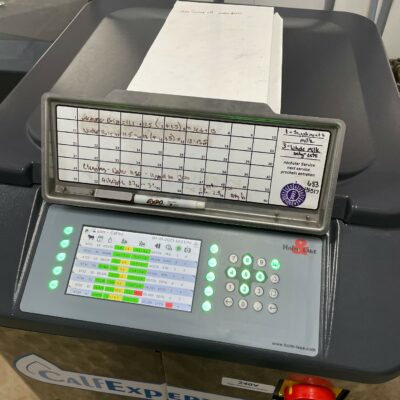 CalfExpert InfoScreen
The results at the calf feeder were OK, but after a few years I became convinced that we could do better. This was because we noticed on other farms that fed pasteurised whole milk that on average these calves looked better. But we were reluctant to invest because we had concerns about the effort involved in the service. Moreover, the interplay of equipment for transport, storage, pasteurisation and feeding of whole milk was too uncertain for us.
Milk fully automatic from teat to teat
When we were looking to invest in milking robots, we got to know the Abts Lely Center and its owner, Greg Abts. His company, Calf Star, was able to quote us for all calf equipment from a single source. We were impressed by the company's knowledge of calves and that they had a separate team of specialists dedicated to calf equipment.
The Lely robots now pump the milk into a milk tank, and the milk is transported to the calf barn via an underground pipeline. This means we don't need to transport milk by vehicle. A Compact-Flash HTST pasteuriser in the calf barn pasteurises the milk and then pumps it into a DoubleJug with 2 tanks holding 100 gallons each (2 x 380 l). The DoubleJug cools the milk, while the CalfExpert feeder draws the milk from one of the tanks and feeds the calves directly at the appropriate feeding temperature. The tanks are controlled via the CalfExpert software.
In other words: "The milk sees no daylight from the moment it leaves the cow's udder until it reaches the teat of the feeder."
We test the system on a regular basis. We monitor the cleaning agents and carry out weekly bacterial culture checks to detect any hygiene problems at an early stage. Trust is good, but verification is better!
We also like the Holm & Laue calf feeder because of its double mixing bowls. Calves are always served directly when they enter one of the two feeding stations. With the old system, one calf had to wait until the other was ready.
The colour display is also very easy to use. After the installation, we had to familiarise ourselves a little with the new settings, but it didn't take long before we had them under full control.
You cannot achieve peak performance with average results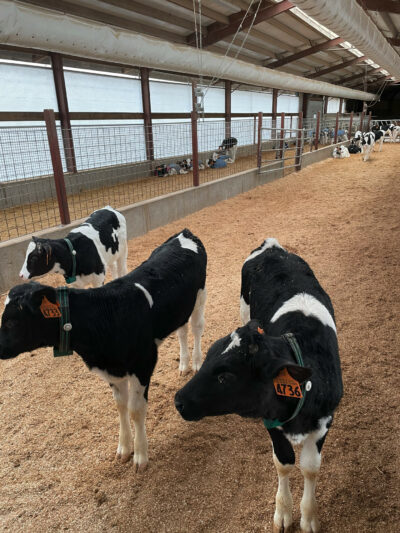 Plenty of space for calves
We have been feeding whole milk for a year and have seen an improvement in average weight gains of 30%. We have also seen improvements in calf body frame and coat appearance. But we believe there is still potential. In the near future, we're aiming for a daily weight gain of 2.5 pounds (1,135 g) per calf.
We weigh our calves at birth, after 8 weeks (weaning) and again after about 5 months. This allows us to track whether our feeding ensures the right nutrient uptake to produce a strong, healthy heifer with high milk yields.
I would recommend this technology for any farm that is not satisfied with average results, but instead aspires to produce absolute top heifers!"
Thank you, Kim, for this impressive insight into your feeding regime. This shows how technology and good management can ensure optimum results.