"Little things in calf rearing are important," says the herd manager from the southern Eifel.
Susi Kahlo and her husband Michael Baustert run a dairy farm near Bitburg. They keep 130 cows on about 100 ha of land and achieve a milk yield of 11,000 litres. The work is all done by family members, so that there are a total of 3 workers on the farm.
We asked Susi to tell us about her calf rearing, because "that's where it all starts", as she says.
Good calving management is key
"We house our dry cows in groups. There are always eight cows together. This group stays together for 8 weeks. So they also go together to the calving area, where they calve together. We give all dry cows a maternity vaccination.
Only calving takes place here in the "straw area". No sick or any other animals. Only dry animals waiting for their turn to calve. Mucking out takes place after each round. Whenever possible, we also pass through immediately with a high-pressure cleaner. If that isn't possible, it will be done the next time at the latest.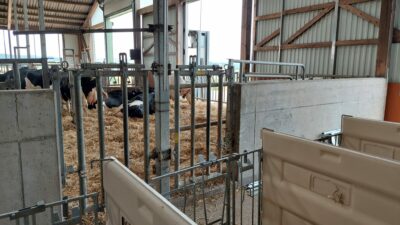 Our calving area adjoins in such a way that you can always walk by. This makes it easy to monitor birthing. I always have everything in view and can intervene promptly whenever necessary. We have a camera for the nighttime. I know my girls so well that I know when they are calving and when to check the camera. I'm quicker than any automatic sensor.
99 % of the cows calve alone. We have large, heavy cows and our large-frame cattle also do very well, without the slightest problem. We give them time and leave them alone. We really only intervene if things don't progress or you see the calf arriving backwards or other complications arise.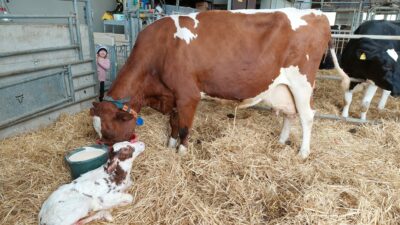 When a calf is born, the mother cow can spend about half an hour licking it. My calves try to stand up quickly to get to the "milk bar". As soon as they try that, I take them out of the bay. But the mother cow is first given her energy drink. At least two 20-litre buckets, more if they want.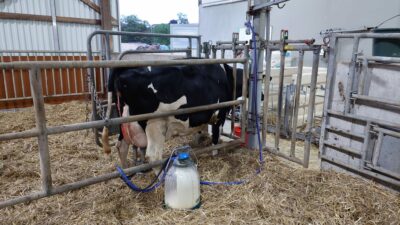 The calf is then placed in one of the newborn care boxes that we constructed using the Calf-Tel PenSystem. At the same time I can secure the cow in the feed fence for milking. We have specially laid a vacuum line to milk the cows and cattle that have calved there in the calving pen.
Colostrum, as soon as possible and as much as possible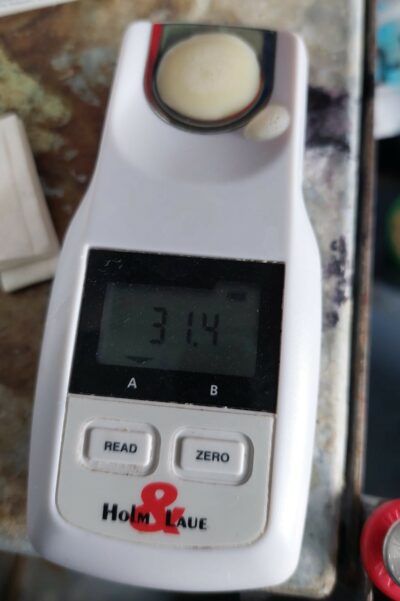 I milk about 10 litres from cows that have just calved. The milk is measured using a refractometer and the Brix value is checked. We have excellent, high Brix values thanks to good feeding of dry animals. Mostly above 25 %. I don't feed any colostrum below that value, either. Not even for bull calves. I always offer my calves 8 litres of colostrum. Most of them drink 4-6 litres. Every now and then my girls prefer the full 8 litres. For me, that is the key to success: colostrum in the first half hour and as much as they want! But of course only good, tested colostrum.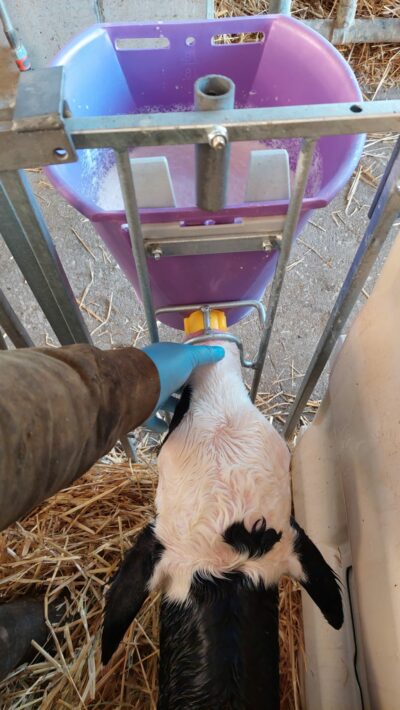 In my experience, calves drink best in the first few hours of life. That's why my motto is: colostrum, as quickly as possible and as much as possible. It's worth getting up at night to do that. After all, I don't feel like messing around in the morning with a calf that I don't know whether it fed from its mother or not and then doesn't want to drink. So I prefer to invest the time, as it pays off a lot. I don't warm the milk, but give it directly to the calf "warm from the udder".
If none of this works, we always keep frozen colostrum in bags as well. It then takes a while for it to defrost in the water bath, but we may only need it once or twice a year.
This is also true for drenching, which is only necessary for a maximum of one calf a year. We use a soft drencher for this. Actually, though, our calves drink really well right from the start. And since we have the beautiful PenSystem boxes, I rarely bottle-feed the calves anymore, but prepare a bucket full of good colostrum straight away.
I always completely milk cows that calve for the first time. They deliver between 10 and 15 litres of milk. I often freeze milk from them as well. Because there is absolutely no difference in quality between this and the milk from the cows.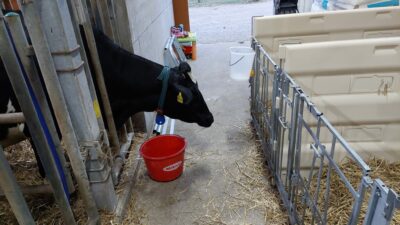 In winter, the calves stay for a day to dry under the infrared lamp in the newborn pen. It's not ideal, so this year we'll be installing special heating plates that we'll hang over the boxes. Once the calves are dry, they are given a calf blanket, which they wear until it no longer fits. This is usually after 3-4 weeks. By then the jackets have become too small because the calves are so fat due to the ad-libitum feed.
We use the calf jacket from O to E (October to around Easter). After each use, I wash them at 60 °C in our barn washing machine and dry them in the machine room.
In spring and summer, when it is warm, I only do initial care in the pens before the calves go straight to their individual hutches.
I've also tried keeping them in pairs. That also works well, you just have to make sure that they both drink.
Ad-libitum feeding and weaning up to 15 weeks of age
Our calf hutches are not ideal. We have different systems and their locations also change all the time. The MilkTaxi allows us to reach the calves easily, of course, but the perfect calf pen is something different. This makes the quality of the feed very important in order to achieve strong calves.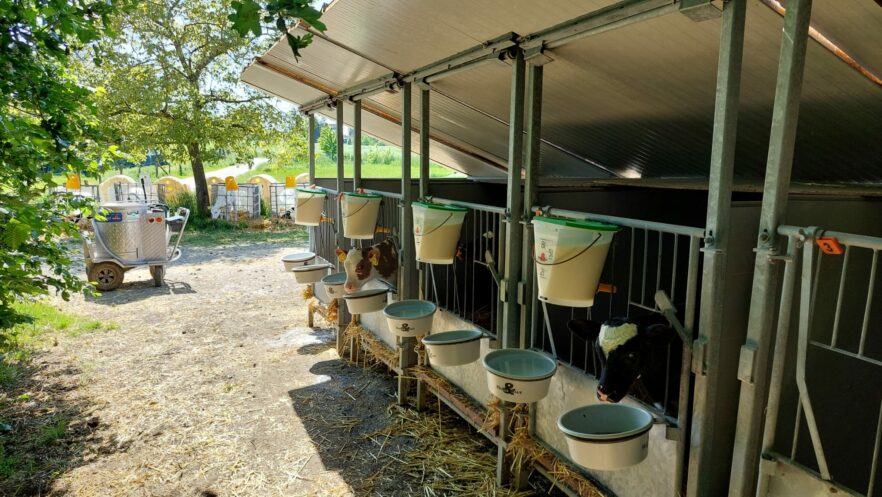 Concerning the feeding plan:
We feed enriched whole milk for 15 weeks.
They are initially given their mother's acidified whole milk ad libitum for 5 days. We use formic acid to lower the pH value to 5.5. After that, I mix the mother's milk with normal milk. They are then given whole milk ad libitum for 5 weeks. During this time they are also in their individual pen.
Everyone can think what they like about ad libitum feeding. I've been feeding my animals like this for over 10 years. All buckets are cleaned in the morning. The Taxi makes short work of this. Bull calves get any remaining milk from the ad-libitum calves. The bucket is then refilled and the lid put back on. I fill them up at least 3 times – in the morning, at midday and in the evening. But I also stop by the calves now and then and top up if necessary.
You need to keep a close eye on your calves. After all, they don't come to drink like animals that have been fed in a restrictive manner. It's different in winter. When it gets colder outside, the calves quickly know that their milk is warmer and that they need to hurry. They'll then sometimes drink a large amount all at once, but the bucket is never empty. They usually drink rather small amounts several times a day, increasing the quantity of milk every day. The best ones manage a good 20 litres a day.
After 5 weeks ad libitum, we reduce them down from 12 to 8 litres over a a period of 5 weeks.
Actual weaning then begins at the age of 10 weeks. I reduce the quantity by 1 litre every week, until they only get 2 litres. They are then fully weaned at 15 weeks.
Our calves have fresh water every day from day 1. In winter I heat the water, which increases acceptance.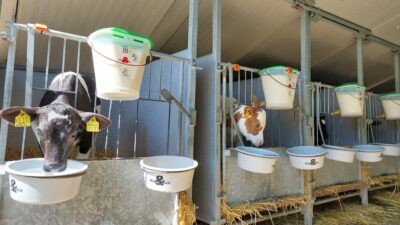 And of course the calves always are given as much hay and calf pellets as they wish. Feed intake increases dramatically in these last 5 weeks of weaning. This is understandable: less milk => more feed. I feed hay and concentrate twice a day during this period. The concentrated feed we give is made up especially for us. It is adapted to the fact that they only get hay and concentrated feed.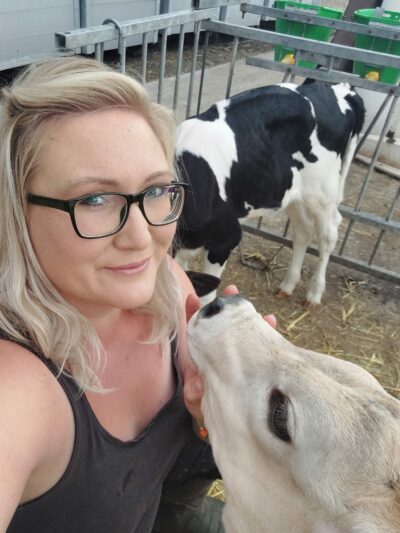 We have recently changed our breeding system. We are now typifying our animals and will only raise 50 females, so only the very best. These heifers go to the breeding farm, which is a few towns away from us, when they are 5 months old. They're inseminated there when they're 12 months old and then return to us pregnant three months later when they're 15 months old."
Thank you, Susi, for this great information from your everyday life with your calves. May your success continue!