The Holm & Laue CalfExpert revolutionizes a farm in the Ukraine
"We do not know how we managed to work without CalfExpert in a past."
A farm manager in Ukraine tried to find a better solution for his calves and co-workers. Now he is very convinced by our options for calf rearing, especially the CalfExpert is the one solution he was looking for.
This article is about
the benefits of the CalfExpert automatic calf feeder
how an Ukrainian farm manager combines it with his way of calf rearing
Of course Holm & Laue is not only operating in Germany. You can find us all over the world. This time we went to Ukraine to talk to Andrii Voloshyn, a farm manager on STOV "Wilshanka", about his experiences with the Holm & Laue CalfExpert. Over there they milk 760 cows of Montbeliarde, Ukrainian Red-Spotted and Holsteins dairy breeds.
On the farm they had some problems with the calf rearing: "In the past we did not have any control over calf feeding due to the lack of data. The calves had issues with diarrhoea and too low weight gains. At one moment the point was reached where the mortality rate went up again and we knew we have to change something."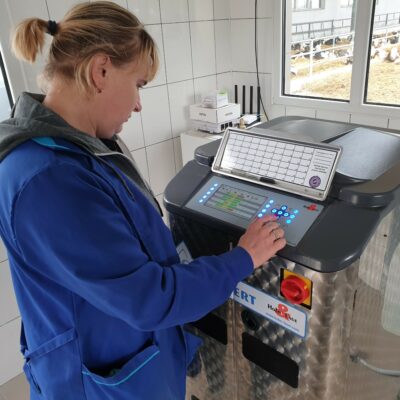 Andrii Voloshyn decided that a new calf barn with the CalfExpert would be the solution they needed. He said: "While choosing a feeder, it was important for us to control a feeding process of each calf. We liked the fact that in the CalfExpert milk is being prepared fresh and individually for every single animal. Furthermore, there are weight scales that are measuring a body weight of calves automatically. Holm & Laue demonstrated us its equipment running on other farms, and we were fully convinced. We liked how easy the software is to understand. A large variety of features gave us a confidence that exactly this machine is the right product for us. Each animal is under control now. Our calves became more calm and joyful, and the mortality rate declined rapidly."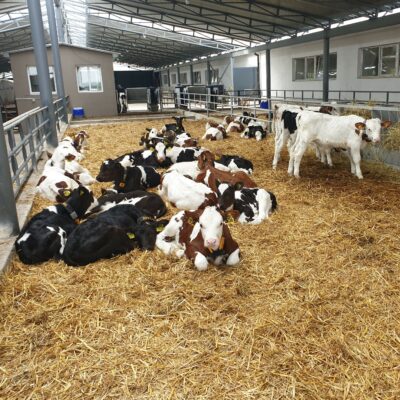 The farm manager is quite happy with his new way of calf rearing und -husbandry. In future he is going to expand the capacity of the farm and wants to rear calves from other farms in the area too. "For this project we will add three more CalfExpert feeders and we are looking forward to the further cooperation with Holm & Laue company and the local partner Bizart, who provides us a 24/7 service!"
We asked Andrii for a very last statement: "I think that every farmer, who is striving for better performance and better profit would benefit from CalfExpert. It is an innovative solution which takes care about each of my calves."
We are very happy to hear that and looking forward of being a partner for Andrii in future.
What about you: Would be a CalfExpert a good solution for you as well? Or do you think about to build a new calf barn and you still don't really know what kind of solutions will fit to your calves? Let us know and we try to find some options with you!
If you want to know more about our CalfExpert, click here.