Luicella's Ice Cream is a hit in Hamburg and the MilkTaxi helps out in the ice cream parlour
"We took a close look at your MilkTaxi and quickly realised this could be the solution."
We know that our MilkTaxi can be used in many different fields. However, mixing ice cream in an ice cream shop was not yet on the long list of functions of our MilkTaxi. But: "Never say never."
The MilkTaxi has now become the IceTaxi
Everyone in Hamburg knows the ice cream café chain Luicella´s Ice Cream and their special and delicious ice cream is also popular beyond Hamburg's city limits. In autumn 2021, a Holm & Laue MilkTaxi found its way into the ice cream parlour.
But our MilkTaxi in Hamburg doesn't feed calves. It stirs the fresh ice cream mass, which later becomes delicious Luicella's Ice Cream in an ice cream machine. This article explains why and how this came about.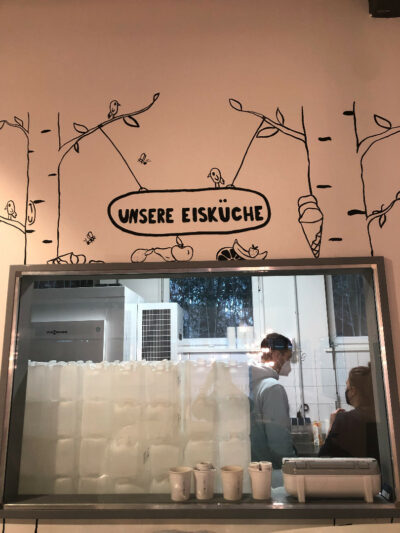 The MilkTaxi as a cost-effective and practical solution
Luicella's Ice Cream was looking for an appliance that would work perfectly and that could be used optimally for the chain to mix its special ice cream mass. The essential requirements for the appliance were clear: a powerful agitator in a large tank together with a heating and cooling function. There are, of course, specially developed machines in the industry that offer exactly these features, but they are very expensive.
Managing director and founder Markus Deibler was determined to find an alternative solution and began his search – and was largely unsuccessful to begin with. That was, until an employee, a student of agricultural sciences from Kiel, told him about the Holm & Laue MilkTaxi. A 260-litre MilkTaxi meets all the requirements, has a good tank size, is manoeuvrable and fits neatly into the small, but fine, ice cream parlour. What's more, it is unbeatable in terms of cost compared to conventional devices. "We took a close look at your MilkTaxi and quickly realised that this could be the solution. And that's how it turned out. We are really very satisfied with our MilkTaxi as an IceTaxi," Markus says.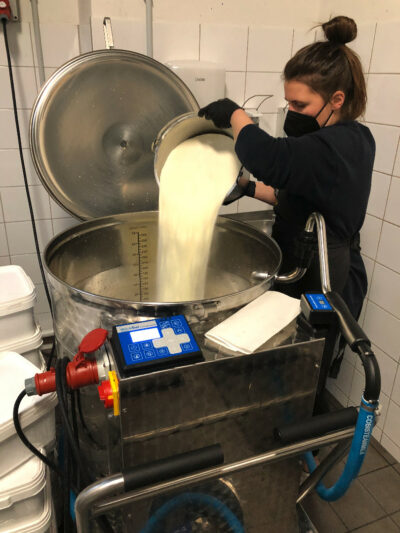 Mixing the ice cream mixture in the MilkTaxi
We met both Markus and Anna on our visit to the shop at Osterstrasse 133. Anna manages the shop in St. Pauli and has just been to Osterstrasse for pre-production of the ice cream mass. She mixed an ice cream mixture for a mango-passion fruit sorbet using the MilkTaxi in the ice cream parlour. Working with the MilkTaxi is really great. I was particularly impressed by the agitator. It is very strong and we can produce homogeneous ice masses, which are very important for further processing. Of course, there are little things that are not quite optimal for an ice cream parlour. A kind of funnel would be great, for example, so that you could add more ingredients just through a small opening while stirring, like in a food processor," Anna explains to us, pointing with a grin to the colourfully splattered wall behind the MilkTaxi. "We can only open the lid completely or close it completely. We also rarely use the tap for dispensing, as our ice cream mix is usually much thicker than milk and the tap and pump are simply not designed for this. But it is in fact a MilkTaxi for feeding calves and we are just so glad that it found its way to us"
By the way, our MilkTaxi can not only mix an ice cream mixture or take care of calves. It's also a super companion during pregnancy and a reliable babysitter. Feel free to check out our blog post: "The MilkTaxi as babysitter".
Luicella's Ice Cream is something very special - not only because they use the MilkTaxi
We only realised how exciting and interesting the production of ice cream is when we were there in person. Many different ingredients, some of which you wouldn't even think of at first, later turn into a special delicacy. And these ingredients are chosen with great care at Luicella's Ice Cream. The milk for the ice cream comes directly from the region - from Kruses-Hofmilch in Rellingen, where milk from around 230 cows is processed into a wide variety of products in the company's own dairy or sold to Luicella's Ice Cream. All other ingredients for the different types of ice cream are also 100 % natural. And the ice cream kitchen also had a fresh and naturally fruity smell when the mango-passion fruit sorbets were being mixed – wonderful!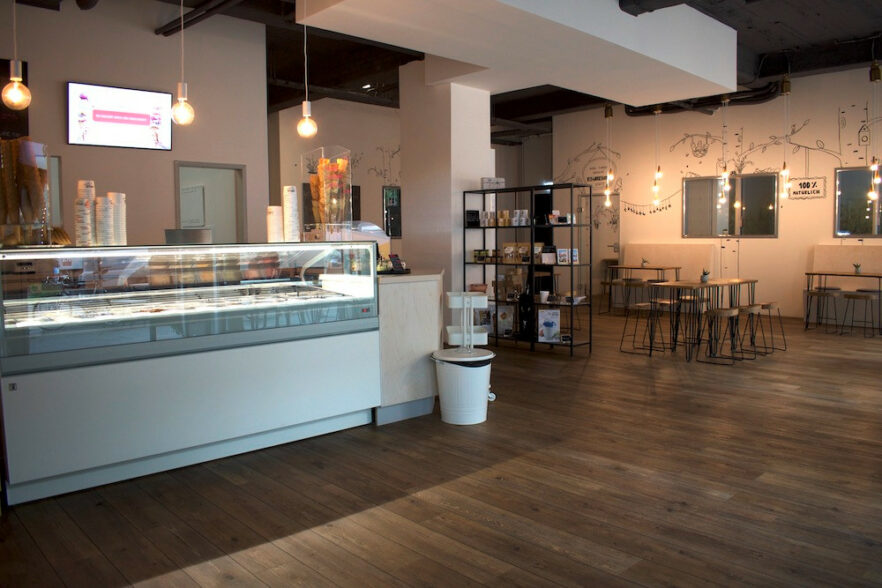 The shop at Osterstrasse 133
The Osterstrasse location opened in 2020 and is the largest of Luicella's Ice Cream's outlets. Besides the daily café business, the shop also offers workshops where everyone can create their very own ice cream. However, a coronavirus test station has currently been set up in the café and only the ice cream parlour is operating at full capacity, and with it our MilkTaxi (or rather IceTaxi).
The ready-mixed ice cream mass from the MilkTaxi is processed into the finished ice cream in Hamburg's Osterstrasse and then distributed to the outlets around the city. However, the ice cream mixture from the Holm & Laue MilkTaxi doesn't just stay in Hamburg. "Have you ever eaten ice cream at the Heide Park Resort in Soltau? It may very well be that this ice cream originated in the MilkTaxi. Luicella's Ice Cream supplies the theme park with ice cream directly from the Taxi. And we are also represented in the retail sector. These creations, however, then come from our large production facility in Langenhorn," Markus tells us.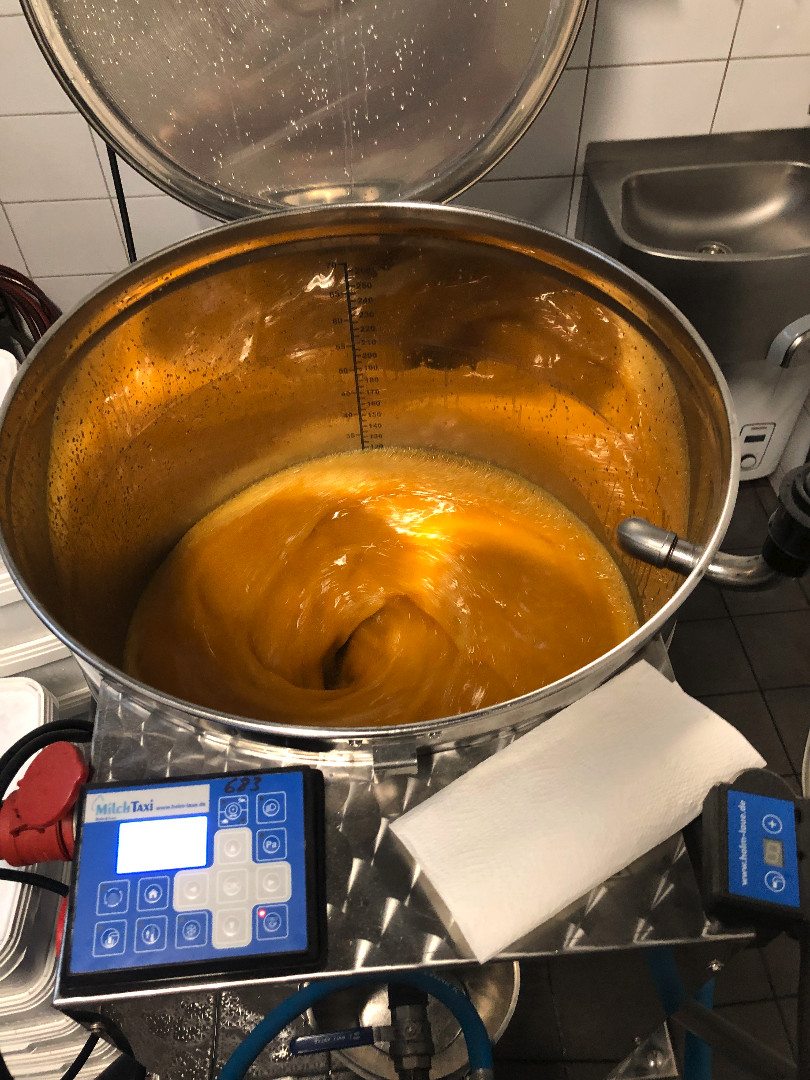 MilkTaxi mixing a homogeneous mango-passion fruit sorbet ice cream mass
The visit to Luicella's Ice Cream was a lot of fun. Many thanks to Markus and Anna for their time and effort. Seeing our MilkTaxi in an ice cream parlour in Hamburg was really special for us. We are very happy that all employees are so satisfied and that we can contribute in a small way to this delicious ice cream. Our MilkTaxi can do a lot, but just how much is always shown to us by our creative customers – amazing.