In the second part of this somewhat different travel report, we meet more exciting people on Swedish dairy and bull fattening farms.
In the second part of this somewhat different travel report, we meet more exciting people on Swedish dairy and bull fattening farms. It was interesting for us to see how differently farms work with the same equipment. However, this is what distinguishes good barn construction solutions: an ideal combination of flexibility, work management and animal welfare for the herd's offspring.
Have fun reading part 2.
Risens Lantbruk: A pleasant working environment also benefits calves
Henrik Einarsson from the Rinsen Lantbruk farm has 380 dairy cows. He has now been using his MultiMax and Pro II individual hutches for a number of years. At first they were only set up outdoors, but his employees used to complain when the weather was bad. He could then also see that they often did not take the necessary care when feeding the calves.
Henrik has therefore built a roof for the hutches to offer his employees a better place to work. And it is already evident after 8 months and a hard winter that the calves also honour the area protected on three sides with excellent health and good performance.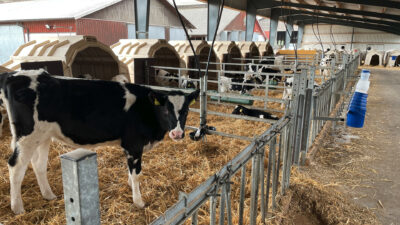 For Henrik, it was important to offer his calves plenty of space. That's why he opted for a long run in front of the total of eight 5 x 3 m MultiMax hutches. In fact, it is obvious that the calves feel very comfortable and also make full use of the available space to lie down.
The floor and walls are whitewashed with a lime mixture for better hygiene before new calves are introduced to ensure that no germs can multiply on the surfaces. A simple and very cost-effective alternative to other methods of disinfection.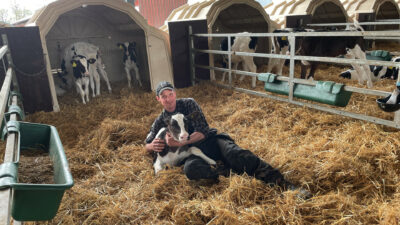 Pasteurised whole milk 3 x a day
Henrik feeds 3 litres of pasteurised whole milk 3 times a day. The MilkTaxi can also be used for the extra meal at lunchtime, making it less of an extra effort for his team. The weaning phase starts gradually when the calves are about 6 weeks old and continues until they are about 9–10 weeks old. A calf dry milk replacer is given as solid feed, which the animals accept very readily.
Mattias Börjesson, Varberg: an affordable calf pen
Mattias Börjesson's bull fattening farm in Varberg buys its bull calves when they are two weeks old from five dairy farms in the region. Groups of about 20-25 calves are always brought in by the farm's own truck. 

Calves used to be kept in individual hutches, which was very labour-intensive, and cleaning the huts was also very complicated. For this reason, the farm decided to create a group housing system with 8 Igloo Verandas and 16 MultiMax hutches with 7 calves in each. The veranda is a 5 m long version, which provides approx. 16 m² of space , enough for all the calves. This design made it possible to create a calf barn that is significantly cheaper than the usual cost of construction.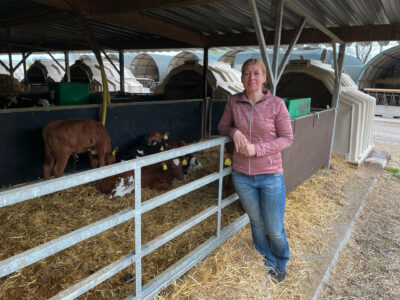 Karin Kvellgren
Efficient operation and optimum hygiene
Karin Kvellgren is in charge of calf rearing on the farm. She feeds 2 × 3.5 l of milk replacer. The calves are weaned when they are about 10 weeks old, which takes place over a period of 2 weeks. Karin appreciates the fact that she can monitor her calves at all times.
Karin needs about 20 minutes to feed all 100 calves. Furthermore, the buckets are cleaned on a daily basis. The MilkTaxi with the integrated FlushMaster assists in this by allowing the buckets to be cleaned directly at the feed grids. They also use an industrial dishwasher to clean teats and valves on a regular basis.
All in all, Karin needs only 5 hours a day to complete all her work with the more than 100 calves.
Labbarps Gård, Bankeryd: Whole milk is the key to success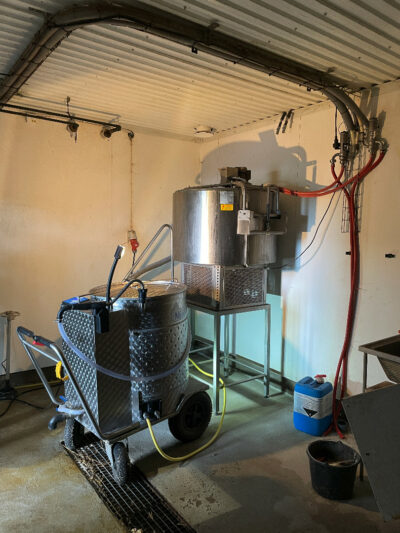 The Labbarps Gård farm in Bankeryd has 280-300 cows milked by five Lely robots. The separated milk for the calves is pumped into a cooling tank and stored there. It is then pasteurised in the MilkTaxi before being fed to the calves. Only whole milk is fed to the animals, which is why normal milk is used in addition to milk that cannot be sold. This makes sense even when milk prices are good for the simple reason that the calves' performance is better.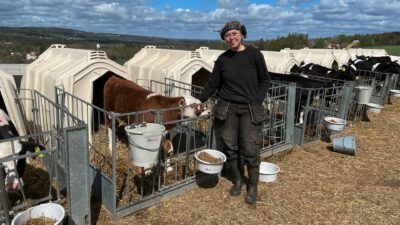 Tura Kempe
The calf manager in charge, Tura Kempe, feeds 2 × 4.5 l of milk per day. She uses a colour-coded system with markings on the hutches to indicate the amount of feed given to each calf. In her opinion, the calves are currently being weaned a little too early (approx. 8-10 weeks) because there are not enough calf hutches (currently 66) available. It is hoped that this will soon change.
Simple solutions to major problems.
There used to be three small calf pens for newborn calves. Once these were full, the calves were rehoused in groups in a calf pen. Calf losses rose to over 30 % due to a shortage of vacant space and poor hygiene management!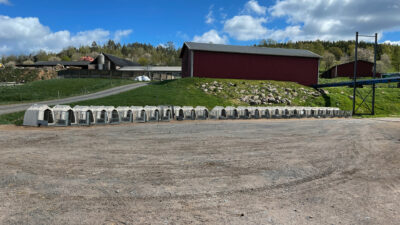 At Labbarps Gård they also take care to ensure that hutch occupancy rotates and that the hutches are cleaned. In addition, the sand on which the hutches is changed on a regular basis.
The calves have now been far healthier for 2 years thanks to the improved management. And even the livestock trader praises the bull calves, which are extraordinarily healthy.
Torsjö Säterie, Eksjö: clear work structures, excellent results
Julia Källner is responsible for the calves on the Torsjö Säterie farm in Eksjö (480 cows). She attaches great importance to clear work processes and good management right from the time of birth. She therefore provides the newborn calves with tested colostrum in the ColoQuick system.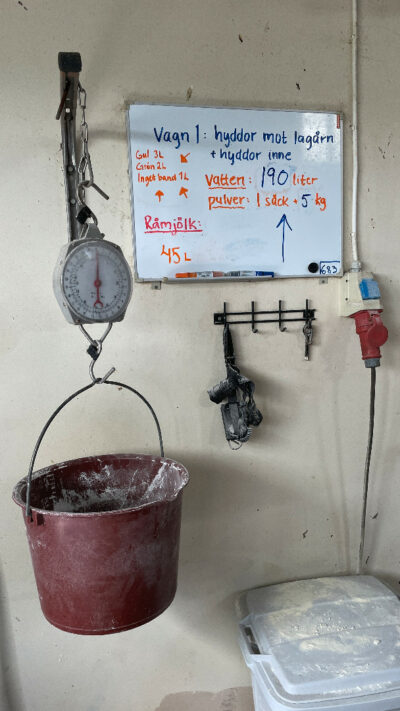 In their first two weeks of life, calves are given transition milk and leftover colostrum. A smaller 100 l MilkTaxi is available for this purpose. The calves are subsequently fed 2 × 4.5 l of milk replacer (35 % skimmed milk powder) prepared in another 260 l MilkTaxi. Weaning takes place in small steps from 8-10 weeks.
Clear work instructions can also be seen in the "milk bar". Precise mixing instructions for the amount of milk currently required are written on the whiteboard. In addition, scales are available to ensure that the specifications are followed precisely.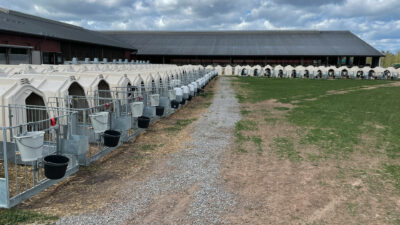 The calves in the Pro II calf hutches are given concentrated feed pellets in cut open canisters. What is striking about this farm is that it is the only one of all eight farms visited where no hay or structured feed is offered during the 10-week milk phase. The calves are only given this in the young cattle barn. This is therefore a very "American" approach to feeding.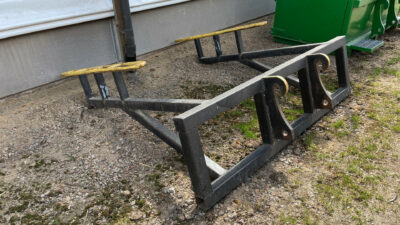 One interesting detail is a homemade rack to transport two Pro II huts with the FlexyFence to the washing area. The mount fits exactly into the hutch roof, allowing them to be moved around very easily.
Individual huts also operate in winter, but a roof would be a good thing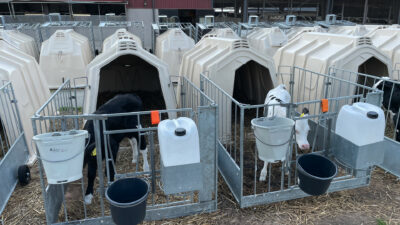 There are Pro II hutches with partially and fully open fronts on the farm. Each type has its advantages and disadvantages. Julia appreciates the larger opening because it is easier for her to get into the hut, while the calves find more protection in winter with the smaller opening. The entrance to the hutch is closed for newborn calves. A mobile heater then heats the hutch for a few hours until the calf is completely dry.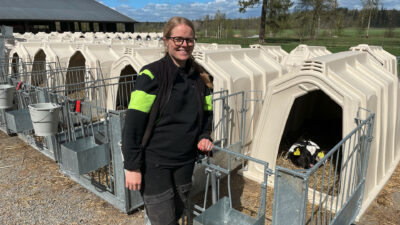 Julia Källner
Keeping calves outside without a roof and weather protection is not a big problem in winter. The calves can cope well with prolonged periods of cold weather with the protection provided by calf blankets. However, the hutches do grow quite warm in the summer. So now Julia and Hendrik Källner are thinking about providing the hutches with a roof.
In any case, both are thrilled with the litter flap at the rear because it makes re-littering extremely easy. The huts are therefore also positioned back to back in order to ensure short distances when spreading bedding material.
Successful calf rearing in Sweden with Gårdsby Igloo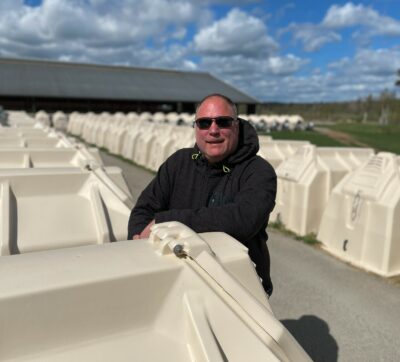 Dan Rudelöv
This impressive trip to leading calf rearing farms in Sweden was only made possible thanks to the support of Dan Rudelöv from Gårdsby Igloo, Holm & Laue's local distributor in Sweden. Many thanks Danne for the great organisation.
You are welcome to visit the Gårdsby Igloo website if you wish to learn more about their services and products.
Thank you for taking the time to read this lengthy post. We hope you were able to glean some interesting tips.